Notebook: GameDay coming back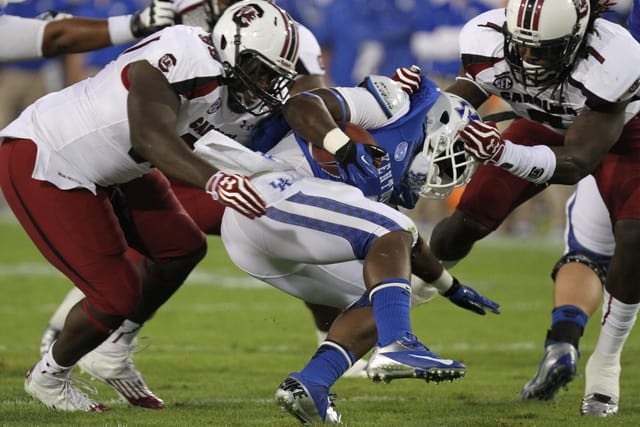 [rl]
LEXINGTON, Ky. -- It didn't take ESPN executives long to make the call.
Within a few minutes after South Carolina had wrapped up a 38-17 victory over Kentucky by completely dominating the second half, the cable sports powerhouse announced that the popular Saturday morning show, "College GameDay" would originate from the Horseshoe on the USC campus next week. The show will build up a day of hype leading to a Top-10 showdown between the Gamecocks and Georgia, set for 7 p.m. down the street at Williams-Brice Stadium.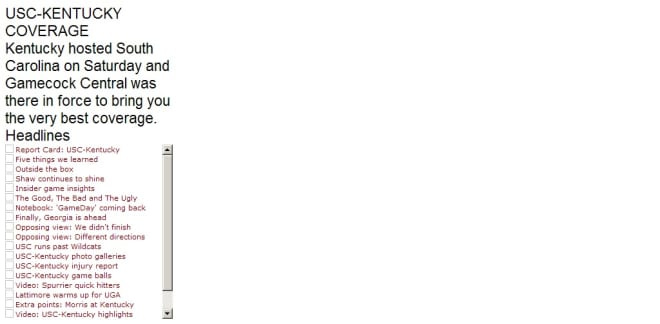 This will be the sixth time that "College GameDay" has broadcast from Columbia. The first visit came in November 2001 for the USC-Florida game. It was on hand again in September 2004 for the USC-Georgia contest.
"GameDay" returned to the Palmetto State for the first game of the Steve Spurrier Era when the Gamecocks hosted UCF on Aug. 31, 2005. It came back in October 2006 when the Gamecocks hosted Tennessee. Most recently, it was on hand when USC upset No. 1 Alabama in October 2010.
In addition, ESPNU's "Road Trip" show will be in Columbia and highlight the USC campus and the Top-10 matchup next weekend.
Why the Horseshoe instead the new Farmer's Market?
"The Horseshoe is one of the best sites we've ever had for College GameDay," Lee Fitting, College GameDay Senior Coordinating Producer, said in a press release. "The picturesque collegiate backdrop creates the perfect setting for the show. Given the fact that a highly-ranked Georgia team is coming to town will only add to the excitement of Saturday morning."
ESPN's top college football announcing team, Brent Musberger and Kirk Herbstreit, will handle the broadcasting duties for the game with Heather Cox serving as sideline reporter.
Considering USC and Georgia should both be ranked in the Top 6 when the new national polls (Associated Press and USA Today/ coaches') are released later today, this might be the biggest game ever at Williams-Brice Stadium.
"We'll be ready to play as well as we can," Spurrier told Todd Ellis on the Gamecock Radio Network during his post-game interview. "I don't know if we can beat Georgia. We have to go play. Hopefully, we won't play with the errors we had early in this game, like being on the 1-yard line and not scoring. We'll have to take advantage of our opportunities.
"It's a big game, but it's not the only game in our season. Obviously, the winner has a huge advantage in the (SEC) East. Again, we have a lot of big games. We'll give it our best shot against the Bulldogs and see what happens."
Talk of the colossal Georgia matchup began in the USC locker room shortly after the Kentucky game was over. Even Spurrier had a role in the post-game excitement.
"Coach brought it up and said, 'Who's going to beat Georgia next week?," senior cornerback Akeem Auguste said. "(We all said), 'Carolina!' We know it. But we're going to play our game regardless (of the hype and "College GameDay" being there). I know our 80,000 (fans) will be there, so it's just going to be about us buckling down and playing football."
AUGUSTE RETURNS: More than a year had passed since Auguste last appeared in a game for the Gamecocks. He stepped onto the field for about 10 plays or so (he said he played in two series) on Saturday and finished with four tackles.
"It's just a blessing. I love playing football," Auguste said. "I was glad I was able to get out there and help my team win. I thought I was going to be out another season. But God gave me a second chance and I'm just going to do the best I can and try to overcome everything I need to overcome."
Auguste had an inauspicious start when he was flagged for pass interference early in the second quarter, although the penalty was declined because the Kentucky receiver caught the pass for a 20-yard gain.
"That was like, one of my first plays of the game, and I got a PI call," Auguste said. "I had to get the cobwebs off."
HOORAY FOR HALFTIME!: Saturday's game marked the first time this season that USC trailed at halftime. In fact, the last time the Gamecocks trailed at halftime was Nov. 5, 2011, in a 44-28 loss to Arkansas. This time, though, USC rallied for the win by out-scoring Kentucky 31-0 in the second half.
When he walked off the field, Spurrier told ESPN sideline reporter Jeannine Edwards that the Gamecocks had to play a lot smarter in the second half. They did.
"Our guys had a good look in their eyes that they wanted to play the second half," Spurrier said. "There wasn't any moping and nobody was pouting. Nobody was pointing fingers. We were all bad. There weren't any fingers to point except at ourselves. We had a better plan in the second half. It worked out.
"We had some good, 'Let's go get 'em,' amongst the entire team, and the older guys. Maybe we learned something about ourselves as we go forward through this season. We have a chance for a real good season. But we're not bowl-eligible yet. Hopefully, we can get that real soon and move to the next goal."
Actually, one of the key moments in the game occurred late in the second quarter when a bad snap by center T.J. Johnson on fourth down gave Kentucky the ball at the USC 10-yard line. A wild play ensued on third down when quarterback Jalen Whitlow fumbled at the 12 and multiple USC players, including linebacker Damario Jeffery, had a chance to fall on the ball. However, it was eventually recovered by a Kentucky player and advanced to the 1-yard line.
"We need to learn how to get on a fumble," Spurrier said. "Akeem picked one up and dropped it. Damario, that wasn't a very smart play at the end of the first half. He could have just fallen on the ball at the 10 or 15-yard-line. But all of sudden, their kid picked it up and almost scored. Then the clock ran out. That was a good tackle there. Some of our guys don't play real smart all the time. In a close game, that can cost you."
Spurrier told Ellis in his post-game interview on the Gamecock Radio Network that the frantic final seconds of the first half and Kentucky's inability to score convince him the momentum had switched.
"I said, 'The tide is changing. Something good is happening for us now because we had nothing much else good going,'" Spurrier said. "Our guys were real good at halftime. We had a bunch of them saying, 'Let's go, we can still beat these guys.' Obviously, we changed our offensive game plan and got into the I-formation, gave it to Marcus (Lattimore) and ran play-action. That might be the best way to go."
After the fumble, the clock expired before the Wildcats, out of timeouts, could line up and run another play. Thus, the score remained 17-7 at halftime rather than expanding to 24-7. Much like two years ago, when a wasted scoring opportunity at the end of the first half cost USC, the miscue cost the Wildcats dearly.
The way the game was going, those seven points represented a huge difference.
"Fortunately, they didn't score," Spurrier said. "I think they messed up the clock and we got out of there with no points."
LATTIMORE MOVES UP CHARTS: Lattimore's 120 rushing yards on Saturday marked the 10th time in his career that he has gained 100 or more rushing yards in a single game and the second time this season. In addition, Lattimore moved past Kevin Long (1973-76) for eighth place all-time in career rushing yards at USC.
The Byrnes High School graduate has 2,455 career rushing yards - putting him 23 yards shy of Jay Lynn Hodgin (1972-74) for seventh all-time in school lore - after rushing for 108 yards on 18 carries in the second half for an average of 6 yards per carry. USC didn't try to fool anybody. It just lined up, went straight at Kentucky and knocked them backwards.
"We knew as a team that we had to establish the run if we were going to win the game," Lattimore said. "We worked on the power play all week. We had a lot of success. It doesn't matter to me (whether USC runs out of the inside-zone, zone-read or power-I). I like downhill runs, so I can get those tough yards."
The first half was pretty much the Connor Shaw show for the USC offense as he had 12 of USC's 19 rushing attempts and threw 11 passes. Lattimore, meanwhile, was largely ignored with just five carries and three receptions for 16 yards.
"I wasn't frustrated at all," Lattimore contended. "We just weren't executing in the first half. If we had executed the plays that we ran, we would have scored and had a lot more points. We came out with a different focus in the second half. They had all the momentum and the ball bounced their way at lot. We just had to run the ball a little bit more."
Considering Lattimore has rushed for 358 yards in two games against Georgia, it's almost a foregone conclusion that he will pass Hodgin at some point next week.
"Sometimes it just opens up," Lattimore said. "Once they get in their groove, it's hard for us to stop that. I have a great O-line, a great set of tight ends and receivers blocking downfield. We know we have a big challenge. Their defense is good."
SEC RESULTS (Saturday)
South Carolina 38, Kentucky 17
Missouri 21, UCF 16
Texas A&M 58, Arkansas 10
Georgia 51, Tennessee 44
LSU 38, Towson 22
Alabama 33, Ole Miss 14
OPEN: Auburn, Florida, Mississippi State, Vanderbilt
SEC EAST STANDINGS: Florida 3-0, USC 3-0, Georgia 3-0, Kentucky 0-2, Tennessee 0-2, Missouri 0-2, Vanderbilt 0-2
MISCELLANEOUS
* The team captains for the Gamecocks were D.J. Swearinger, Reginald Bowens, Johnson and Justice Cunningham.
* USC was 7-of-14 on third downs in Saturday's game, including 5-of-7 in the second half, while Kentucky was 6-of-14, but only 2-of-6 in the second half. UK's seven possessions in the second half ended with four punts, two interceptions and the end of the game.
* USC leads the all-time series against Kentucky 16-7-1. Spurrier is 19-1 in his career vs. Kentucky.
* Junior wide receiver Ace Sanders' three-yard touchdown reception in the third quarter marked his third touchdown of the season and the third straight game that he has scored.
* Sophomore wide receiver Damiere Byrd's 30-yard touchdown reception in the third quarter was his second TD catch of the season.
* USC's 14-play, 81-yard drive in the second half was the longest drive in time of possession by the Gamecocks this season and the fifth longest in Spurrier's eight-year tenure at USC.
* Senior spur DeVonte Holloman tallied his first interception of the year in the fourth quarter. He now has five career interceptions.
* Freshman defensive tackle Gerald Dixon Jr. picked off a deflected pass in the fourth quarter for his first career interception.
* Defensive end Devin Taylor was credited with 1.5 sacks in the game, and now has 17 career sacks.
* Adam Yates connected on a 31-yard field goal to close out the scoring. He is now 3-for-4 on the season in field-goal attempts.