Notebook: Gurley Breaks Out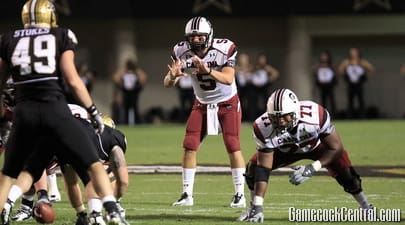 If Steve Spurrier has been searching for another receiver to offer sophomore Alshon Jeffery some support in the pass-catching department. he may have finally found what he's been looking for.
Tori Gurley's 13 catches Saturday night fell one reception short of the school record shared by Zola Davis (14 at Vanderbilt on Oct. 24, 1998) and the late Kenny McKinley (14 at Tennessee, Oct. 27, 2007).
Ironically, despite his 6-foot-4 frame, Gurley lines up at the slot receiver spit where McKinley once excelled. Gurley watched a lot of tape of McKinley over the summer to help him learn how to play the position.
"I tried to pick up the little things that made him a great player," Gurley said. "I'm just trying to walk in his footsteps.'
Gurley shattered his previous career high of four receptions, which he had accomplished on six occasions. He improved his career high in receiving yardage by nine yards to 109.
"Coach Spurrier and Coach Junior and the coordinators did a great job of just reading Vandy's defense," Gurley said. "They put everybody in position to make plays. Tonight, I was just the guy with the hot hand."
Gurley dedicated his career-best performance to his mother, who is ill, and experienced a SEC road win for the first time in his career.
"Hopefully, she was watching," Gurley said. "I just tried to go out and play my part. I'm just happy we won. It feels great. I'm going to celebrate by watching the game and getting ready to play against Tennessee last week."
His final reception of the first half produced a 15-yard TD with 12 seconds left in the first half to even the score at 7-7.
"That was big. We didn't have anything going," Spurrier said. "We used our two timeouts there. That's why it's important to save them. We scored two touchdowns on scramble plays. One to Gurley at the end of the half and one to Alshon, We don't hit a lot of scramble plays. It was neat. That wasn't the way it was drawn up, but the guys made a play. Stephen made a play, kept the ball alive, and Tori and Alshon came down with the ball. Tori made a big-time catch in the middle of a lot of traffic."
Gurley, who has 30 receptions for 297 yards and three touchdowns this season, had five receptions in the first half. Four of those catches came on the final drive to close out the first half when he had receptions for 8, 7, 9 and 15 yards.
"It was just a scramble play. Stephen did a great job of rolling out of the pocket because they doubled Alshon," Gurley said. "I just broke to the open spot in the end zone and he hit me. He made a great throw. It was a simple catch. We practice scramble plays a lot. One guy goes deep and everybody else break to the sideline. That's something we work on all the time and we reaped the benefits of that today."
Has Gurley become the best No. 2 receiver in the SEC? If not, he's certainly part of the discussion. No matter what, he showed USC has more than one wide receiver who deserves national acclaim.
"We've been proving at wide receiver that we have multiple guys who can go out and get the job done," Gurley said. "(Saturday) was just my night. I just grabbed the opportunity by the horn and didn't let go."
BCS RANKINGS: USC is No. 20 in the latest BCS rankings released Sunday night. They are the fifth highest rated SEC team behind Auburn (1), Alabama (7), LSU (12) and Arkansas (19). However, that BCS ranking is three spots below where the Gamecocks are situated in the major polls. USC is No. 17 in both the Associated Press and USA Today/Coaches poll.
THE WILD AND WACKY EAST: The SEC East continued its season-long journey into another dimension on Saturday. Besides USC downing Vanderbilt, Georgia traveled to Lexington, Ky. and accomplished something USC couldn't - beat Kentucky on their home field. As a result, USC still controls its own fate. Next Saturday, a USC victory over Tennessee coupled with a Georgia win over Florida in the Cocktail Party game in Jacksonville, Fla. and a Vanderbilt loss at Arkansas would put USC just a single win over Arkansas (10/6) away from clinching a berth in the SEC championship game.
SEC EAST STANDINGS:
South Carolina 3-2 (5-2)
Georgia 3-3 (4-4)
Florida 2-3 (4-3)
Vanderbilt 1-3 (2-5)
Kentucky 1-4 (4-4)
Tennessee 0-4 (2-5)
PAULK SUSPENDED FOR FIRST HALF: Literally moments before the start of Saturday night's game, USC announced linebacker Rodney Paulk had been suspended by the SEC office for the first half because of a helmet-to-helmet hit during the Kentucky game. Paulk was not penalized on the play, but the conference office felt sanctions were necessary.
"They asked us to keep it kind of quiet," Johnson said. "It was the hit at Kentucky that was unintentional. It was real high on one of their players at the goal line. Nobody probably noticed it because they didn't flag it. Coach Spurrier didn't even notice it when we were watching the film. I saw it because I grade the kid. But I didn't think it was anything flagrant. Kentucky turned it in. Their heads hit. The (UK) kid jumped up and didn't have to leave the game. He wasn't injured.
"The Commissioner was very fair about it and ruled it was up around the head area. It's my understanding he's not the first kid to sit a half or a game this year. They don't want to make a big deal out of it unless someone does something flagrant. When it goes up high around the head, they're getting real strict about it. Rodney understood and everything was fine."
Paulk finished the game with no tackles and one quarterback hurry.
HIGH TOLERANCE FOR PAIN: Defensive tackle Melvin Ingram suffered a broken bone in his hand on Vanderbilt's first possession of the night, but the redshirt junior had his hand placed into a cast and he continued playing. Eventually, he missed just a couple of defensive series. Defensive end Chaz Sutton is wearing a cast as well.
"I can't remember how it happened. I just couldn't close my hand," Ingram said. "It was real sore. But we're all warriors. We go hard. It's a mental thing. You can't think about it. You just have to go out and play."
THIRD-DOWN CONVERSIONS: USC entered Saturday night's game with a SEC-best 54.4 percent on third downs and they did nothing to hurt their ranking by converting 9-of-17 third down opportunities against Vanderbilt. USC's success on third down produced a season-high 84 plays. Here's how USC was able to convert each time:
1Q - 3rd & 3, SC 47 - Pass to Lamar Scruggs for 5 yards (fumble recovered by Miles);
1Q - 3rd & 6, SC 30 - Pass to Jason Barnes for 15 yards;
1Q - 3rd & 2, VU 34 - Kenny Miles rushes for 10 yards;
2Q - 3rd & 3, SC 27 - Pass to Alshon Jeffery for 7 yards;
2Q - 3rd & 1, SC 43 - Brian Maddox rushes for 4 yards;
2Q - 3rd & 3, VU 36 - Brian Maddox rushes for 12 yards;
3Q - 3rd & 10, SC 20 - Pass to Tori Gurley for 10 yards;
3Q - 3rd & 3, SC 14 - Brian Maddox rushes for 13 yards;
4Q - 3rd & 7, SC 16 - Pass to Ace Sanders for 17 yards.
Six of the nine third down conversions came in third-and-short situations in which USC needed three yards or less to pick up the first down.
"The biggest difference this year as opposed to last year is we're not in third-and-15s and third-and-20s like we were last year," Garcia said. "We gave up a lot of sacks last year. This year, third downs have been a lot more manageable and we're making the most of it."
RED ZONE OFFENSE SIZZLES: USC's red zone offense continues to be white hot. USC was 2-of-3 in the red zone on Saturday night. Through seven games, the Gamecocks are 23-of-26 (88.5 percent) in the red zone with 21 touchdowns and two field goals. The TD ratio is an impressive 80.8 percent.
GARCIA KEEPS MOTORING ALONG: By throwing for 355 yards against Vanderbilt Saturday night, USC QB Stephen Garcia pushed his career passing total to 5,375 yards. He's just the sixth passer in school history to surpass the 5,000-yard mark. His next target? Phil Petty (1998-2001) at 5,652 yards.
With as many as seven games possibly remaining in the 2010 schedule, Garcia has an excellent chance to finish the 2010 season as the third leading passer in USC history behind Todd Ellis (9,953) and Steve Taneyhill (8,782).
Garcia's scoring throws to Gurley and Jeffery gave him 35 career TD passes, lifting him into sole possession of fifth place on USC's all-time list. His second TD toss of the night was vintage Garcia as he scrambled away from pressure and fired a perfect pass down the right sideline to Alshon Jeffery, who caught the pass perfectly in stride and cruised into the end zone.
"Stephen hung in there and played tough," Spurrier said. "That scramble play to Alshon was a thing of beauty. I thought the guy would catch Alshon, but he's sneaky fast. He doesn't look like a real fast guy but somehow or the other, they don't catch him. He gets out there and he goes. It was a good play by Stephen."
STARTING LINEUPS:
OFFENSE: WR Alshon Jeffery, WR Tori Gurley, TE Patrick DiMarco, QB Stephen Garcia, TE Justice Cunningham, RB Kenny Miles, LT Jarriel King, LG Garrett Chisolm, C T.J. Johnson, RG Rokevious Watkins, RT Hutch Eckerson.
DEFENSE: DE Devin Taylor, DT Travian Robertson, DT Ladi Ajiboye, DR Cliff Matthews, MLB Josh Dickerson, WLB Tony Straughter, SPUR Antonio Allen, CB Stephon Gilmore, FS D.J. Swearinger, SS DeVonte Holloman, CB Chris Culliver.
BOWL PROSPECTS: Three bowl games attended Saturday's game in Nashville. The Gator, Outback and Capital One bowls all had representatives in the press box. USC has appeared in the Outback Bowl three times since the 2000 season, while the last bowl appearance in Jacksonville came in 1987.
THE VANDERBILT PERSPECTIVE: It was a tale of two halves for the Vanderbilt offense. On their first three possessions in a span of 19:36 bridging the first and second quarters, the Commodores gained 160 yards and scored their only touchdown on a three-yard scamper by quarterback Larry Smith.
But in the next nine possessions, the most plays Vanderbilt ran was five. They punted eight times and saw the first half expire on the other. Their first six possessions in the second half featured four three-and-outs and two possessions of four plays. The Commodores didn't cross midfield in the second half until the final play, which produced a turnover on downs. In other words, the Vanderbilt offense was stonewalled.
"We moved the ball in the first half," Vanderbilt head coach Robbie Caldwell said. "We thought we had some things going but they made some adjustments and shut us down. I'm very disappointed in that aspect of it. We had a very poor performance in the second half offensively."
On Vanderbilt's opening possession, Vanderbilt tried a fake punt but VU's Richard Kent, who had a sensational night kicking (nine punts for 46.3 yard average), was stopped for no gain at the USC 40. Caldwell said afterwards the fake punt call was taken off, but Kent apparently didn't hear the call.
"They were supposed to execute a fake punt and it was called off and our punter was talking to the official," Caldwell said. "I guess the official asked him what foot he was kicking with. Fortunately, it didn't hurt us."
Saturday marked Homecoming on the Vanderbilt campus, but the Commodores suffered their eighth straight homecoming game loss. Vanderbilt's last Homecoming win against a SEC foe came in 1998.
SEC SCORES:
USC 21, Vanderbilt 7
Arkansas 38, Ole Miss 24
Auburn 24, LSU 17
Alabama 41, Tennessee 10
Mississippi State 29, UAB 24
Georgia 44, Kentucky 31
OFF: Florida
NOTES:
-- USC now leads the all-time series against Vanderbilt, 16-4.
-- USC is now 12-21 under Spurrier when the opponents scores first and 31-10 when they score 20+ points.
-- Since the first half ended in a 7-7 tie, USC is now 33-10 under Spurrier when they don't trail at the half, including 4-2 when the halftime score is even. USC has led after three quarters of every game this season.
-- USC rushed for 129 yards in Saturday's game, improving their record to 32-8 under Spurrier when they rush for 100+ yards.
-- Alshon Jeffery topped the 100-yard mark for the fifth time in seven games this season, racking up 155 yards on a career high nine receptions. He now has 49 receptions for 848 yards in 2010.
-- DT Travian Robertson had a career high seven tackles in the game.