Notebook: USC thinking about Georgia
[rl]
As soon as the fourth quarter clock on Williams-Brice Stadium's massive two-year-old video scoreboard hit zeroes on Saturday night to cement South Carolina's 33-23 victory over East Carolina, the thoughts of the South Carolina players and coaches quickly turned to Georgia and the nationally televised showdown with the Bulldogs.
USC has won three of the last four meetings against Georgia, including a thunderous 35-7 victory two years ago at Williams-Brice Stadium marking the Gamecocks' third straight win over the Bulldogs.
Steve Spurrier contended the USC players would not require any additional motivation such as Georgia being favored in order to prepare for the game.
"We don't need any (extra) motivation to play Georgia or Florida or whoever we play," Spurrier said after Saturday's win, his 200th as an SEC head coach. "We just have to try to play with very few turnovers. We had only one turnover (Saturday night)."
Spurrier's biggest concern on Saturday night? Somehow finding a way to beat East Carolina and "not go into the Georgia game 0-2."
"That was the biggest thing I was worried about right there," Spurrier said. "I knew this team would be tough for us. They can play offense. We had to stay on the field and play a lot of offense ourselves. We finally did that a bit."
Defensively, USC demonstrated progress from the Texas A&M game 10 days ago, but spur Sharrod Golightly realizes additional improvement is required in order to beat Georgia.
"We still have a long way to go," Golightly said. "We have a big game next week. We have to buckle up. It's an SEC East game and it's all on the line. We're going to tighten up."
Georgia's pro-style offense led by powerful running back Todd Gurley offers s stark contrast to the pass-happy offenses run by Texas A&M and East Carolina that USC has faced in weeks 1 and 2.
"Playing these passing teams, I think we've seen just about every route combination," Golightly said. "Georgia does a lot of things with their fullbacks and tight ends. But this next game is all about heart. It's who wants it most. I'm excited to get after it."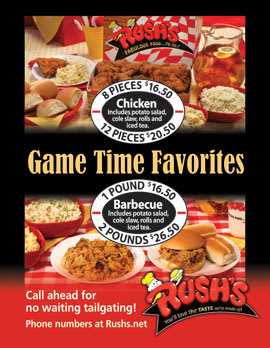 Click
Here
to view this Link.
RESPECT FOR THE PIRATES
: The road doesn't get any easier for East Carolina head coach Ruffin McNeill and his team, which travels to Virginia Tech next Saturday. The Hokies stunned Ohio State at the Horseshoe in Columbus, Ohio, on Saturday night. ECU has squared off with USC three times in the last four years and put up a fight in two of those games: 2011 and 2014. The 2012 contest was 48-10 mismatch.
"I like Ruffin and everything about him and the program he runs," Spurrier said. "They do a super job and they're going to beat a lot of people, no question about that." They're a good quality opponent. They're tough. They easily could have beaten us in Charlotte three years ago, but we got a bunch of turnovers to beat them. They should win 10 again this year."
NOT THE SAME DEFENSE: By surrendering 453 total yards to East Carolina on Saturday, USC has now allowed 1,133 offensive yards (566.5 ypg) in the first two games. It looks like the talent drain (Jadeveon Clowney, Kelcy Quarles, Chaz Sutton, Victor Hampton) from last season has affected the quality of USC's defense through the first two games. The Gamecocks have yet to find an answer to defending the pass. Saturday night, ECU quarterback Shane Carden was 32-of-46 passing for 321 yards. Through two games, opposing quarterbacks are 76-of-106 passing for 832 yards and four touchdowns.
"We did lose a bunch of guys on defense," Spurrier said. "We thought these other guys can play like Clowney, Chaz Sutton and Victor and all those guys. We haven't quite done it yet. We don't have much of a pass rush unless we blitz a whole bunch of people. We have to keep working on it. Our guys played pretty well, though. Our coaches were pleased with the way our defense played, as well as the offense and special teams."
MISCELLANEOUS:
-- USC now leads the all-time series with East Carolina, 13-5. Spurrier is 3-0 against ECU in his career, with all three wins coming as the Gamecocks' head coach.
-- Dylan Thompson's career stats: 55.7 completion percentage (165-for-296) for 2,459 yards and 19 touchdowns with seven interceptions.
-- Left guard A.J. Cann made his 40th career start on Saturday to become the 11th player in school history to reach that plateau.
-- By rushing for 101 yards, Mike Davis moved into USC's career top-25 list in rushing yards. He passed Alex Hawkins (1956-58) in the first half. He now has 1,574 career rushing yards, three yards shy of tying Jeff Grantz (1,577) for 24th spot.
-- Pharoh Cooper set a new career high with five receptions for 45 yards. He also ran twice for six yards.
-- Shaq Roland's seven catches eclipsed his previous career best of six in the 2014 Capital One Bowl against Wisconsin.
-- USC got pressure on Carden, compiling seven QB hurries in the game, most for a Gamecock defense since posting 10 against Georgia on Oct. 6, 2012.
-- Gerald Dixon Jr. blocked a second quarter field goal attempt for USC's first blocked field goal try since Stephon Gilmore's block at Tennessee on Oct. 29, 2011.
-- USC was 4-for-4 scoring in the red zone with two touchdowns and two field goals.
-- USC controlled the ball for 20:14 in the second half, running 40 offensive plays compared to 28 for ECU.
-- Spurrier said Will Sport started at right guard, but Cody Waldrop replaced him in the second offensive series and remained in the lineup for the rest of the game. Alan Knott played the entire game at center.
SEC WEEK 2 RESULTS:
USC 33, East Carolina 23
Alabama 41, Florida Atlantic 0
Tennessee 34, Arkansas State 19
Missouri 49, Toledo 24
Mississippi State 47, UAB 34
Kentucky 20, Ohio 3
Florida 65, Eastern Michigan 0
Arkansas 73, Nicholls State 7
Ole Miss 41, Vanderbilt 3
Auburn 59, San Jose State 13
LSU 56, Sam Houston State 0
Texas A&M 73, Lamar 3
SEC went 12-1 on Saturday with the lone loss coming in the Ole Miss-Vanderbilt SEC battle in Nashville. In other words, the SEC did not lose a non-conference game on Saturday.

Click
Here
to view this Link.
DM