Now thats better - USC plunders Pirates
[rl]
Borrowing the slogan from a popular hamburger chain, now that's better.
Nine days after being shellacked by Texas A&M, South Carolina cranked up the running game in a perfectly balanced offensive attack (38 rushes, 38 passes) and Elliott Fry booted four field goals as the Gamecocks rallied from an early deficit to belt East Carolina, 33-23, Saturday night at Williams-Brice Stadium in front of a sellout crowd of more than 80,000 fans.
Rebounding from a sluggish outing in the opener, USC (1-1) rushed for 175 yards against the Pirates defense, with Mike Davis registering his eighth career 100-yard game with 101 yards and two touchdowns on 18 carries, while Brandon Wilds added 49 yards on 14 carries. David Williams carried once in his Gamecock debut.
USC hosts Georgia next Saturday at 3:30 p.m. on CBS.
"That was a good win, that was a fun one," Steve Spurrier said. "I knew it was going to be a tough, down to the wire game and it turned out that way. It was a hot, humid night and I was really proud of the conditioning of our guys. My visor was sweated up completely and I was just standing there. Conditioning played a big role in our victory."
The Gamecocks punctuated the victory, Spurrier's 200th as a SEC coach, with an exclamation point - an 18-play, 86-yard drive in the fourth quarter that drained 10:33 off the clock and kept the high-tempo Pirates offense on the sidelines after they scored a touchdown to move to within 30-23 with 12:03 remaining.
"Brandon, Mike and the offensive line took over," Spurrier said. "We threw one pass on that final drive. It was encouraging to run the ball with Mike and Brandon. Everybody in the ballpark knew what play was coming. But we just kept handing it off and letting the clock run. That was crucial to beating these guys."
USC dominated time of possession by controlling the ball for 36:19 and running 76 plays. The Pirates ran just 67 plays. USC totaled 441 yards of total offense as Thompson completed 25-of-38 passes for 266 yards and one touchdown.
USC converted 7-of-13 third downs, a drastic turnaround from nine days ago.
"Our time of possession was almost as good as Texas A&M was last week," Spurrier said. "I'm really proud of our entire team. We're not quite as talented as some of our teams in the past, that's obvious. But the kids hung in there and played their hearts out. We played about as well as we could. The fans were super. I think they realize what kind of team we are."
Thompson was 15-of-18 for 134 yards in the second half. Most importantly, the USC offense turned the ball over just once, winning the turnover battle by a 2-1 margin.
Shaq Roland led USC with seven receptions for 94 yards in perhaps the best game of his career. Pharoh Cooper and Nick Jones had five catches apiece.
How efficient was the USC offense? USC scored points on seven of its nine possessions - three touchdowns and four field goals. The Gamecocks opened the game with a punt and interception, but tallied points on their final seven possessions, with Fry matching a career high with four field goals.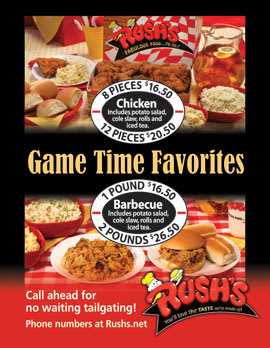 Click
Here
to view this Link.Spurrier recorded his 50th home win at Williams-Brice Stadium.
By extending its winning streak to 16 straight games against non-conference opponents and 21 straight games over non-conference foes in the regular season, USC averted losing consecutive games to start a season for the first time since the forgettable 0-11 campaign in 1999.
In two career starts against East Carolina, Thompson threw for 596 yards and four touchdowns. Two years ago, he passed for 330 yards and three touchdowns in his first career start, a 48-10 win over the Pirates.
USC has outscored East Carolina, 81-33, in Thompson's two career starts against the Pirates.
Ahead 20-16 at halftime, the Gamecock defense forced its first turnover of the year on ECU's opening series of the third quarter when ECU quarterback Shane Carden (32-of-46 for 321 yards) was pressured into throwing an ill-advised pass across his body.
The errant throw landed in the arms of USC spur Sharrod Golightly, who tiptoed along the sidelines to stay in bounds and register his first career interception.
Smartly utilizing a short passing game, Thompson was 6-for-6 throwing while engineering a 9-play, 69-yard TD drive that culminated with a 16-yard TD toss to a wide open K.J. Brent in the left corner of the end zone.
Brent's first career TD increased USC's lead to 27-16 with 8:36 left in the third quarter.
The Gamecocks came up with another turnover on ECU's second possession of the second half when safety T.J. Gurley stepped in front of a Pirates receiver and intercepted a Carden pass. USC took possession at their 45.
Freshman David Williams made his first career reception during the ensuing drive. After USC gambled on fourth-and-1 from the ECU 18 and Davis bulldozed ahead for three yards, the drive faltered and Fry booted his third field goal of the night to give USC a 30-16 lead in the final minute of the third quarter.
"Elliott Fry was a big part of the win also," Spurrier said.
Facing as two-touchdown deficit, the Pirates responded with an 11-play, 75-yard touchdown drive to cut USC's lead to 30-23. Carden threw 17 yards to wide receiver Cam Worthy for the score with 12:03 left in the fourth quarter.
What happened next? The second longest drive in terms of number of plays of the Spurrier Era.
USC picked up a critical first down on third-and-4 from its 18 when Thompson hit Davis for a five-yard pass. After that, the Gamecocks pounded away at the Pirates, chewing up clock in the process with Davis and Wilds combining to inflict most of the damage.
"That's what they do," ECU coach Ruffin McNeill said. "I was asked about Mike Davis (during the week) and I had no doubt he would be back. They always have a stable
of running backs. They've always been big up front. They were able to do what we call four-man offense. We do it too. Hats off the Coach Spurrier, one of the best coaches in the country."
When Fry calmly booted a 20-yard field goal with 1:30 left, USC had a 10-point lead at 33-23.
The contest began inauspiciously for the Gamecocks.
Three running plays produced little for USC on their first possession, but Tyler Hull's punt was downed at the 3-yard line.
As expected, the Pirates came out throwing and three of Carden's first four throws registered first down. When Rico McWilliams was flagged for pass interference, the Pirates soon took advantage with a 21-yard pass completion inside the 10-yard line.
At that point, the Gamecock defense stiffened and forced the Pirates to settle for a 26-yard field goal.
ECU quickly got the ball back when Pirates CB Josh Hawkins made a diving interception of a ball that deflected off the hands of Roland.
Again, the Gamecock defense kept the Pirates out of the end zone, holding firm on the fringe of the red zone and a 35-yard field goal gave the Pirates a 6-0 lead with 6:35 left in the first quarter.
Davis made his first appearance of the contest on USC's third series, and he quickly picked up the Gamecocks' initial first down of the game. Moments later, Williams made his much-anticipated debut, but was clobbered for no gain by an ECU lineman.
USC moved into ECU territory for the first time when Thompson fired a pass to Roland for a 13-yard gain. Following a timeout, Davis broke loose on a 36-yard touchdown run to give USC a 7-6 lead with 1:56 left in the first quarter.
The score, which capped a successful 10-play, 82-yard drive, represented USC's first rushing touchdown of the season, and the 14th career rushing touchdown for Davis.
USC held a 7-6 lead at the end of the first quarter even though it was outgained, 141-88, in the opening 15 minutes.
East Carolina completed a 10-yard pass on third-and-9 on the opening play of the second quarter and rode the momentum into the end zone as Chris Hairston raced 10 yards into the end zone.
The Gamecock responded with an 11-play drive in which Thompson completed 19 and 10-yard passes to Cooper and Brent, respectively.
However, USC was forced to settle for a 39-yard field goal by Elliott Fry with 9:55 left in the second quarter.
Trailing 13-10, USC started at its 24-yard line and drove the distance of the field to take a 17-13 lead with 4:49 left in the second quarter. The big plays were a 31-yard pass to Roland and a 19-yard completion to Davis along the left sideline, where he stepped out of bounds at the three-yard line.
Davis powered over from three yards out on the next snap for his second rushing touchdown of the game.
ECU's Breon Allen zigzagged his way down the field for a 44-yard run to put the Pirates into scoring position. But the defense rose up again and forced a field goal attempt.
Gerald Dixon roared through and blocked the kick, and the ball caromed out beyond midfield. It was USC's first blocked field goal since 2011.
USC took over at the ECU 42 when Roland spun away from a ECU defender for an 18-yard pass completion that brought the crowd to its collective feet. But three straight incompletions brought out Fry for a 42-yard field goal attempt and the sophomore from Frisco, Texas, boomed the kick through the uprights for a 20-13 lead.
ECU took the ensuing kickoff and zipped down the field thanks in part to a roughing the passer penalty on defensive tackle J.T. Surratt. The drive culminated in a 40-yard field goal with four seconds left in the first half that cut USC's lead to 20-16.
The two teams combined for three touchdowns and five field goals in the first half.

Click
Here
to view this Link.
DM