Olson rakes, Hopkins hits for the cycle as Gamecocks sweep Valpo
SOUTH CAROLINA GAMECOCKS BASEBALL
Gamecock head coach Mark Kingston said he's been pleasantly surprised at how many home runs the Gamecocks had to start the year.
Sunday, they did it again.
Jacob Olson launched two and TJ Hopkins hit for the cycle as the Gamecocks blew past Valparaiso 12-6 to sweep the series.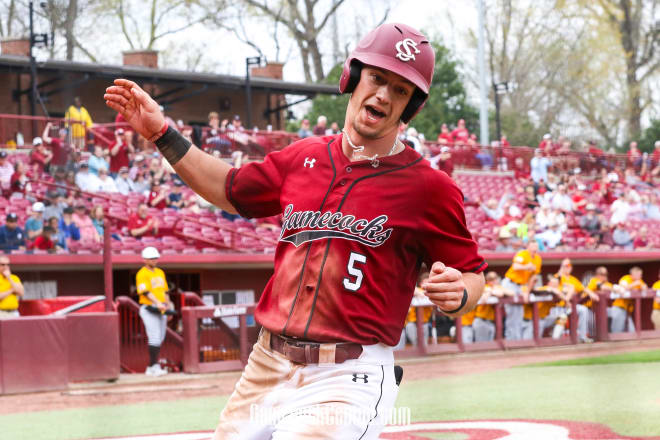 "I'm pleasantly surprised that what we saw has come to fruition, no doubt about it. there's so many new guys is usually the last thing to come for hitters," Kingston said. "Taking quality at-bats usually leads to power as guys get older and stronger. To replace everything we had after last year, so far I'm pleased with the power production.
Also see: How South Carolina plans to improve the run game this season
The Gamecocks (13-3) have hit 32 bombs so far this year with four more coming Sunday: Olson had two while Hopkins and Ian Jenkins hit one apiece.
Hopkins finished with four RBI and had the first Gamecock cycle since Kyle Martin did it in 2015, going 4-for-5 and drove in four runs.
"After I hit my single for the third hit, I can't remember who, but a pitcher told me, 'Hey you're a triple away from the cycle,"' Hopkins said. "And I was like, 'really? I didn't even know.'"
Olson had three hits, two of those being homers, and drove in five runs, including the go-ahead, three-run home run in the seventh inning.
The senior is now leading the team in batting average (.385), home runs (7) and is second on the team with 20 RBI, one behind team leader Luke Berryhill.
"I'm seeing it well right now," Olson said. "That's all I can really say."
Also see: In-state guard felt at home during hoops visit
South Carolina jumped out to an early lead, getting a home run from Jenkins to start the third inning. It was the redshirt freshman's first career hit and he launched the ball, hitting it 429 feet over the bullpen in right-center.
It was a long road for Jenkins, who's battled injuries since his arrival in Columbia, but he finished the day going 3-for-4 and was a triple away from his own cycle in just the second start of his career.
"It's great. We gave him the game ball after because that's his first real chance to have an impact here. He's taken 10 million swings since he got on campus so I'm really happy for him," Kingston said. "We got him in the game yesterday and I thought he got progressively better with each at-bat as he got comfortable. We wanted to give him another chance today and he made the most of it."
After jumping out to a four-run lead, the Gamecocks gave up four runs over two innings and saw their lead evaporate before Olson's heroics in the seventh.

Brett Kerry, making his first career start, gave up three of those in five-plus innings before Dylan Harley allowed the game-tying run and Sawyer Bridges, who picks up the win Sunday, gave up one in the eighth.
Kerry finished his outing giving up those three runs on six hits and striking out six batters, one shy of tying his career high.
"I thought he could have done a little bit better. Three earned runs in five innings isn't quite as dominant as he was in the bullpen," Kingston said. "That's something we'll evaluate. I thought he was solid and workman like."
TJ Shook slammed the door after that, coming in and getting out of a two-on, nobody out jam with a strikeout and double play before pitching a clean ninth inning to end the game.
He pitched two perfect innings and struck out two batters, picking up the first save of his season.
"He's been really good against left-handed hitters this year," Kingston said. "They were stacked with left-handed hitters and the wind was blowing out to right field. We thought that gave us the best chance today," "I thought he was very good."
Also see: Quick notes on a few hoops visitors this weekend
Player of the game: Hopkins picked up four hits and hit for the first cycle in almost four years while driving in four runs of his own. He hit his fifth homer of the day.
Key moment: TJ Shook came in and got out of a two-on, no out jam with a strikeout and double play in the eighth. After that, the Gamecocks scored four runs in the eighth to put the game away.
Up next: The Gamecocks hit the road for a road game at The Citadel in Charleston. First pitch is scheduled for 7 p.m. on the SoCon Digital Network. No starter has been announced today.