Participation report: freshman has huge day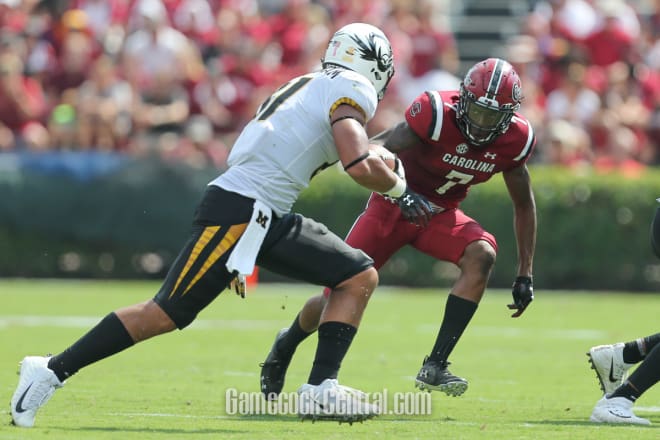 - New to Gamecock Central? Sign up for free alerts and newsletters!
South Carolina didn't play a lot of freshmen in Saturday's dramatic 37-35 win over Missouri but the ones that did delivered.
The Gamecocks (3-2, 2-2 SEC) got a huge boost from Jaycee Horn with Rick Sandidge and Josh Vann also getting into the action.
Also see: Josh Low breaks down the drama
Horn led the team with four pass breakups while collecting three tackles, none more important than a touchdown-saving one that kept Missouri off the board to spark South Carolina's second half comeback.
Saturday was Horn's fourth start in five games and he didn't shy away from the moment, getting a few pass breakups with Missouri driving inside the Gamecocks' 20-yard line.
He and the rest of the defense held Missouri to just three touchdowns on eight red zone trips.
Also see: Recruiting scoop on a few visitors
Sandidge had three tackles as well in the Gamecock defensive line rotation and has been a mainstay in the rotation throughout his entire freshman year.
While he didn't get on the stat sheet, Josh Vann picked up his first-career start with the Gamecocks, coming in with the first group at receiver in place of Bryan Edwards.
Israel Mukuamu played a lot on special teams, as he always does, but got some first-half action at cornerback with the other starters struggling to keep up with Missouri's passing attack.
The Gamecocks took down Missouri 37-35 on a last second field goal from Parker White and wouldn't have been able to do it without the freshmen, especially Horn, stepping up.
Also see: Which plays meant the most in Saturday's win?
Other freshmen who played
RJ Roderick
JJ Enagbare
Rosendo Louis Jr.
*** Current subscribers: To discuss this story, head over to The Insiders Forum, our private, members-only message board!
*** Not a subscriber? Get in-depth and insider coverage of the South Carolina Gamecocks with a subscription to GamecockCentral.com!
ABOUT: Established in 1998, Gamecock Central provides in-depth coverage of Gamecock sports and recruiting, and is home to The Insiders Forum, our private, members-only message board. How did we get started? - More Gamecock news - Free alerts/newsletters - Sign up for an account
Thank you for visiting our site. We hope you'll hang around to check it out.