Pastides: I'm fan No. 1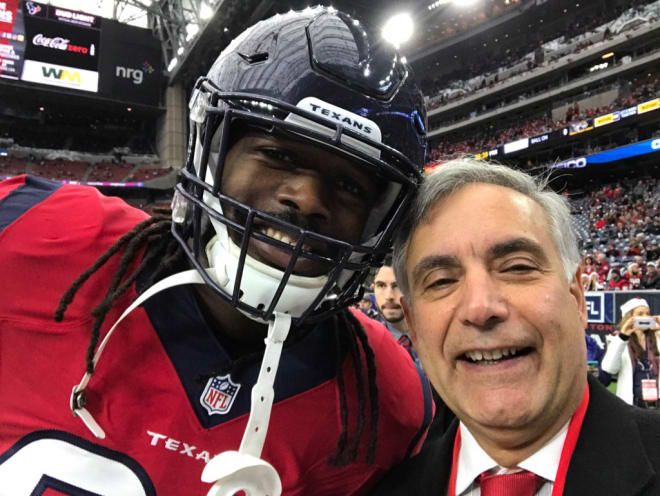 Whether it's taking a selfie with former South Carolina great Jadeveon Clowney, standing on the sidelines at Williams-Brice Stadium as the seconds tick down on a big win, or among the crowd at Colonial Life Arena, South Carolina President Harris Pastides wears his love for sports on his suit sleeve.
A self-proclaimed, die-hard sports fan, Pastides' office on the historic Horseshoe is adorned with autographed baseballs on the wall.
Growing up in a bi-lingual household that also spoke Greek, Pastides gained his love for competition while playing games like box ball, stickball and baseball, and quickly became a fan of the Yankees, Knicks, Giants and Rangers.
Now Pastides counts himself as South Carolina's No. 1 fan.
"The first thing is not to treat them like they're a special child; they're an equal part of the university," Pastides said of his role in Carolina athletics. "I'm not a micro manager; we have a great athletic director and I trust him. He keeps me posted. If he needs my advice, he asks for it. In that sense, I'm mainly fan No. 1. I'll be at the game screaming and yelling like any other fan, and when we lose, I feel just as bad as they do."
Pastides, who was hired in 2008, is proud of the transformation of South Carolina's facilities during his time in Columbia. (And is excited about the future facilities too).
"What's most important to me is providing the best student-athlete experience in America," Pastides said. "With the completion of our track and field facility, there will be not one sport at USC that I believe will have second-rate facilities."
Pastides rattles off sports like tennis, golf, equestrian, swimming and diving, football, basketball, baseball and softball that have seen facilities improvements in recent years.
As proud as he is, South Carolina's biggest fan also wants the rest of the fan base to know that he has high expectations for the athletic department.
"The next thing that's important to me is putting our teams in a position to win and win all the time, win championships," Pastides said. "Along with the obvious ones like winning a women's basketball championship, the men getting into the NCAA tournament, football winning the SEC East division and eventually the SEC. We've had phenomenal success in soccer, men's and women's; in golf, men's and women's; in softball; equestrian; volleyball and tennis, so we just want to keep it going."
ALSO SEE: Pastides happy with football progress, excited for the future | Premium locations a priority
This is part 3 of a multi-part interview with South Carolina President Harris Pastides. Pastides was selected as the school's 28th president in 2008.