Peaceful easy feeling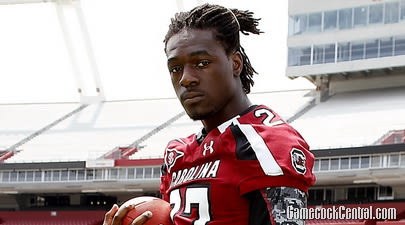 Unlike a year ago, Steve Spurrier knew who South Carolina's starting quarterback for the season would be.
Connor Shaw assumed the starting job from Stephen Garcia midway through last season and has kept an ironclad grasp on the top spot through spring practice into preseason camp. Shaw played exceptionally well down the stretch last season and hopes to sustain the momentum into tonight's season-opener at Vanderbilt (7 p.m., ESPN).
The lack of drama at the most important position in football has made for a quiet offseason for Spurrier.
And he's not complaining.
"Yeah, it's been a little more peaceful around here, I must say that," Spurrier remarked on Wednesday on the SEC coaches conference call. "We didn't have a quarterback competition to see who started. Connor is a better player than he was last year. He was pretty good at the end of the year in the final four games. Statistically, he was very good.
"Yes, it's been a peaceful preseason practice time."
Shaw completed 74.5 percent of his passes for 657 yards, eight touchdowns and one interception in the final three games, a pivotal stretch that included wins over rival Clemson and Nebraska. He also rushed for 239 yards and three touchdowns.
"Everybody knows Connor is our quarterback and Dylan Thompson, our backup, has done well also," Spurrier said. "Again, we have to go play the game and see what happens. We have to pass-block and run the ball and do a whole bunch of things. But Connor is certainly a good fit for what we're trying to do offensively."
With Shaw back and Marcus Lattimore healthy, expect the Gamecocks to run a lot of the inside zone and zone-read schemes that have bolstered the rushing attack in the past couple of years.
"We were pretty good at it last year," USC quarterbacks coach G.A. Mangus said. "Connor ran it in high school, so he's pretty good with that stuff. He understands it and that makes a big difference."
Last year, Vanderbilt intercepted four passes from Garcia, but a sensational defensive performance limited the Commodores to a field goal. With Shaw at the controls, Vanderbilt coach James Franklin doesn't expect to gain as many turnovers this time around. And the Commodores must focus on trying to stop Shaw from running with the football as well.
"He's more willing to pull it down and run. They run a lot of zone-reads and things like that," Franklin said. "The biggest thing is he's a coach's kid. Therefore, he makes great decisions. He doesn't make plays that will hurt their team. I don't foresee us getting the four interceptions that we had last year.
"That's our goal, obviously, and we're doing everything we can to create those turnovers. But with his mentality, I don't see him doing that. We're just going to have to beat him through fundamentals, schemes and technique."
Some analysts have compared Shaw to Vanderbilt quarterback Jordan Rodgers, a fifth-year senior with seven career starts under his belt. Both signal-callers are able to move the ball on the ground or through the air.
"He's an outstanding passer, no question about that," Spurrier said of Rodgers. "Like any passer, you have to get pressure on him. You can't let him stand there all day and pick you apart. We have to rush, but we have to stop the run to start off with. Their receiver Jordan Matthews has proven to be one of the best in the conference, if not one of the best in the country. We have to slow him down."
While Shaw has grabbed hold of the starting position, there was some clamor towards the bottom of the ladder. During preseason camp, quarterback Tanner McEvoy transferred to a junior college in Arizona. The benefit of the move was true freshman Brendan Nosovitch received a few more practice snaps.
"We think (Nosovitch) is going to be a very good one," Spurrier said. "He set a bunch of passing records up in Pennsylvania, but he knows he needs to be redshirted. It's a learning year for him. That's what you like to have. You would like your guys on campus for two years before they start playing, but sometimes it doesn't happen that way."
LATTIMORE LOVER: Franklin said on Monday that stopping Lattimore was the main undertaking for the Commodore defense. On Wednesday, he elaborated on the reasons why he felt that way.
"There are a lot of guys that are fast or big or strong or quick or elusive, but there aren't many across the country that have the whole package in what you're looking for," Franklin said. "He has it all. He has the size, the speed, the vision, all those things you're looking for. They're hard to find. He's a rare guy. I've heard he's a great kid, unbelievable leader, great work ethic, the whole deal. He has all the ingredients you're looking for."
Vanderbilt safety Javon Marshall understands the double whammy the Commodores defense must deal with trying to stop Lattimore and Shaw at the same time.
"Marcus Lattimore is a great back for South Carolina, but we're looking at it as the offense as a whole because if we focus too much on Lattimore, then Connor Shaw can scramble out of the pocket," Marshall said. "They have a lot of talent on offense, so we're really focusing on being the best defense we can be."
One of Vanderbilt's most experienced defensive players said the Commodores are prepared for anything and everything from the Gamecocks.
"They are definitely a run-first offense because they are good at it, but they are still dangerous as a passing team, so we're ready for anything," Vanderbilt senior defensive tackle Rob Lohr said. "Coach (Bob) Shoop is a great coach and he has a great scheme that has prepared us for this game. We're ready to get going."
Stopping Lattimore and Shaw isn't the only obstacle facing Vanderbilt. Franklin realizes the Commodores' offensive line has a "huge test" in trying to block USC's talented and big defensive line.
"It was the difference in the game last year," Franklin said. "We couldn't block their front. I'm really glad (Melvin) Ingram is gone. I was calling every NFL team trying to help him because he was a great player. We didn't want to see him again. But they still have some really good players, two preseason All-Americans at defensive end.
"They have recruited at a high level, which is what we're trying to do now. They're stockpiling talent. It will be a big challenge for our O-line, but by the end of (last) year, we were the same line South Carolina had seen earlier in the year."
WARD'S WISDOM: Lorenzo Ward begins his first full season as USC's top defensive play caller tonight. He hopes the second game works out as well as his first game when USC dominated Nebraska in the Capital One Bowl, 30-13. Ward has spent the past few months watching Rodgers on film and preparing a game plan to stop the Vanderbilt offense.
"He has that pedigree of quarterback in his bloodline," Ward said. "I know he and his brother (Aaron) spent time this summer studying our video. We all know how good his brother is at Green Bay. He knows what they want. He came in last season and led the offense. I'm sure he will be fired up and ready to go this season."
After Rodgers replaced Larry Smith as the starter last year, Vanderbilt became more of a passing team, although Rodgers completed just 50 percent of his throws. Rodgers attempted a season-high 32 passes in the Tennessee game.
"They threw the ball a lot more," Ward said. "The quarterback they had prior to him was more of a runner and didn't throw the ball as well. It gave Coach Franklin an opportunity to open up his offensive playbook."
Ward promised a simpler, more aggressive approach to how USC plays defense in 2012. Has he succeeded?
"I think we're ahead of where we were a year ago," Ward said. "That's because we've tried to simplify things a lot. The guys understand that we're not 2011, we're a 2012 team. Our performance will be based on how well we perform at Vandy. We're better technique and fundamentally because we spent more time on those type of skills in spring and fall camp."
HOW WILL THE NEW KICKOFF RULE AFFECT THE GAME?: Tonight's game will be the first game with the new kickoff rules. Kickoffs will occur from the 35-yard line, but touchbacks on kickoffs will bring the ball out to the 25-yard line. Special teams coaches like USC's Joe Robinson spent preseason camp trying to find the best strategy.
"I think most coaches are still inclined to not roll the dice with a great receiver and if you can achieve a touchback, you're pretty excited," Robinson said. "I know there has been talk about people sky-kicking the ball down to the 1-yard line and I'm sure a lot of people will try that. We have a plan right now with our kickers and we'll see what happens. I think the rule was done to encourage touchbacks and they're trying to take as many kickoffs and the contact out of the game as much as they can. Everybody is going to have to make their own decisions on strategy."
Franklin disclosed some of his kickoff strategy earlier this week.
"The way we'll approach the kickoff is to not be greedy," Franklin said on Monday. "If we feel we can kick it into the end zone and get the touchback, we'll probably do that, especially if we think a team has a guy that's really dangerous. You have to weigh the risk of them returning it for a touchdown versus the extra 5 yards they're getting in field position."
GAME PREDICTIONS: Predictions and comments for the USC-Vanderbilt game by some nationally prominent writers and/or websites covering the SEC.
CollegeFootballNews.com - USC 27, Vanderbilt 10. "Vandy will come up with more than the 77 yards of total offense it cranked out last year, and it will keep it close for a half, but the improved passing from USC quarterback Connor Shaw will take advantage of a retooled Commodore secondary to lead a balanced attack and a good opening day win."
Phil Steele - USC 27, Vanderbilt 23
WEATHER FORECAST: The forecast for the 7 p.m. kickoff at Vanderbilt Stadium is partly cloudy skies with temperatures around 84 degrees and a 20 percent chance of precipitation at kickoff. The conditions are expected to remain about the same for the next three hours, with temperatures forecasted to fall into the high 70s. The humidity, though, is projected to rise during the evening. Overall, a nice evening for football.
SEC SCHEDULE (Today-Sunday):
South Carolina at Vanderbilt, 7 p.m. (today)(ESPN)
Tennessee vs. NC State (in Atlanta), 7:30 p.m. (ESPNU)(Friday)
Buffalo at Georgia, 12:20 p.m. (SEC Network)(Saturday)
Bowling Green at Florida, 3:30 p.m. (ESPN)(Saturday)
Jacksonville State at Arkansas, 7 p.m. (PPV)(Saturday)
Central Arkansas at Ole Miss, 7 p.m. (PPV)(Sat.)
Southeast Louisiana at Missouri, 7 p.m. (PPV)(Saturday)
North Texas at LSU, 7 p.m. (ESPNU)(Saturday)
Jackson State at Mississippi State, 7 p.m. (FSN)(Saturday)
Auburn vs. Clemson (in Atlanta), 7 p.m. (ESPNU)(Saturday)
Alabama vs. Michigan, 8 p.m. (ABC)(Saturday)
Kentucky at Louisville, 3:30 p.m. (ESPN)(Sunday)
OPEN: Texas A&M (Game at Louisiana Tech postponed, moved to Oct. 13)
NOTES
* Spurrier on why USC has been successful in stopping Vanderbilt running back Zac Stacy the past couple of years: "I don't think it has anything to do with him so much as maybe we've got a pretty good defensive front seven. Obviously, we try to stop the run first. But he's a good back. Hopefully, we can contain him (tonight)." Stacy had 18 yards on seven carries against USC last season.
* USC will be playing on Thursday for the 10th time during Spurrier's eight-year tenure as coach. The last time was 2010, when USC hosted Southern Miss at Williams-Brice. USC is 7-2 on Thursdays.
* Spurrier on preseason camp now compared to the old days, when two-a-days were prevalent: "I really think the way we do it now is a lot smarter with one-a-days and walk-throughs. Your players are healthier and ready to go at the beginning of the real season. We've had plenty of time, Vandy has had plenty of time. We have a lot of experienced guys coming back from last year's team. We should be ready to play."
* Franklin on highly touted freshman running back Brian Kimbrow, who is just 5-foot-8 but possesses lightning speed: "The thing that jumps out to me is obviously his speed. He's an undersized guy, but he doesn't play like an undersized guy. He has a chip on his shoulder. He is extremely prideful. He's been told his whole life that he isn't real big. He will run extremely hard and lower his shoulder. I have been impressed with his toughness."
* ESPN.com ranked USC defensive end Jadeveon Clowney as the No. 7 player in the SEC.
* ESPN.com on USC's offensive depth chart: "The first thing that stands out is that top signee Shaq Roland is listed as a third-team wide receiver behind Ace Sanders and DeAngelo Smith. It might say more about how the others have done, but Roland is someone this staff has been very excited about and hopes he can make an instant impact on offense. He isn't taking Sanders' spot, but he'll get on the field."
* ESPN.com on USC's defensive depth chart: "That secondary looks pretty green without Akeem Auguste in it. He's out after tearing a muscle in his right thigh, meaning junior Jimmy Legree, who moved from safety this spring will get the start against Vanderbilt (today). Legree began last season as a starter, but lost his spot after struggling during the first two games. First-time starter Victor Hampton is at the other corner spot. He's unproven, but the staff is excited about his talent and athleticism."
Click
Here
to view this Link.