{{ timeAgo('2022-05-14 14:00:00 -0500') }}
football
Edit
PFF Projects These Four Gamecocks To Be Drafted In 2023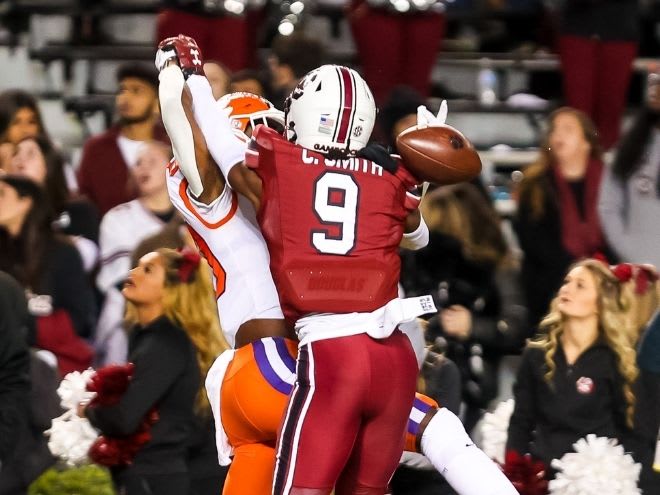 A couple of weeks ago, Zack Carpenter wrote an article breaking down some of the Gamecocks who have a chance of being drafted in the 2023 draft. It would seem that others agree that South Carolina has several players who could elevate enough to get drafted next year. Pro Football Focus, a service that breaks down measurables, position rankings, and other pieces of player analysis, released their NFL Draft Big Board for 2023. Of the 125 players released, four were Gamecocks, and some of the names might surprise you.
Cam Smith
Rising Redshirt Junior Cam Smith was the highest-ranked Gamecock on the list at #12. He also had the honor of being the highest-rated DB on the list. The 2nd-Team All-SEC Corner has been given a lot of attention this offseason, and he doesn't shy away from it. The Blythewood, SC native would add to an exceptional list of defensive backs from "DBU" who have been drafted highly in recent years, including Jaycee Horn, D.J. Swearinger, Stephon Gilmore, Chris Culliver, Ko Simpson, and Jonathan Joseph not to mention several more DBs who have been drafted in later rounds and found ways to contribute for NFL squads. There's no doubt that Smith has plenty of talent, in fact, teammate Spencer Rattler called him "the best DB" he's faced in practice earlier this spring. With Darius Rush stepping up, perhaps some teams will have to throw toward him a little more often this year, allowing him to showcase his talent and attitude to an even greater degree.
Jaheim Bell
Perhaps one of the most underutilized players in 2021, Jaheim Bell still flashed plenty of top-end athleticism when given the chance, especially in the bowl game against North Carolina. The 6'3" 230 lb do everything "wide-back" comes in ranked #39 on PFF's list. Bell had an astounding 5 TDs on just 30 targets in 2021, and with a shored-up QB room, it's expected that Bell will get more looks in 2022, in both quantity and quality. OC Marcus Satterfield gave him a lofty comparison this spring, "he's Deebo 2.0" said Satterfield. And the Gamecocks hope to use him in a variety of ways to get the ball in his hands and use their variable weapon.
Spencer Rattler
If Bell has a good season, it'll likely be because QB Spencer Rattler also had a nice season. The former #1 QB in the 2019 class has had an NFL future as his expectation since high school, and if he shows up and shows out in 2022, it's likely he'll get his shot. Rattler comes in at #56 on the PFF Big Board and is the 8th-ranked QB. That would likely drop him to the middle rounds, and I expect Rattler's goals for himself are much higher than that. Despite Rattler's struggles in 2021, he still had one of the highest completion percentages in all of college football and has averaged around 70% completions over his entire career thus far. Rattler is spending the offseason working with his private QB Coach Mike Giovando in Arizona, and Gamecock fans hope that hard work pays off. If Rattler can continue those numbers in Satterfield's pro-style system while leading South Carolina to 8+ wins, you'd have to think some NFL teams will start thinking hard about the potential Rattler could bring to their roster.
David Spaulding
This one might come as a bit of a surprise to some. DB David Spaulding is the last Gamecock to make the initial list. Spaulding is ranked at #110 on the list despite only starting 5 games last year. The Georgia Southern transfer did some nice things when given the opportunity including a 74-yd interception return for a TD against Troy. Scouts like his size, at 6'1" 195 lbs, and he has pretty good speed with a 4.45 40-time on his profile, though we'll have to see if that holds up to a laser timer. It remains to be seen how much Spaulding will play this season, but he could carve out a role with Darius Rush, or if anyone misses any time. He also could slot into some time at Nickel, though Cam Smith played a lot there this Spring.