Pitching falters in second Clemson game
SOUTH CAROLINA GAMECOCKS BASEBALL
The last four years, South Carolina entered Saturday's game at Fluor Field up a game in the series with Clemson and each time failed to put the series away.
That didn't change Saturday.
South Carolina fell 11-5 to Clemson in Greenville behind shaky outings from starter Dylan Harley and Parker Coyne to even the series and snap the Gamecocks' eight-game win streak.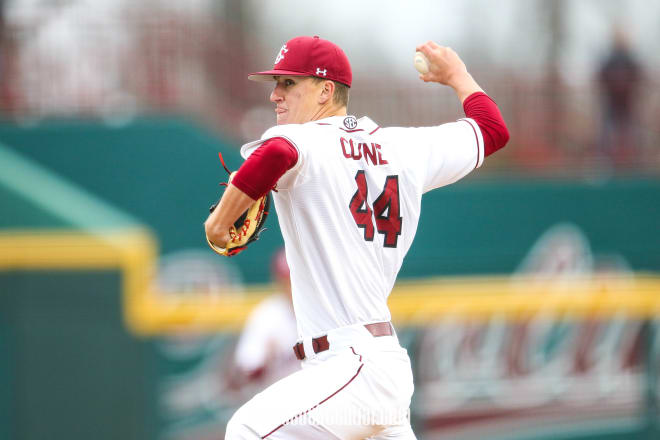 "They just weren't quite as sharp," Mark Kingston said of the bullpen. "(Parker) Coyne got a few balls up and they damaged it. Daniel (Lloyd) was pretty good today: four strikeouts to one walk in two innings—we'll take that. (Hayden) Lehman was solid, Cole (Ganopulos) came in there a little uneven and TJ (Shook) was good at the end. Just early in the game we put ourselves in a little too much of a hole with Dylan and Parker giving up the seven runs."
Also see: Big defensive back recaps visit to Gamecocks' practice
Harley and Coyne dug the Gamecocks (8-2) a huge hole, giving up seven combined runs and walking four batters over just 3.2 innings
The Tigers scored in four straight innings, tagging Harley (0-1, 9.64 ERA) for four runs, three earned over 2.2 innings. Harley would struggle to get people out and would leave after giving up two runs in the third inning.
Then a usually strong Gamecock bullpen had an uncharacteristic performance, giving up seven runs and six hits with Harley out. A unit with a 1.29 ERA over the last eight games walked just three batters but as a staff, the pitchers allowed three homers Saturday.
Daniel Lloyd came in for Coyne after he recorded two outs and gave up two runs, a solo shot to Bryce Teodosio, in 2.1 innings.
Lloyd looked the best of all of the Gamecock pitchers Saturday, giving up two runs and striking out four. He'd strike out the side in the Clemson sixth, all looking.
"It's not tough," Lloyd said. "When you're in the pen you just have to do your job, throw strikes and if you throw strikes you get people out."
Also see: Latest team scoop, insider notes on recruits this spring
The Gamecocks tried to chip away, getting a run in the third off a Jacob Olson single and two RBIs from George Callil making his first career start.
The junior college transfer went 1-for-4 and roped an RBI double to right-center in the fourth for his first hit of the season. He was one of seven starters to get a hit, but the Gamecocks weren't able to convert against some stout Clemson pitching.
"They were just pounding the zone and we weren't getting our swings off as much," he said. "I think we have to stay a little more disciplined and we'll get after them tomorrow."
South Carolina wasn't without chances, loading the bases with no outs in the sixth.
With Quinntin Perez due up against lefty Sam Weatherly, Kingston pinch-hit him for Jordan Holladay with the sophomore representing the tying run. but Clemson countered with righty Holt Jones.
Holladay struck out on three pitches before Callil's RBI groundout and a Noah Campbell fly out to end the inning getting just one run.
Click for Saturday's box score
"Obviously it's a chess match at that point. It's lefty there so it's a lefty versus Quinntin and I didn't like the matchup compared to righty going in to face Holladay, who could have tied the game with one swing at that point," Kingston said. "They waited for us to send a guy up there, like you're supposed to, and once they did it was a righty-righty matchup and we had the tying run up. I liked our chances better there than their lefty versus our lefty who will probably hit a single."
South Carolina put the leadoff man on in five of the first seven innings but the offense stranded seven runners and hit 4-for-19 (.211) with men on base. By comparison, Clemson left six on but hit 7-for-19 (.368) with runners on.

Seven of Clemson's 11 runs came with two outs.
"That's was the difference in the game. They did a better job, especially with two outs, of getting the big hit. I think you credit the other team's pitchers," Kingston said. "they made pitches and we didn't today. That was the bottom line."
Now the Gamecocks head into a big rubber match with Clemson Sunday at Founders Park with Reid Morgan (1-0, 1.29 ERA) scheduled to start.
"Tomorrow's a new day. We have Reid on the mound. Reid's our guy,"Lloyd said. "We have his back no matter what. We're planning on beating them."
Also see: Notes on USC's eight game win streak before Saturday
Player of the game: TJ Hopkins continued to bust out of his mini-slump, taking starter Davis Sharpe deep in his first at-bat for a two-run homer. He now is tied for the team lead with four bombs.
Key moment: South Carolina loaded the bases with no outs in the sixth and got just one run out of it. Jordan Holladay pinch-hit and struck out on three pitches before a Callil RBI groundout and Noah Campbell fly out to end the threat.
Up next: Game three of the series is Sunday at noon with junior Reid Morgan scheduled to start. The game will be televised on the SEC Network Plus.