Pitching, speed lift USC past Elon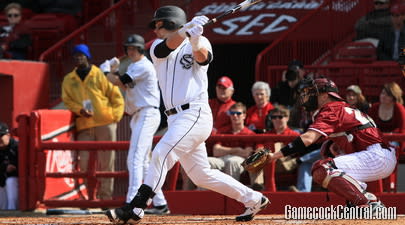 VIDEO: Tanner English
VIDEO: Matt Price and Tyler Webb
VIDEO: Ray Tanner
South Carolina survived another ninth-inning outburst by Elon on Saturday.
This one, though, produced a few more anxious moments as the Phoenix rallied for both runs in their final at-bat before closer Forrest Koumas got the third out with a strikeout, preserving USC's 3-2 victory over the Phoenix in front of 7,606 fans at wind-swept Carolina Stadium.
USC improved to 5-0 on the young season and extended its overall winning streak to 15 games, dating to last season.
The series finale between the two teams is at 1:30 p.m. on Sunday. Colby Holmes (1-0) is the scheduled starting pitcher for USC.
Three Gamecock pitchers - Matt Price, Tyler Webb and Koumas - combined for 16 strikeouts (two short of the school record for most combined strikeouts in one game) as Gamecock hurlers dominated Elon for the second straight day, allowing only one hit and two baserunners with 14 strikeouts through eight innings.
The last time USC collected as many as 16 strikeouts in one game was March 10, 2010, in a 7-3 victory over Valparaiso when the Gamecocks tied the school single-game record with 18.
On Friday, Elon broke up USC's no-hit bid in the ninth with a two-out solo homer. Saturday, the Phoenix benefited from a one-out error by freshman second baseman Connor Bright, who let a routine ground ball slip through his legs into right field.
Moments later, Webb hit the next Elon batter to put two runners on. After a fly to short center, consecutive singles - the first off Webb, the second against Koumas - plated a pair of runs and put the tying run into scoring position for the Phoenix.
However, Koumas fanned pinch-hitter Connor Lewis, a product of A.C. Flora High School, for the final out to stave off Elon.
"Outstanding pitching gave us a chance to win today," USC coach Ray Tanner said. "Elon pitched extremely well also. They had a crack there at the end to make it interesting after we had the miscue at second base. Matt Price was very good and the job Tyler did was impressive."
In 45 innings through five games, USC hurlers have recorded 59 strikeouts and just nine walks, while allowing 15 hits and seven runs. The staff ERA is 1.00, compared to 3.38 for the opponents.
Price has yielded just one hit over 10 innings in two starts this season.
"Matt might not have had his best fastball today, but he was able to get his slider and curveball over the plate," Tanner said. "He threw some change-ups to their lefties. With all those lefties, he had to throw his change-up effectively. He did. When you can throw two breaking balls for strikes, that gives you a great chance."
Elon put five left-handed hitters into the starting lineup against Price, but little seemed to work for the Phoenix for the second straight game against one of the deepest pitching staffs in the country.
USC utilized its team speed in garnering all three of its runs on Saturday. Adam Matthews bunted for a single leading off the bottom of the third and was erased on a fielder's-choice groundout to first by Evan Marzilli.
After freshman Tanner English singled to right, Christian Walker singled in Marzilli for the first run of the contest. English then scored on a fielder's-choice grounder to short by Grayson Greiner, giving USC a 2-0 lead.
Two innings later, USC expanded the lead to 3-0. Walker came to the plate with the bases loaded and nobody out in the bottom of the fifth, following an error and consecutive bunt singles by Marzilli and English.
"Marzilli dropped a good bunt right before me and then I dropped one," English said. "It was a bunting situation right there. We had to get some runs across the plate. We have a lot of guys on the team who can bunt."
Walker made solid contact with an offering, but the ball was scorched right at the Elon second baseman, who had time to flip to second and start a 4-6-3 double play.
"We didn't swing the bats as well as I would have liked to have seen, but we did execute the short game a little bit and that gave us a chance to win today," Tanner said. "Matthews' push bunt (in the third) when we put two on the board was big for us."
Price worked the first five innings, throwing 81 pitches, 48 for strikes. He whiffed eight Elon batters to increase his season strikeout total to 15 in 10 innings, while walking one.
"I was able to locate my fastball in and out," Price said. "I got behind a little bit but was able to battle back and got some good outs when it was a 3-0 count. Locating my slider was a big thing today."
Last week, Price faltered in his final innings due to a tired arm. But he didn't suffer the same malady on Saturday.
"My arm felt great today," Price said. "I talked to coach and he put me on a pitch count. Once we got to a certain number, he said I was done. Webb backed me up today. He did a great job."
Price, making his third career start, faced just one batter over the minimum. Webb took the mound at the outset of the sixth inning and set down the first 10 Elon batters he faced until Bright's error opened the door for the Phoenix.
Webb fanned seven while walking none in 3 2-3 innings. By recording the final out, Koumas registered his second save of the season.
"Tyler came in and threw some good change-ups," Tanner said. "His fastball had a little bit of life as well. We needed those guys to be as good as they were. They were one hit way from tying it up or going ahead.
NOTES
* Elon has four hits in the series, one on Friday and three on Saturday. Phoenix batters have fanned 23 times in the first two games.
* For the first time this season, Tanner elected to bat Matthews, Marzilli and English in the 9-1-2 spots and the speed paid off for USC on a couple of occasions when, in Tanner's words, their speed "created some havoc" for Elon.
* Webb has 11 strikeouts in six innings this season. He made his second appearance of the season on Saturday. Opponents are batting .095 against him. "I feel very comfortable coming out of the pen," Webb said. "I think I have settled in more than last year. I'm just excited to help the team win."
* Bright was enjoying a productive day until the ninth-inning error. He was 1-for-3 at the plate with a line single to center on his first trip to the plate in the second. "I can live with the physical mistakes as long as they don't make too many mental mistakes," Tanner said.
* Left-hander Vince Fiori was warming up in the bullpen in case he was needed in the ninth inning. He has yet to make an appearance this season.
* After five games, the team batting average is .313, compared to .101 for the opponents. USC has 50 hits, three homers and 29 runs, an average of just under six runs per game.
SEC BASEBALL SCHEDULE/SCORES (Saturday)
Alabama 7, Arkansas Pine-Bluff 0
Arkansas 4, Valparaiso 3
Georgia 2, Winthrop 1
Kentucky 9, Buffalo 5
Appalachian State 1, LSU 0
Mississippi State 13, Miss. Valley State 5
Tennessee 3, Seton Hall 2
Oregon 7, Vanderbilt 2
Arizona 15, Auburn 4 (Game 1)
Auburn at Arizona (Game 2)
Florida 5, William & Mary 1
Ole Miss 6, UNC-Wilmington 4


D. McCallum