Players excited for more 'hardheaded' rushing approach
For first time coordinators, there can be some growing pains in year one. Bryan McClendon learned that Saturday in a 41-17 loss to Georgia.
In last week's game the Gamecocks were very pass-heavy and McClendon and Muschamp both agreed to be more determined in calling run plays moving forward.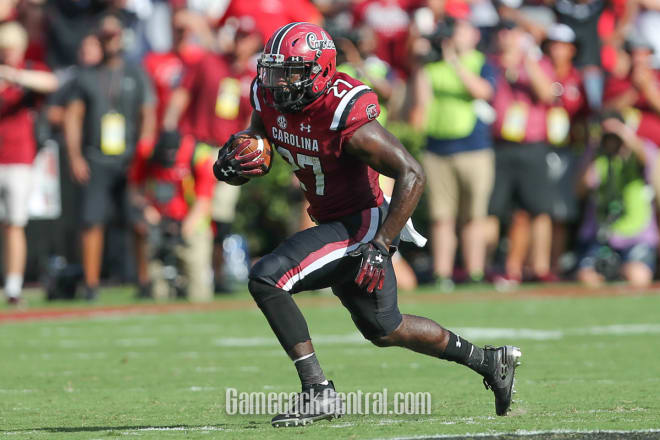 "The first thing he said when he walked in was, 'I need to be more hardheaded in the run game. We need to stay more with the run in the second quarter,'" Muschamp said. "I said you can't start shouldering blame on everything. You can't do that as a coordinator. I said it's a team game and we've got to play better on the defensive side of the ball."
Also see: Which Gamecocks have graded out the best over the first two games?
McClendon met with the team after Saturday's loss to tell the offense that he and the team will put an added emphasis on the ground game moving forward.
Muschamp said it's about being stubborn running the ball even if it's not working at the time. The Gamecocks ran for just 54 yards last week, just 22 in the second half as they got in a pass-first mentality.
The Gamecocks averaged 2.7 yards per carry Saturday and players are excited to see what this offense can look like with more time put on the rushing attack.
"Of course. With the running game it's kind of you have to stick with it. It can be ugly at times but you have to stick with it," said Ty'Son Williams, who led the team with 26 yards rushing Saturday. "Eventually it'll break."
Also see: Big time athlete has 'awesome' visit
The Gamecocks, despite being one of the better run-blocking teams according to Pro Football Focus, ran the ball just 20 times in the 24-point loss, the fewest rushing attempts they've had since 20 rushing attempts against Kentucky last season.
According to PFF, South Carolina is third nationally in run blocking with a grade of 85.3, only behind Florida International and Texas A&M.
More rushing attempts for this offensive line, which is returning three starters and almost 60 starts across the starting five, is music to their ears, but Blake Camper said whatever McClendon calls, he's OK with.
"As an offensive linemen, we love the run game," Camper said. "It's what we came here to play against good D-linemen and run the football. I think B-Mac had a good plan."
Also see: Toney happy to be back home at South Carolina
Some of the issue came with the new emphasis on RPOs this season, which gives Jake Bentley the opportunity to run the ball or throw it if the defense gives him a better passing look.
Those could lead to more lopsided run and pass ratios (South Carolina threw it almost 50 times against Georgia) so Muschamp said the Gamecocks will be more cognizant moving forward about calling run plays.
"You're calling a run, and based on a look, you're throwing the football. We had some affective gains the other night throwing the football," Muschamp said. "But you need to be able to call it and haul it at times and just run the football and know you want to hand the ball off regardless of what the look gives you."
*** Current subscribers: To discuss this story, head over to The Insiders Forum, our private, members-only message board!
*** Not a subscriber? Get in-depth and insider coverage of the South Carolina Gamecocks with a subscription to GamecockCentral.com!