Predicting the SEC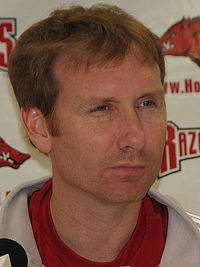 It's never too early to predict.
After the 12 SEC coaches spoke during a teleconference earlier this week and seeing how the NBA Draft largely ignored the SEC (not that there were a lot of hot prospects, after several pulled out their names), it's time for a quick look at how the league could finish next year. Some players are still waiting for their NCAA Clearinghouse applications to pass and there's always the specter of injury or other off-the-court issues, but the SEC stands to be much improved next year.
One writer's opinion:
SEC East
1. Kentucky
Even though Jodie Meeks decided to stay in the NBA Draft, depriving the Wildcats of the league's top scorer from last year, Kentucky is loaded. The reason -- new coach John Calipari, taking over for the deposed Billy Gillispie.
Calipari wasted no time in attempting to put the Wildcats back where they're used to being (first place). He hauled in a banner class of recruits, including the consensus best two high-schoolers in the country (John Wall and DeMarcus Cousins) and three more ranked within the nation's Top 50. Returning Patrick Patterson, Ramon Harris and Perry Stevenson as well, Kentucky is downright scary.
The only weakness -- with Meeks still there, the Wildcats could be labeled a Final Four team. With Meeks gone, Kentucky's still good but will have to lean on the rookies a little more.
As good as they are, they're still freshmen -- inexperienced to the college game, about to play a rough schedule (North Carolina, Louisville, Notre Dame, etc.) and still expected to win big right away. All of the newbies will have to grow up in a hurry, and the rest of the division returns massive experience intent on denying Kentucky that goal. What the rest of the league has to hope is that inexperience carries through to the start of the conference season -- get ahead of the Wildcats early and perhaps a team could stay there.
2. Tennessee
Like Kentucky, the Volunteers had their top player declare for the NBA Draft. Unlike Kentucky, Tyler Smith decided to come back to school, meaning UT returns all of its starters from the SEC's top-seeded NCAA tournament team.
Smith anchors a lineup that features Wayne Chism, J.P. Prince, Scotty Hopson and Bobby Maze. Those five averaged around 57 combined points per game last year. Then coach Bruce Pearl added Top 30 recruit Kenny Hall.
What hindered the Vols last year was the five starters playing as five individuals, with little to no team approach to any game. That was good enough to win 21 games and get to the tournament. In a stronger league, that may not be good enough to win, but Pearl has always been able to push the right buttons to get his team playing to maximum potential when it really needs to.
3. South Carolina
All of Columbia breathed a sigh of relief when Devan Downey and Dominique Archie decided to return for their senior years, meaning the Gamecocks are again contenders after finishing last year with a piece of the SEC East championship.
Those two return alongside starters Mike Holmes and Sam Muldrow, plus a solid recruiting class that coach Darrin Horn wasted no time in getting. This team won't be sneaking up on anybody as it did last year -- everybody else in the league is well aware of Downey's talents and how the rest of the guys don't just stand around watching him.
The Gamecocks have two pressing concerns. First, they have to find a man to replace the departed Zam Fredrick, an inconsistent shooter percentage-wise but someone who would find a way to score around 15 points per game. Signee Ramon Galloway, signee Lakeem Jackson (in a four-big set) or SEC Sixth Man of the Year Brandis Raley-Ross are bidding for that job.
Two, as Horn has pointed out during the offseason, USC didn't finish well. The Gamecocks lost two of their final three games during the regular season and their only game of the SEC tournament, nixing their NCAA tournament hopes. They can't do anything about rectifying that until the end of next year, but it will no doubt be on their minds.
4. Vanderbilt
Another team, another returning starting five. There's plenty of excitement in Nashville, and it has nothing to do with country music.
Coach Kevin Stallings sounded positively giddy earlier this week, ready to start the season and begin practicing for what could be his best team. The Commodores return all five starters from a team that roared down the stretch last year and went through an offseason where they signed one of the nation's best shooters.
John Jenkins is a pure shooter who never shot below 50 percent in any high-school game last year, and he comes in bidding for time among center A.J. Ogilvy, Jermaine Beal and sophomores Jeffery Taylor and Brad Tinsley. Vandy's going to be very young again this year -- Beal is the only senior who plays extensively.
Vandy has to avoid a bad start, the factor that ultimately shot its NCAA hopes last year. The Commodores began 1-5 in the league but finished 7-3. They can't make that mistake this year, and now they've got the hype behind them to make any slip doubly disappointing.
5. Florida
To finish fifth in the SEC East still might get a team into the NCAA tournament, but that prediction probably isn't soothing to the Gators.
It was only three seasons ago that Florida was celebrating its second straight national championship and Billy Donovan reached Steve Spurrier/Urban Meyer level in Gainesville, but the Gators haven't gotten back to the NCAA tournament since. It was somewhat expected due to the severe loss of talent, but when a team wins a title, a tournament-less year the next season is hardly considered to be keeping the run going.
Nick Calathes left for the pros, depriving the Gators of their best player, but they managed to hold on to Alex Tyus, who announced he was transferring before changing his mind. They'll also get Georgetown transfer Vernon Macklin on the court after he had to sit out last year for transferring, and recruit Kenny Boynton is highly rated.
Although Florida will be able to play more men at their best positions -- the multi-tooled Calathes, as good as he was, forced many players into roles they weren't used to playing -- it's very thin at point guard. The Gators are suddenly one of the weaker teams in the East, which won't go over well if that prediction holds true, but it's extremely hard to write off Donovan knowing of his talent for making something out of nothing.
6. Georgia
The team which returns the least, but has a new coach who can have a year or two of building the program so his team isn't picked last every season.
Mark Fox came in from Nevada to try and repair the shattered Bulldogs, who pulled off a miraculous run through the 2008 SEC tournament only to see coach Dennis Felton get fired halfway through last year. Fox came in with a reputation for taking no prisoners on the court or off, but he's got very little with which to work.
Sophomore Trey Thompkins is a budding star and center Albert Jackson, when he's consistent, is a headache in the post. The Bulldogs don't have much outside of that, although Fox signed three three-star recruits.
What can help Georgia this year is thinking that better days are on the horizon and that it has nothing to lose. It seems likely the Bulldogs will be a hands-down pick for sixth in the East, so they've got a chip a country mile wide sitting on each of their shoulders.
SEC West
1. Mississippi State
These Bulldogs mimicked the 2008 Georgia Bulldogs by going to the SEC tournament and winning it, bouncing into the NCAA tournament and perhaps depriving another SEC team of the same spot. They could make the NCAAs again this year, but it wouldn't be a surprise.
After finishing so well, coach Rick Stansbury returns all of his starters and, if he can get the guy cleared, one of the nation's top recruits. Shot-blocking artist Jarvis Varnado will be back, along with Barry Stewart, Dee Bost and Ravern Johnson.
The Bulldogs would probably rule the West without signee Renardo Sidney, but with him they'll be pretty close to unstoppable. He's a 6-foot-10 forward who would be deadly playing alongside Varnado, but the problem is getting him past the Clearinghouse.
Sidney, a Los Angeles native, wasn't touched by UCLA or Southern Cal, although he verbally committed to the Trojans, when questions about his off-the-court finances arose. The NCAA is investigating and the process could take a while.
Without him, MSU could be very good. With him, the Bulldogs could be extremely good. Stansbury said he had no idea how the investigation was going but sounded bright and chipper anyway, so perhaps he's not too concerned.
2. Ole Miss
Really, the 2-6 spots in the West are up-for-grabs. The Rebels get at least one nod because of the talent they're returning.
Although they lost top scorer David Huertas, who went back to his native Puerto Rico to play professionally, the Rebels return Murphy Holloway (Irmo's own) and Terrico White. Both of those are very good players who could lead the team to a run at the title if they can get past rival MSU.
The X-factors are threefold. One is Chris Warren. If he can return from ACL surgery and play at the level he was at, Ole Miss will be quick, nasty and score in bunches.
Two is the schedule. Under Andy Kennedy, Ole Miss has played a soft non-conference slate to beef up the record and then collapsed in conference play.
Three is the off-the-court stuff, which dogged the Rebels almost as much as Warren's injury did last year. Kennedy was arrested during the season and the ensuing lawsuit was so juicy it seemed fit for a tabloid.
3. LSU
The runaway SEC champion last year still has SEC Coach of the Year Trent Johnson but lost SEC Player of the Year Marcus Thornton. The Tigers, after winning 27 games in Johnson's first season, might be headed for the ol' rebuilding year.
Tasmin Mitchell returned after dabbling with the draft and he has starter Bo Spencer to help him. The rest will have to come from the bench and the signing class.
Johnson spoke of how his team needed to realize last year was last year and how the Tigers can't take anything for granted this year. He's right, although with the division rather wide-open apart from Mississippi State, LSU has as much chance as anyone to surprise some folks.
4. Alabama
Another new coach steps in, and this one has a reputation as a program-builder.
Former Florida assistant Anthony Grant took over after building Virginia Commonwealth into a national player, finally taking a next-level job after turning down or being passed over for other high-profile gigs in the past. He takes over a team that fired coach Mark Gottfried in the middle of last year but has some talent to make a splash.
JaMychal Green is an excellent basketball player but Grant won't have a lot other than him. It will take a while to install Grant's system, but who knows? If the Crimson Tide have the kind of athletes Grant is used to, they could accelerate their learning curve.
5. Arkansas
John Pelphrey is one of the league's nicest coaches, but nice isn't going to get him through another season like last year.
The Razorbacks finished last in the league, even behind a Georgia team under an interim coach. They won two SEC games and Pelphrey began to hear some grumbling.
He was proactive in dealing with it. First, he apologized to the fans and vowed it would never happen again. Second, he signed seven players to a team that was returning four starters.
Michael Washington pulled his name out of the draft to make it an even five returning starters, so the talent is there for Arkansas to make a run. The problem is the Hogs have to find a way to get immediate results from their class without annoying any of the returning starters.
Pull a few upsets early and everybody will believe. Don't, and Pelphrey's chair may begin to heat up.
6. Auburn
The breakthrough season coach Jeff Lebo had been waiting on finally happened last year, his Tigers winning a surprising 10 conference games but, like USC, left out of the NCAA tournament. Lebo spoke of how his players are passionate about wanting to improve on that, but it won't be anything close to easy.
Korvotney Barber, Quantez Robertson and Rasheem Barrett are gone and while talent returns (including local native Lucas Hargrove), it may not be enough to make the Tigers relevant again. But they did surprise once -- perhaps it could happen again.