Preview: Home sweet home for Gamecocks?
What: East Carolina (2-0) at South Carolina (1-1)
Where: Williams-Brice Stadium (80,250), Columbia, SC
When: Sat., Sept. 17, 4 p.m. ET
TV/Radio: SEC Network (Dave Neal, Matt Stinchcomb and Olivia Harlan); Gamecock IMG Sports Network (Todd Ellis, Tommy Suggs, Langston Moore); Sirius 113/XM 190
After a hiatus in the 2000's, the South Carolina-East Carolina rivalry has been renewed this decade as the Gamecocks and Pirates square off for the fourth time since 2011 when they met in Charlotte. Saturday marks the 19th matchup between USC and ECU with the Gamecocks holding a 13-5 advantage in the all-time. This year, the matchup features a different angle – both head coaches (Will Muschamp and Scottie Montgomery) are in their first year at their respective clubs.
WHEN SOUTH CAROLINA HAS THE BALL
The Perry Orth or Brandon McIlwain question hanging over the quarterback position will extend into Week 3 as Muschamp has declined to identify the starter until right before kickoff.
Without question, McIlwain won Round 2 of the battle as he completed 11-of-22 passes for 122 yards and two touchdowns in the second half at Mississippi State. He replaced Orth, who, along with the entire USC offense, struggled to get anything going in the first half.
However, Orth won Round 1 in Nashville as he led USCX's second half comeback from a 10-0 deficit and finished the night 11-for-19 for 152 yards, completing 6-of-7 passes in the fourth quarter. So if you're keeping score at home the QB battle is now tied, 1-1, after two weeks of action.
With three straight SEC games looming on the schedule, does Muschamp keep the QB shuffle going? Most likely, yes. Depending on how the Kentucky, Georgia and Texas A&M games go, the Oct. 22 home game against UMass could be the date we finally see McIlwain take firm control of the offense. Until then? Both will play.
Deebo Samuel's tweaked hamstring hampered USC's plans to throw deep against Mississippi State last Saturday. He has four receptions for 66 yards in the first two games. Freshman Bryan Edwards is the lone freshman receiver in the SEC to rank among the league leaders in both receptions (5.0) and receiving yards (69.5) per game.
Through two games, Samuel and Edwards are the only Gamecocks wide receivers with more than one reception. Muschamp is waiting urgently for another receiver or two to step up. Jamari Smith has been blanked in the first two games (he had 2+ drops at Vanderbilt) Freshmen Randrecous Davis seems the best candidate to become a dependable No. 3 receiver.
Depleted depth at offensive line could be a cause of concern for the Gamecock offensive line. Donell Stanley and Blake Camper are out until the bye week, putting pressure on inexperienced backups Malik Young and walk-on Chandler Farrell to come through in a pinch.
When the Gamecocks hand the ball off, redshirt freshman A.J. Turner will likely get the football. He has 29 of the 34 carries by USC running backs in the first two games. David Williams has disappeared off the radar screen. When USC looked for help from a No. 2 running back last weekend, Rod Talley got the call.
Outside (Rush) linebacker Dayon Pratt (career-high seven stops, six solo, two of TFL, 1 sack, 1 forced fumble vs. NC State) and ILB Terrell Richardson (tied career high with seven tackles, five solo vs. NC State) spearhead the East Carolina defense, who surrendered 30 points to the Wolfpack last week.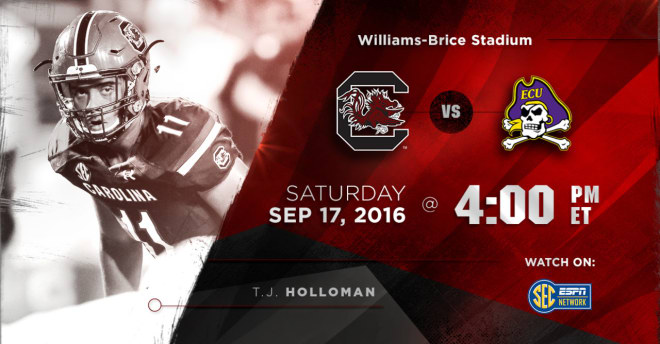 WHEN EAST CAROLINA HAS THE BALL
Before Ruffin McNeil was unceremoniously fired by East Carolina after last season, he managed to convince troubled quarterback Philip Nelson to transfer to East Carolina from Rutgers, where he spent a few months before being dismissed.
Montgomery has been the beneficiary of that decision. Nelson began his career at Minnesota in 2012 after earning 'Mr. Football' honors in that state. Through two games, Nelson has posted startling numbers: nation-leading 81.33 completion percentage (61-75) for 695 yards and six touchdowns. His QB efficiency rating is 182.91. He was 7-of-7 passing for 137 yards and two TDs in the fourth quarter of last Saturday's 33-30 win over regional rival NC State.
He possesses plenty of weapons to throw to as the trio of Zay Jones (17 catches), Quay Johnson (16) and Anthony Scott (15) have combined for 48 receptions in the first two games. Jones has caught a pass in 37 consecutive games, fourth longest streak among active FBS receivers.
In his last four games dating back to the 20-15 campaign, Jones has 43 receptions for 558 yards, an average of 10.8 catches and 139.5 yards per game. Jones has 258 career receptions, most of any active FBS receiver. Scott, meanwhile, is on pace to shatter ECU's single season records for receptions and TD catches by a running back.
As Muschamp acknowledged earlier this week, the struggling Gamecocks secondary will have its hands full trying to stop ECU's high-powered passing attack led by the rifled-armed Nelson.
As long as the Gamecocks fail to figure out how to tackle in space -a massive problem at Mississippi State last weekend and a hot topic of discussion this week - they will definitely face a difficult time stopping the Pirates offense.
SYNOPSIS: The Gamecocks have been the ultimate Dow Jones team in 2016, going from poor first half (0-10) to good second half (13-0) at Vanderbilt to abysmal first half (0-24) and better second half (14-3) at Mississippi State. However, inconsistency haunted USC all of last season and trend is continuing into 2016. One statistic evidencing their slow starts currently hangs over the heads of the Gamecocks – they have not led at halftime since the 2014 Independence Bowl vs. Miami. The Gamecocks are 24-7 in their last 31 home games. The home opener is always a special day. East Carolina is playing on the road for the first time under Montgomery. They will encounter crowd noise they typically don't have to deal with in the smaller venues of the AAC. The Gamecocks need something to inspire them and playing at home should be the tonic to snap a three-game home losing streak.
PREDICTION: Gamecocks 27, East Carolina 21