Scott Davis: Nobody knows anything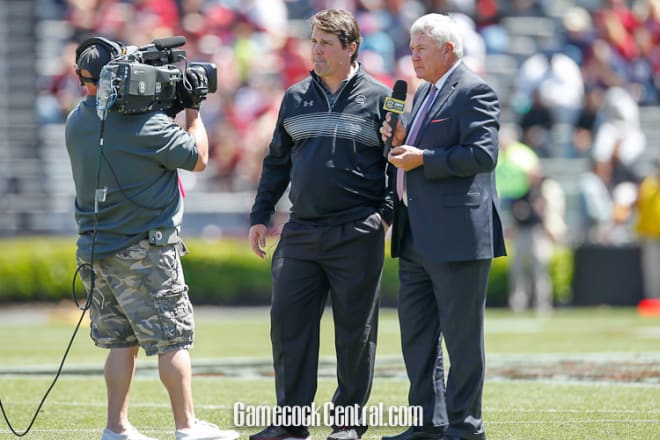 I wasn't watching when Lou Holtz made his second appearance at SEC Media Days way back in July 2000.

In fact, I wasn't watching, reading or listening to much of anything that had to do with Gamecock football at that point. You want to talk about hard times, friends? Losing 21 consecutive football games across two seasons has a way of dousing the enthusiasm of even the most diehard fans (it also saps your will to live, surgically removes anything "fun" about your personality and gives you the dour, stoic demeanor of an early 1900's West Virginia coal miner).
Even though I was desperately trying not to pay attention, I still somehow wound up hearing the media's reaction coming from Birmingham back then, most of which sounded like this: "Poor Lou. He's still a funny guy. He's just got a terrible team. They have no talent. It's going to be another last-place finish for them in the SEC East. I hate seeing him stuck with a team like this, don't you?"
In case you've forgotten, that untalented team ended up winning eight games, dismantling No. 9 Georgia and routing Ohio State in the Outback Bowl.
The point, as always, is clear: No one knows anything – not fans, not casual observers and especially not the media, whose members are about as successful at picking winners as I am when I base my annual Kentucky Derby picks on which horses have the coolest names.
Indeed, many observers noted that the media has correctly picked the eventual SEC champion just five times in the last 24 years at SEC Media Days. That's not even a good batting average for a light hitting, defense-only second baseman in baseball.
But it is good news for South Carolina.
"There's Just No Talent…"
Ah, welcome to the Season of Experts! It's a glorious time, really, for all of us.
Doubt is not allowed during the Season of Experts. Now is the time for certainty – and only certainty.
July is the month for predictions, when wise sages emerge from newsrooms or mountaintops to tell us exactly what's going to happen during the upcoming football season.
And apparently I'm supposed to be feeling terrible right now.
You see, folks (and I know you're not going believe this), the media aren't particularly enthralled with this edition of the Gamecock football team.
Carolina finished dead last in the media's predicted outcome for SEC East teams in 2016, and that doesn't even come close to telling the story of how condescending and patronizing the tone was in regards to the Gamecock football program in Birmingham.
Tony Barnhart – a longtime SEC observer and typically one of the most levelheaded guys covering college football – stopped by Paul Finebaum's SEC Network show following Will Muschamp's turn behind the podium, and couldn't stop talking about how devoid of playmakers the Gamecocks were on both sides of the ball.
"They just don't have any talent, Paul," said Barnhart, repeatedly and almost gleefully, until I got a throbbing headache and had to resort to half-a-bottle of Advil. I guess the single day that Barnhart spent with the team during the spring obviously revealed all the secrets anyone would ever need to know about USC football in 2016.
Later, Finebaum noted that two people had actually voted for South Carolina to win the SEC East, and did everything but demand that the two voters be publicly named and then stoned in a public square. The way these guys were carrying on, you'd almost think we were coming off a 3-9 season with a loss to The Citadel or something. They were almost drunk on the Haterade.
The low point came when a Vanderbilt player guaranteed a victory over USC in the season's opening game. Let's just say that when Vandy's athletes feel exceedingly comfortable about winning a game against you, you've found rock bottom (at least in terms of the public's perception.)
Let me say straight from the top, in case anyone's wondering where I'm headed with this: I don't think Carolina will win the SEC East this season. I don't think they'll even threaten to do so.
But would it really stun you if the Gamecocks went 6-6 and wound up in a third-tier bowl sponsored by Cheez Wiz?
It wouldn't shock me.
Let's actually consult the facts, shall we? The schedule includes Western Carolina, Massachusetts, Kentucky, Missouri, Mississippi State and, yes, almighty Vanderbilt. None of those six are expected to be world-beaters (or have ever been world-beaters).
I'm not saying South Carolina will win all six or even most of those games. I am saying it wouldn't be the upset of the century if they did.
And that's what was surprising about just how vehemently negative the media's reaction was to South Carolina's chances in 2016.
Some of these guys seem to have already prepared their stories for NEXT year's media days, when they assume they'll get to write something like: "Poor Will Muschamp. He's still a good speaker, still quick with a one-liner. He just has a terrible football team. I hate seeing him stuck in a situation like this."
Sound familiar?
The Shoe Doesn't Fit
Sadly for those who cover SEC football for a living, there's at least a decent chance they won't get to write those stories next July.
Because when you really start examining this whole "lack of talent" thing, you'll find that the situation is a lot more complicated than it's been made out to be.
I'll go ahead and state the obvious warning signs: There's a solid chance a former walk-on may begin the season as the starting quarterback. We still don't have a firm grasp on who, if anyone, will step up at wide receiver or running back. And let's don't even get into the secondary, not unless you want me crawl into a fetal position and wait for vultures to carry away my lifeless remains.
There's also a new coaching staff in the mix, and all the usual kinks and challenges that come with learning new systems and personalities.
Still, the "devoid of talent" accusation is pretty stiff one, and one that doesn't actually make a ton of sense in relation to many of the teams USC will suit up against this season.
While they may still be unproven, just about all of the athletes wearing Gamecock uniforms in 2016 were once considered three- and four-star recruits by every major recruiting service. Most of them held offers from a number of other SEC teams and top programs throughout the South. It's not like the cupboard is stocked with projects and wannabes.
And while we all know that recruiting rankings aren't the be-all, end-all when it comes to predicting what happens on the field during fall Saturdays, the fact is that over time, they are a fairly reliable indicator of who wins and who loses the actual ballgames (whether you want to admit it or not).
All I know is that South Carolina has finished ahead of Kentucky, Vandy, Missouri and Mississippi State in recruiting rankings since basically the beginning of time (not to mention UMASS and Western Carolina). Either just about every talent evaluator and college coach in the country misfired when hyping these athletes, or there are actually a few guys who are good at playing football on the South Carolina roster.
Do these seasoned veterans of the media, these battle-scarred scribes who have allegedly watched SEC football for decades, really and truly believe that there is a vast gulf that separates the talent level between South Carolina and freaking Kentucky in football? Between us and Vandy? Really?
I'll just say it: No, they don't believe that.
But for them to say so just wouldn't fit the easy media narrative that we were supposed to all agree on before this season kicks off, which is that USC went 3-9 last year and chased off a coaching legend, then replaced him with a guy who hadn't been all that successful at Florida. And oh, they lost to The Citadel, so everyone knows they don't have talent and can't win in 2016.
Except they apparently did have enough talent to put a mighty scare into a team that played for the national title last season, and did so while playing under an interim coach. They had enough talent to go on the road in front of 100,000 screaming Texans and stockpile a ton of yards and almost upset Texas A&M, and to hang around late against new media darling Tennessee. They also had enough talent to actually defeat this frighteningly good Vanderbilt team (which went 4-8 last year, if you needed them).
6-6 to Shock the World?
I don't think there's a vast media conspiracy against the South Carolina football program, and I think fans who believe that are, um, misguided (Translation: Idiots).
From an outsider's perspective, it makes sense to be skeptical of the Gamecocks' chances to win games this year. I get it: New, unproven coach, so many question marks on offense that the unit should be nicknamed "The Riddlers," etc., etc., etc.
I'm even fine with the media universally picking us last in the SEC East. Somebody's got to finish in the basement. In the words of Steve Spurrier, "Why not us?"
What I'm not fine with is the notion that it would be an all-time stunner for the Gamecocks to win a paltry six games this season, a tsunami of an upset along the lines historically of Buster Douglas knocking out an invincible Mike Tyson, Rocky Balboa lasting 15 rounds with Apollo Creed or the 1991 "Worst to First" Atlanta Braves going to the World Series.
I'm not fine with the idea that there's suddenly not enough talent on the South Carolina squad to allow the Gamecocks to hang with traditional powers like Missouri, Kentucky and Vanderbilt.
Because it's just not true.
I'll go ahead and state the obvious: South Carolina doesn't have enough talent to beat Clemson on the road in 2016. They probably don't have enough talent to beat Georgia or Tennessee or Florida this year, either.
Do they have enough to stumble into six wins and find themselves in scenic Shreveport this winter? Sure.
It's easy to assume Alabama's going to be a pretty good football team this year. The program has won four of the last seven national titles. They finish first, second or third in national recruiting rankings each year. Their head coach is well known for his maniacal and even psychotic desire to win.
You're not exactly splitting the atom by suggesting the Crimson Tide will win a lot of games in 2016.
But fortunately for all of us, the media proves every year – and keeps proving – that we don't really need to worry about their prognostications when it comes to SEC football. These are the guys who made USC a near-unanimous choice to win the SEC East in 2014…and then watched along with the rest of us as the Gamecocks limped home to a 6-6 finish.
No one in the media liked Florida's chances last summer with new head coach Jim McElwain arriving and the Gators coming off a dreadful 2014. Naturally, Florida won 10 games and the SEC East.
I don't think South Carolina will repeat that feat in 2016.
But they are not devoid of SEC talent. They absolutely can win enough games to become bowl-eligible and build a semblance of a foundation for the future.
Will they?
I don't know. And neither does anyone else.
Which is why you don't need to worry about any predictions until we see what happens on September 1 in Nashville.
Because there truly is only one certainty when it comes to SEC football: Nobody knows anything.