Scott Davis: Offensive Saturday Night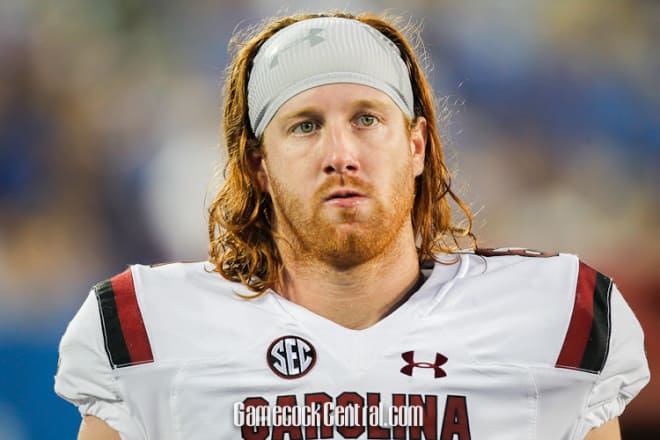 GamecockCentral.com columnist Scott Davis, who has followed USC sports for more than 30 years, provides commentary from the perspective of a Gamecocks fan. You can follow Scott on Twitter at @scdonfire.
Around 5:30 p.m. on Saturday afternoon, I started vacuuming our house. That should have been a red flag.

If you know me, you know that I loathe and despise cleaning the house. Once every 10-12 days, I find myself scrubbing bathtubs and toilets, wiping down sinks and mirrors, changing sheets and dusting furniture.
I do it.
My wife would divorce me if I didn't do it. But know this: I hate doing it. I've been doing it for years now, and every time I do it, I hate it more than I did the last time.
So the fact that I voluntarily pulled out the vacuum on Saturday without being asked to do so, and started swallowing up all the dog hair and food crumbles in our home for an hour or so…well, that should have been a sign that doom was approaching. I simply don't clean unless I absolutely have to.
And if there's one thing I've learned in life, it's this: If I have nervous energy, there's usually a good reason for it
Nervous Energy = The Apocalypse.
You probably already know this, but The Apocalypse did indeed happen on Saturday night, and it will be forever known as "South Carolina's 2016 Offense." I may be wrong, but I think this night was foretold in The Book of Revelation along with the Four Horsemen and the Number of the Beast. It's been awhile since I've read The Bible, but after Saturday, I want to read it cover to cover, and then read it again.
Come to think of it, "Offense" might be too strong a term for what happened when the Gamecocks possessed the ball on Saturday night. Perhaps I should call it "A Hopeful and Courteous Suggestion for Moving the Football Forward for a Yard or Two"? Look, words fail me when it comes to this subject. I never said I was a great writer.
The Gamecocks mustered an astonishingly meager 10 points against a Kentucky team that so far in 2016 had given up six touchdowns to m________g New Mexico State, and 44 points to mighty, mighty Southern Mississippi. By every measure, the Wildcats had fielded what was arguably the worst defense in major college football for the new season.
But they got well against USC.
Boy, did they ever get well. They got so well that they rose up off the hospital bed, started eating three square meals again, took a few long walks, flirted with the nurses and even started getting a tan.
By game's end, the Wildcat D looked downright healthy against the Gamecocks.
What's nauseating is that we can look forward to them immediately looking sickly and comatose against everyone else they play this season, just as they did in the weeks leading up to this game.
I'm not a trend-watcher, but I have noticed a certain pattern thus far. South Carolina scored 13 points against Vanderbilt. Since then, the Commodores have given up 30 points to historical juggernaut Western Kentucky, and 38 points to a Georgia Tech program that will probably fire its coach at season's end.
Mississippi State completely stifled the Gamecocks other than giving up two garbage-time touchdowns in the second half, but somehow allowed the University of Massachusetts (The Minutemen!!!) to hang five touchdowns and 35 points on them.
East Carolina? They surrendered 30 points to N.C. State and a downright stunning 54 points to a deeply mediocre Virginia Tech. When they played the Gamecocks? South Carolina could not move the football at all after the first quarter and was lucky to survive with a nail-biting win.
I'm not a particularly astute football analyst or anything, but I'm starting to think this offense might not be all that potent and stuff.
It's safe to say that USC has already played most of the worst defenses they'll play in 2016, and here's what the offense has accomplished: They haven't been able to establish the running game. They haven't been able to establish the passing game. And they can't block defensive linemen who aren't particularly good.
Other than that, they're right there in this thing.
It's time to acknowledge it, my brothers and sisters. What we're witnessing, live and in real time, is the worst offense a South Carolina football team has fielded since Lou Holtz's 0-11 debacle in 1999 (a team that, due to injuries, used six quarterbacks and several hundred offensive linemen). There's no other way to spin it: It's been a full-fledged generation since the Gamecocks have been this bad on offense.
I've long debated whether it's tougher to follow a team with a bad offense or a bad defense (I've seen both – after all, I've been a Gamecock fan for decades).
I think – I think – that it's worse to be a fan of a team with a bad defense. I mean, remember those Brad Scott years? You could score 42 points against East Carolina and still lose. Some weeks, it didn't seem to matter how many points you scored, because whatever the number was, it wasn't going to be enough.
That kind of stuff is soul killing. It makes you doubt the existence of a benevolent God, causes you to no longer like puppies or babies, and even makes bacon cheeseburgers taste bad.
But if these Gamecocks have done anything, they've helped me remember that it's nearly as crushing to watch an inept offense perform a three-and-out drill for four quarters (especially when the defense is hanging on for dear life and doing all it can to keep the team afloat).
Here's what we do know: We knew this football team wouldn't be particularly good in 2016, didn't we? We knew that. (Well, most of us knew that. After I wrote back in August that Gamecock fans were by nature complete weirdos, and compared the fan base to the characters of Jack Nicholson – a comparison I made lovingly, by the way – I had one fan write to tell me that we would go 9-3 this year and that I didn't know anything about football, and another who told me that I should "stop watching movies and start watching game film." OK, fellas. I've been watching game film. Do you think this team's going 9-3? I don't).
We knew they'd struggle. We knew they were stacked with freshmen and young guys at just about every skill position on offense.
We knew it.
But it's still not fun to watch, is it?
The Artist Formerly Known as Pharoh Cooper Game Balls
Until someone steps up and asserts himself as the leader of this football team, we're going to dedicate our weekly accolades to the late Prince (R.I.P, Purple One) by calling them "The Artist Formerly Known as Pharoh Cooper Game Balls." Here's who gets an Artist this week:
Darius English – At times critiqued by Gamecock Nation for being undersized and occasionally ineffective at defensive end, English recorded three sacks during the game, giving him the most in that statistic since someone named Jadeveon Clowney stalked opposing quarterbacks. True, English struggled against the run on Saturday, but listen dude – we desperately need someone to get an Artist this week, and he's what we have.
Hayden Hurst – It's not just that he caught the football multiple times for 80-plus yards and gave the Gamecocks their only offensive threat. It's also that he tried to hurdle a defender who is 6-foot-4. You're not going to believe this, but it didn't work. Still, you have to admire the tenacity. I was texting my brother-in-law during the game, and at one point, asked him how I'd be able to write a lighthearted, fun column in the wake of this tragedy. "Just post a link to the Hurst Hurdle," he said.
Done! http://www.secsports.com/video/17630059
Also, special shout-out to SEC Network analyst Jesse Palmer for wisely noting that "It's hard to hurdle a 6-foot-4 human being." I didn't know that before Saturday night, but now I do.
The Overall Comedy of the Offensive Stats in this Game – You want to chuckle? All you have to do is glance at what the Gamecocks and Wildcats actually did on offense Saturday night. I quote from none other than Gamecock Central's own Scott Hood in his game wrap-up: "The two teams combined for six punts, a fumble and 30-yard FG on the first eight possessions of the contest."
ARE YOU READY FOR SOME FOOTBALL????!!!!!
Will Muschamp's Surly, Taciturn Postgame Press Conference – Wow, I enjoyed this. I thought I was displeased after this game, but Muschamp took things to another solar system in his postgame press conference, which was filled with glares, one-word answers, and even a few argumentative back-and-forth exchanges with the media.
At one point, someone asked Muschamp why quarterback Brandon McIlwain was still not being made available to the media, and the coach responded, "Right now he just needs to worry about being the quarterback at South Carolina. Is that gonna help our organization, him talking to y'all? No it's not. I can answer the question for you!"
You need to watch this:
That was fun. After a decade-and-a-half of Lou Holtz's 'woe is us" approach and Steve Spurrier's sarcastic press conferences, it was refreshing to see a guy up there who looked about like I would've looked if someone had asked me to address the media on Saturday: Pissed, short, impatient, disappointed, sad and ready to spit nails.

Deflated Balls
You can't hand out Artists without handing out a few Deflated Balls, which go to the following:
Me, For Continuing to Cling to the Hope of a 6-6 Season – I had a dream.
I had a dream, that one day in late December I'd be able to turn on ESPN and watch the South Carolina Gamecocks play a game in a crappy city like Birmingham or Shreveport against a crappy team like UTEP or Marshall for a bowl title.
I had a dream.
But it's not going to happen.
When you're only one-third of the way through a season and you already know you can't make a bowl game…I mean, that's not, like, fun, is it?
South Carolina Fans Who Bend Over Backwards to Defend the Offensive Line's Performance – Mystifying.
Look, I don't call out individual players in this column. I don't even call out individual coaches, many of whom make hundreds of thousands of dollars a year to coach football.
I'm a fan.
I love South Carolina. I want the school, the team, and everyone who attended the university to succeed. That's it.
But I am capable of honesty. And last week I mentioned that I thought the offensive line had underperformed thus far and wondered why coach after coach kept proclaiming the unit to be the "strength" of the team, when they perennially disappointed.
For some folks, that was an ultimate betrayal.
I heard the usual "you just don't understand football" arguments, which apparently can be made any time someone points out an obvious reality that you don't want to admit is true. For the record, I'm not calling for anyone to be fired. I'm not pointing out any particular player as not meeting the standard for an SEC lineman. I'm not doing any of that.
I am saying that this offensive line had a ton of trouble slowing down a Kentucky defense that had stopped exactly no one this season. I am wondering how they'll hold up against Tennessee, Florida and Clemson if they struggled mightily against East Carolina and Vanderbilt. By the end of the game, the SEC Network's Palmer was saying things like, "Man, this South Carolina offensive line is just really struggling to slow down Kentucky." He played major college football for Steve Spurrier. Does he know what he's talking about?
For the O-line die-hards, let me just ask you (and these are "yes" or "no" questions):
A) Do you think this group is the "strength" of this football team, as your head coach and defensive line coach repeatedly said it was during the preseason?
B) Do you think they've played well in 2016?
Either way, I'm sure I'll hear from you.
Until then, we've got another high-flying offense in Texas A&M to look forward to next week. They're undefeated, if you needed them.
Hopefully I don't feel the need to vacuum.