Scott Davis: The In-Between Phase
Scott Davis has followed Gamecock sports for more than 30 years and provides commentary from a fan perspective. He writes a weekly column that appears on Gamecock Central each Monday during football season.
In addition, Scott writes a weekly newsletter that's emailed each Friday year-round. To sign up for the newsletter, click here.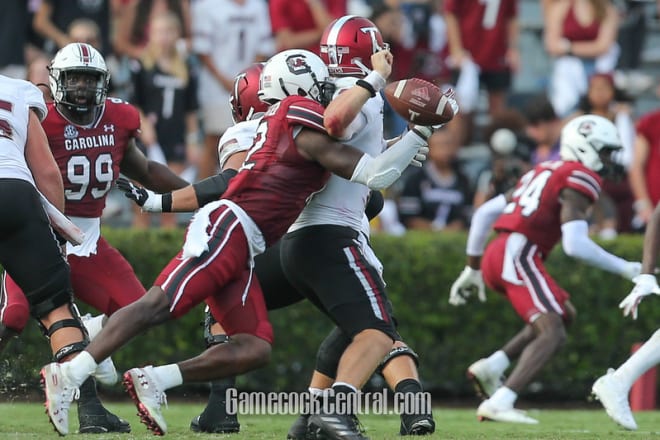 I have a confession to make. I'm going bald.
I have been for a while now – years, in fact.
For the longest time I tried to hide this sad reality by growing out the scraggly hair I did still have, and since that hair mostly resided on the sides and back of my head, it left me with a kind of greasy, middle-aged guy mullet. Once the pandemic started, I switched gears and bought a pair of clippers online to avoid barber visits, and opted for a homemade military-style buzzcut.
If I keep the hair trim and neat, I can usually walk out into the world without committing an atrocity against civilization. But if even a week goes by without some maintenance with the clippers, my hair winds up in a gruesome in-between phase that is somewhere between bald, buzzed, feathered and the type of combover that resembles a hastily assembled bird's nest.
Nothing's more frustrating than the in-between phase.
I'm not brave enough to do what Bruce Willis did in the late '80s, where I finally just shave off my flimsy locks, polish my empty skull and announce to the world, "You know what, folks? I'm bald. And the rest of you will have to deal with it."
No, I'm stuck now in that follicular purgatory where Willis found himself in "Die Hard," where you're still trying to pretend you have hair, but there's not really enough left to make much happen, so you wind up brushing it back in one of those Count Dracula vampire looks that forms a weird anchor shape on the scalp.
After five games in Year One of the Shane Beamer Project, South Carolina fans find themselves smack in the middle of the In-Between Phase. We're in the "not quite bald, not quite a mullet, not quite a combover, not quite anything I can understand" phase. That's an interesting neighborhood to live in.
The Gamecocks are 3-2 after surviving a bizarre 23-14 slopfest against Troy that set the sport of football back several decades. Few who watched the game in its entirety will ever speak of it again. There were some encouraging signs for a young South Carolina team (quarterback Luke Doty continues to evolve into an SEC-caliber starter, the running game came to life late, the defense set the tone for the entire team and continues to apply pressure in a way it hasn't in a long time), but there was a heaping helping of ugliness, too.
If you enjoy penalties, turnovers, officiating confusion, spectacular errors of judgment, youthful indiscretions, seesawing emotions and an overall atmosphere of chaos, then you had a blast with this game.
You could attempt to analyze what's happening on the field with these Gamecocks, and I wouldn't stop anyone from trying. But with a still-new coaching staff and a largely inexperienced team that bounces all over the place from week to week, I think the more interesting assignment is to examine what's happening inside the South Carolina fan base right now (plus, I'll confess to not having even the slightest grasp for what this team is trying to do on offense at the moment.)
I noticed something in the correspondence I got from readers throughout the week leading up to this Troy game.
Most fans seemed to acknowledge they were in the In-Between Phase, and to acknowledge just how frustrating it is to be there. Gamecock fans aren't quite sure how to react to what's happening on the field, what thoughts and feelings are acceptable, or where to go with their emotions.
If I could summarize most of the reader mail I got over the last few days, it would be as follows: "Man, I know it's early, but I've gotta tell you, this is the type of team I'd probably boo if I didn't realize that these coaches got here five minutes ago and many of these players are young and inexperienced."
What we have, essentially, is this: There's an overall understanding that we need to be patient, and that we will be patient, and there's a long, loooong way to go…but that doesn't mean we can't see with our own eyes that this team makes a lot of mistakes, kills itself with penalties and often looks like the opposite of whatever a well-oiled machine looks like.
No one expected South Carolina to compete for the SEC East this year. Still, all those personal foul penalties and false starts? Flipping the football into the air before you've actually crossed the goal line? If these Gamecocks don't beat themselves each game, it's not for lack of trying, and it's hard to know exactly how to respond to that as an innocent spectator who wishes the program well.
It feels kind of like watching a promising new TV show that hasn't found its footing…but you don't want to give up on it too soon before the characters and plotlines have a chance to develop, so you're like, "Wow, I didn't enjoy the pilot at all, and these last few episodes have been really strange, but I know one of the show creators was involved with 'Breaking Bad,' so I'll hang in there through the finale and see if things get moving."
For fans like us, this part of the journey is often the most difficult part, the part that leaves your stomach bubbling and your nerves in tatters.
Everyone knows the honeymoon phase with a new coaching staff is fun— the feel-good press conferences and speaking tours, the energized recruiting, the hope that new philosophies will deliver championships. But it can also be oddly enjoyable when you're at the end of your rope with a regime, when you're in that angry, "let's just burn this baby down and start over" phase (where Gamecock fans were a year ago at this time). There's a purity and clarity to it that gives you satisfaction and purpose.
The In-Between Phase is where a fan base is truly tested.
The thing is, we knew we'd have to endure this segment of the trip. When I talked to fans during the off-season, almost to a person, they told me, "I'm giving these guys a few years before I even think about trying to figure out what we have. This program is far, far away right now."
No doubt about it. We knew where the last five years had left us.
We knew this was a structure that needed to be razed to the ground and completely rebuilt – that this wasn't just one of those superficial renovations where you sent Chip and Joanna in to tear down a wall or two, move some furniture around and put up a subway tile backsplash in the kitchen.
We needed a new foundation, a new frame, a new everything.
Yes indeed, we knew it was a journey.
But it's one thing to talk about hiking the Appalachian Trail and another thing to actually start doing it, when suddenly you're being swarmed by mosquitoes and it's raining every day and you've got poison ivy on your legs and Maine is still hundreds of miles in the distance.
The only thing we can do is keep hiking.
And if the journey gets so perilous it makes the rest of my hair fall out – well, that would still be better than being stuck in between.
The Christie Davis Game Balls of the Week
An intriguing development happened inside my house midway through the fourth quarter of South Carolina-Troy. My wife walked out of a football game that was playing in her own den, declaring herself too emotionally knotted up to continue forward. Instead, she retreated upstairs and started taking her fall/winter wardrobe out of storage while packing up her spring/summer wardrobe. You know things have gotten bad when a football game has gotten so difficult to watch that it chases you out of your own den. Hey, I've been there. At least she cares. Let's toss a Christie or two to the following:
Parker White – The senior placekicker is the offensive MVP for South Carolina through five games, and he has no current competition for the throne. The Gamecocks might be 1-5 right now without him. White ripped three field goals through the uprights on Saturday, including a game-icer with just over two minutes left to rescue an offense that seemed intent on making his attempt as long and as difficult as possible.
Jaylan Foster – If you need one, single solitary happy storyline to hang onto this season, you have one in Foster's emergence. After a long career hanging around the program with few opportunities to succeed, the safety has stormed to the forefront as an impact player and genuine difference-maker in 2021. Putting together what has arguably been the most surprising season of anyone in garnet and black leading into Saturday, Foster tormented Troy with an astounding 12 tackles, a sack and couple of forced fumbles.
A Swarming Defense That Creates Turnovers – Whenever things got weird during this game – and that was often – South Carolina's defense seemed to come up with a big play to reclaim the momentum. It might have been by forcing a turnover or by making a critical tackle in space to shut down a drive, but it always seemed to come at exactly the right time. David Spaulding's pick-six before the half turned the contest around with breathtaking ferocity. True, there were some troubling moments (Troy gashed the Gamecocks at times with its running game, and the SC defenders weren't immune from committing the self-inflicted errors that defined this contest), but this defense is a spirited group that actually makes things happen rather than spending its time on the field hanging on for dear life.
Deflated Balls
I mean, where do we even begin? Let's start here:
The Penalty Thing – If it's not time yet to panic about the weekly penalty pileup, it's mighty close. This team consistently adds a degree of difficulty to a task that's already pretty darn difficult. The Gamecocks put together another double-digit day of penalties on Saturday, earning 10 against Troy. There may be a more penalized college football team somewhere in the United States of America, but there can't be many. What's stomach-turning is that so many of the yellow flags are flying because of egregious errors that just don't need to happen – personal fouls, false starts. Fans will forgive you if you're not as talented as the teams you're playing, at least for awhile. But an endless parade of unforced miscues brings out the worst in everybody. This stuff is making my hair fall out, and I don't need the help.
Third Downs – South Carolina's offense struggled for much of the game to convert when it found itself reaching a third down. Meanwhile, Troy's offense kept turning third-and-long situations into first downs – the Trojans were an eye-popping 7-for-14 on third down chances in this game, prompting the SEC Network's announcing crew to joke that Troy should simply take a knee on its first two downs to allow it to go ahead and get to third down. Which leads me to…
The SEC Network's Matt Stinchcomb and Taylor Zarzour Earning the Coveted "I'm Muting These Guys and Watching the Rest of This Game in Silence" Status in My Den – Who knows, maybe we should have given them a Game Ball for this, because this is hard to do. In general, I give football broadcasters a long leash. I'm a pretty agreeable spectator – I'm fully aware that calling a football game as a neutral observer is not an easy job. But Stinchcomb's a tough hang even in the best of circumstances. The former Georgia offensive lineman has always been fond of sharing his opinions and casually making statements as though they're universal truths. That trait becomes even more difficult to swallow when a sloppy, chaotic free-for-all is taking place for four quarters. I finally pressed the mute button and didn't look back. And I'm not ashamed of it. What I am ashamed of is this…
Me, for Apparently No Longer Understanding the Rules of Football – At a critical moment during the second half, South Carolina defender Jahmar Brown appeared to intercept a floater from Troy quarterback Taylor Powell. Brown controlled the ball for several steps, and the ball trickled to the turf after he fell to the ground. The play was reviewed, and on television, our friends Stinchcomb and Zarzour confidently – and repeatedly – suggested the play would stand as interception. Nope. Incomplete pass. These kinds of plays have mystified and enraged NFL fans in recent years. We seem to have entered a period where no one can ever completely feel comfortable that they know what will happen when referees huddle under a tarp to look at a replay. Announcers don't know what will happen. Fans certainly don't, and I can't imagine players and coaches do, either.
South Carolina's Inability to Convert Turnovers Into Points – It happened last week, and it happened again this week. Unless the Gamecock defense scores on their own (like Spaulding did by returning his interception for a touchdown), not much seems to transpire when our opponents turn over the football. No field position is good enough to guarantee a scoring drive for South Carolina.
That Whole "Flipping the Football Away Before We've Actually Scored a Touchdown on a Fumble Recovery" Deal – I mean, I can't even talk about this. I can't do it. I'm not going to do it.
What I am going to do is head upstairs to the master bathroom and trim this ridiculous hair. It's gotten a little shaggy, and you know me.
I don't handle the In-Between Phase all that well.
Check out my weekly newsletter, arriving on Friday to in-boxes everywhere, and tell me how you're handling the Great In-Between and unload with anything else on your mind by writing me at scottdavis@gamecockcentral.com.
NEW! Gamecock Text Alerts  
Gamecock Central is introducing a free text alert service later this year.
Text USC to 877-462-6257 to sign up.
By texting this number, you agree to receive promotional messages sent via an autodialer, and this agreement isn't a condition of any purchase. I also agree to the Terms of Service and Privacy Policy. You'll receive approx. four messages/month. Message & Data rates may apply. To unsubscribe, text STOP to 8774626257.