Second half turnovers doom Gamecocks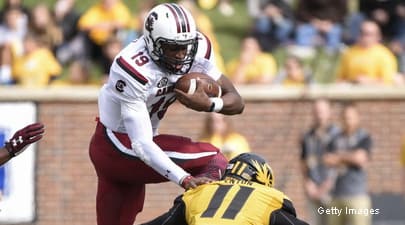 [rl]
COLUMBIA, MO. -- This time, Connor Shaw did not walk through that door.
Two years after Shaw spearheaded South Carolina's historic comeback and overtime victory at Memorial Stadium, three third quarter interceptions thrown by freshman quarterback Lorenzo Nunez led to USC's unraveling in a 24-10 loss to Missouri that dropped the Gamecocks to 2-3 overall, 0-3 in the SEC.
USC has lost its first three conference games for the first time since 2005, Steve Spurrier's debut season guiding the Gamecocks program.
The first 'Battle of True Freshman Quarterbacks' in SEC history was won by Missouri's Drew Lock, who was 21-of-28 passing for 136 yards. Missouri rarely threw deep, sticking with conservative screens, dump offs and intermediate routes instead.
Nunez was 15-of-24 passing for 172 yards and one touchdown, and again led the Gamecocks in rushing with 60 yards. But his three picks on consecutive USC possessions in the third quarter overshadowed his numbers. Nunez was also sacked four times.
Missouri's converted one of those turnovers into a touchdown for the only points scored by either team in the second half.
The loss, USC's second on the road in SEC play this season, cast a dark cloud over the Gamecocks' bowl aspirations with nationally ranked LSU coming to Columbia next Saturday and road trips to Texas A&M and Tennessee looming on the horizon.
"They are a better team and better coaches," Steve Spurrier said afterwards. "I don't think we coached a spectacular game. Give Missouri credit. They played with no turnovers. We had three big ones."
Pharoh Cooper caught nine passes for 102 yards, but again received little help from his Gamecock wide receiver brethren.
Total yardage was almost identical between the teams (299-298 edge to Missouri), but the Tigers' decisive edge in turnovers, third down conversions (Mizzou was 9-of-16; USC was 5-of-13) and rushing yardage (163-112) proved too much for USC to overcome.
"Missouri outplayed us, that's all you can say," Spurrier said. "They ran the ball better. We had three turnovers in the third quarter that hurt and we didn't get any turnovers. They played smarter than us. They ran the ball better than we did and converted third downs. They were very good."
Nunez had over half of USC's rushing yardage as the Gamecocks running game never got untracked beyond a couple of long Nunez scrambles and a couple of other runs. David Williams had 40 yards rushing on nine carries.
"The only thing we had (in the ground game) was Lorenzo. David Williams had one run," Spurrier said. "We didn't block those guys very well. We need to reevaluate some of our inside runs. There are some things we can do differently. Missouri had the number one defense in the SEC coming into the game and they'll probably be number one coming out of it."
When two young, inexperienced quarterbacks are facing off (this was supposedly the first time in SEC history two true freshman quarterbacks started the same game), you would expect a flurry of mistakes.
However, the first turnover of the game did not occur until early in the third quarter when Nunez put too much air underneath a pass to Cooper, allowing Missouri defensive back Kenya Davis to make a leaping interception at the MIZ 30.
USC was then driving in Missouri territory with less than nine minutes left in the third quarter when Nunez made his second crucial mistake. This time, the freshman rainbowed a throw down the left sideline and Mizzou safety Ian Simon ran underneath the ill-advised throw at the MIZ 2-yard line for Nunez's second interception of the third quarter.
The USC defense responded with its second straight three-and-out as a potential interception (and Pick-6) slipped through the grasp of linebacker T.J. Holloman.
Taking over at its 46-yard line with 7:05 left in the third quarter, Nunez's nightmarish third quarter continued as his pass over the middle was intercepted by defensive end Walter Brady, who floated over the middle on a zone blitz to corral the pick near midfield.
Missouri converted the turnover into seven points when Witter plunged over from 1-yard out with 3:36 left to give the Tigers a two-touchdown edge at 24-10. Those were the first points allowed by the Gamecock defense this season.
"We wish he (Nunez) had thrown those in a little different spot," Spurrier said. "We'll go back and watch the tape. We had some guys open. We've got to get the ball to the open guy at the right time. We didn't do that except maybe once. It's also a huge difference when you can't run the ball in(to) the end zone. We're struggling doing that."
When the third quarter ended, USC had outgained Missouri, 255-141, but too many turnovers (minus-3 in turnover margin) and missed opportunities on both sides of the ball had contributed to the Gamecocks' two-touchdown hole.
"Turnovers are what really lost us the game," Cooper said. "We cannot have turnovers every possession. He (Nunez) is a young guy, so he just has to relax back there. He feels like he has to throw every time instead of using his legs and running. It was just some mistakes he made in the third (quarter) that gave them the ball back.
"We cannot have turnovers on offense. That is what it comes down to."
Needing to put points on the board, USC took possession at its 32-yard line with 11:17 remaining. On third down, Nunez zig-zagged his way 29 yards down the field for a critical first down. But the freshman was shaken up on the play and escorted off the field with a slightly sprained shoulder with 10:08 left in the contest.
Perry Orth replaced Nunez at quarterback and his first pass was almost picked off by Missouri. Cooper made another great play, turning a short pass into a fourth-and-short situation. USC called timeout. Orth rolled out and ran for the vital first down.
Moments later, a potential touchdown pass to a wide open Rod Talley was nullified by an offensive pass interference call on Cooper, and USC was forced to punt and the ball was downed at the MIZ 4 with 6:42 left.
The Tigers picked up a crucial first down with just under six minutes left on a pitch play from their, dashing USC's hopes for another miracle comeback at Memorial Stadium.
Missouri eventually registered enough first downs to runout the clock.
Defenses dominated the early going. The ice was broken when Sean Kelly's short punt set up Mizzou at the MIZ 49 and the Tigers took advantage, driving 51 yards in 11 plays to grab a 7-0 lead on an 8-yard TD pass from Lock to Nate Brown. Lock was 7-of-8 passing for 25 yards after Mizzou's first two possessions.
Outstanding defensive plays by D.J. Smith (solid tackle on run for no gain) and Cedrick Cooper (sack for loss of 9 yards) backed Mizzou up inside its 5-yard line and the