Signing day notebook: Staff complete soon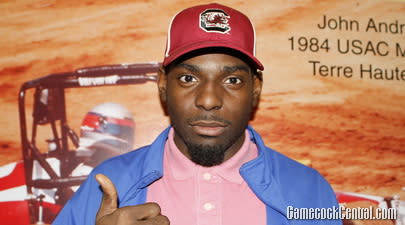 South Carolina battled through the final two weeks of January leading up to National Signing Day with eight assistant coaches, one fewer than the maximum of nine allowed by NCAA rules.
But that could change before Valentine's Day.
Steve Spurrier said Wednesday during the annual signing day press conference that USC should be in position to hire a new defensive backs coach "within a week or so."
Spurrier added he expects the new assistant coach will "fit in very well with what we've been doing and hopefully can do a little bit better."
A vacancy on the coaching staff was created late last week when former safeties coach Jeep Hunter was suddenly dismissed five days before National Signing Day.
According to head defensive coach Lorenzo Ward, the search process for the ninth assistant coach is only in its infancy stages due to the focus on recruiting in the past couple of weeks.
"We haven't really even looked at it," Ward told 107.5 FM The Game on Wednesday afternoon. "We know there are a lot of good defensive back coaches out there that we would like to hire. But I'll sit down with Coach Spurrier tomorrow and the rest of the defensive staff, and we'll decide when we're going to bring guys in to interview.
"We have quite a few guys that have sent resumes in that have great resumes. We'll take a look at them, and Coach (Spurrier) and I will sit down and decide which guys we want to bring in. We'll try to fill that job by hiring a guy who has some experience in the secondary."
Spurrier hinted the new coach could handle safeties and possibly spurs, leaving the cornerbacks for Ward, or the new hire might serve as sort of an assistant secondary coach.
"(Ward) will continue coaching the corners and defensive backs," Spurrier said. "The new coach will assist him. Maybe we'll call him safeties coach. But he will really assist in the secondary. There will be times when Coach Wards hangs around the linebackers and D-Line a little bit during practice and leave the secondary coach with the defensive backs. As the coordinator, he needs to move around a little bit. I think we'll call him safeties coach, but he could be called secondary coach also."
However the new assignments are doled out, Ward contends he will still have a key role in coaching the defensive backs.
"I'm going to coach the secondary. That's what I've done my entire career," Ward said. "I love coaching the secondary. Whoever we bring in, we'll definitely work hand-in-hand together. Hiring another secondary guy that can coach all four guys or five guys depending on what we do with the spur just means I will be freed up to do more things during practice.
"I can watch other drills and see how the linebackers and defensive linemen are taking care of their assignments. They won't just have their position hollering at them. They will have the defensive coordinator hollering at them, too. We'll look for someone who can help us continue to develop these young men."
USC will have five new assistant coaches in 2012, including the vital position of strength and conditioning coach.
SANDS OF TIME: Everette Sands is familiar with new running back signee Kendric Salley because he recruited the former Williston-Elko star when he was the running backs coach at N.C. State. But he will now have the opportunity to coach Mike Davis, the top running back prospect in the State of Georgia, in addition to Marcus Lattimore and the rest of the returning running backs.
"Kendric is a good player," Sands said Wednesday. "Unfortunately, he got hurt this year. But he still came back even after his injury and had a good year. He is a guy we offered at N.C. State. Mike Davis is a special player as well. Both those guys will bring a lot to the table."
'WE HAVE A GOOD FOOTBALL PROGRAM': USC's emphasis on constructing new facilities and trying to become a competitive program in the SEC over the last five or six years is finally starting to pay dividends as seen by the 11-win season in 2011. Spurrier, though, hopes it is just the beginning of a sustained run of success for the Gamecocks.
"We feel like we have more to offer than we've ever had here at South Carolina," Spurrier said. "We have a track record for winning, a track record for graduating our players and playing in the SEC. The facilities here now are right there with anybody in the country. We have a good football program. Our job is to keep it going, keep pushing and try to get better. Obviously, we had a super year last year in terms of wins and losses. But we have to try to do better. If you don't try to do better, you're going in the wrong direction. We're going to try to do better this year than we did last year."
Steve Spurrier Jr. credited the Dodie Academic Center along with the other facility upgrades with boosting the staff's effort to convince recruits that USC is dedicated to academic and athletic success by their football players.
"I can't say enough about our facility upgrades the last three or four years," Spurrier Jr. said. "Just the perception of our program has improved. It's an impressive place to bring young men and their families. The Dodie Academic Center makes us as competitive as we've ever been and people want to be part of this program. It's been a peaceful signing day, which has been nice."
For the second time in three years, the Gamecock coaches were able to sway a player committed to Vanderbilt in the final week before signing day that USC was the best place for him. Two years ago, Sharrod Golightly made the switch. This year, DB Chris Moody of McDonough, Ga., opted for Columbia instead of Nashville.
"Coach Ward stuck with him all year long and that was a big reason we were able to recruit him," Spurrier Jr. said. "We got him in here and hustled to get him in here on a visit. We sold him on the university, the football and the stadium. At the end of the day, we have to hope to sell them on football, too. We're not going to win many academic battles with Vanderbilt. But that's OK. We certainly have a plan in place where people can get a degree, and get a good degree."
The USC football program surpassed a team GPA of 2.7 in the fall for the third consecutive semester. More than two dozen football players received their diplomas last year.
In short, USC is winning football games AND graduating players. That's the exact formula for a successful football program in the SEC.
"We're graduating our players," Spurrier Jr. said. "We graduated 27 players over the course of the entire year in 2011. That's amazing. The culture of college athletics has really changed. You have to go to school, you have to do the work. Twenty years ago, if you were a good player you didn't have to do much. And they never cared if you got a degree or not. All of sudden, they're doing some good things in the NCAA to encourage people to get their degrees and making sure they do that. That has been helpful."
MET THE NEEDS: What is one of the most frequently spoken phrases by coaches on National Signing Day? "We met our needs." Spurrier Jr. emphasized that point on Wednesday, saying USC's 25-man class filled holes for 2012 and beyond.
"I would like to hope that is one of our philosophies here, recruiting to our needs," Spurrier Jr. contended. "I think we've been fortunate enough to have some success on the field and built some facilities around here that have made us competitive with everybody we're recruiting against. When we bring a young man in, he can realize he has the opportunity to play at the highest level and win at the highest level."
Spurrier Jr. said USC has been careful in determining which prospects to recruit or not to recruit in the last couple of years and then pursued those players.
"We've been selective in who we've recruited," Spurrier Jr. said. "We feel like we fit our needs this year."
USC signed five offensive linemen this year, a number Spurrier Jr. hopes to reach every recruiting cycle.
"Offensive line is always a need," he said. "We'd like to sign five every year. Five of six offensive linemen every year would be great. Those guys seem to be in lowest supply and the highest demand. It's hard to fine five great ones."
FLEETWOOD IS ONE OF THE STEPHENSON THREE: Defensive back Kyle Fleetwood is one of three signees from Stephenson High in Stone Mountain, Ga., Wednesday, he couldn't hide his enthusiasm in joining the Gamecocks along with HS teammates Mike Davis and Carlos Hood.
"It's awesome. Obviously, the guys made their decisions on their own," Fleetwood told 107.5 FM The Game in an interview late Wednesday afternoon. "We all came together and then we realized we were going to the same school. Having Mike (Davis) and Carlos (Hood) part of the same recruiting class is great. We're definitely ready to go up there and work hard, and put a lot of work in to get ready to play.
Wednesday, Spurrier maintained USC was a "perfect distance to go to college" from Atlanta - about 215 miles and a three-hour drive for most players living in the vicinity of the I-285 beltway. Fleetwood agreed.
"I think it's a great place to be," Fleetwood said. "Georgia is a big school, but South Carolina is close and Coach Spurrier is a great coach. It's a great place to play football at."
Fleetwood developed a great relationship with Ward during the recruiting process and he credited Ward with convincing him to play for the Gamecocks.
"He's a funny guy and a great guy to be with and be around," Fleetwood said. "He speaks kind of fast so you have to focus on what he is saying. But he is a great coach and I felt like he had my best interests. He definitely attracted me to South Carolina."
POSITION RANKINGS: Here is where USC placed in the national position rankings as determined by Rivals.com:
Quarterback: Tied for 28th
Running back: 15th
Wide Receiver: 9th
Tight End: 17th
Offensive Line: 13th
Defensive End: NR
Defensive Tackle: Tied for 38th
Linebacker: NR
Secondary: 7th
Athletes: 10th
Kickers: Tied for 11th
MISCELLANEOUS:
-- Ward on 107.5 FM The Game talking about the SEC's newly enacted rule capping signing classes at 25: "It didn't have any impact on us. We knew what our limit was. I think it's a great rule. What people have a tendency to do is wait on a couple of big guys that are still out there, but they already have guys committed to them. So, at the last minute they call them and say 'We can't take you now. We'll take you in January.' Unless that has been previously established, I think it's wrong. You're playing with young men's lives. This is a decision that will affect the rest of their lives. If a guy is committed to you, you should honor it even if a big guy comes along that you would like to have." Ward hinted the NCAA will adopt the SEC rule and cap all football signing classes at 25 per year.
-- Spurrier said it takes at least three years to determine if a recruiting class is successful or not. "We've all signed players everybody thinks are going to tear 'em up and they don't do much. And then you get some nobody wants very much and they come in and become good, solid players. Three to four years down the road is when you know how you're recruiting class did."
-- Spurrier on Ward's recruiting success in the Atlanta area: "He does an excellent job recruiting those guys. He stays with them and has a nice rapport with them. It seems like all these guys want to play for him. He is a crucial guy around here. He is a teacher and an encourager. He's not a screamer or yeller as much. He's an important guy. That's why he's defensive coordinator."
-- New running backs coach Everette Sands said his primary recruiting territories will be the southwestern part of South Carolina and the southeastern region of Georgia. "I have a good relationship with a lot of coaches there," Sands said. "They know who I am. It's important to make sure we keep the best players in South Carolina here at USC."
-- Spurrier on Lattimore becoming an honorary member of the same fraternity he belongs to: "Yeah, I talked with Marcus about that the other day. If he's going to be an honorary, that's good because he doesn't have to pay any fees."
-- Spurrier on five former assistant coaches leaving since the end of the regular season: "Sometimes guys leave. They think they have a better opportunity. It's a free country. But the core of our guys are still here. Our two line coaches have been here. Lorenzo Ward is going into his fourth year and he's now the defensive coordinator. We're not changing a whole lot in terms of terminology."
-- The four-state region of South Carolina, North Carolina, Georgia and Florida remained USC's central hub in 2012 for attracting players with a few players sprinkled in from outside the region. Twenty-three of the 25 prospects signed on Wednesday come from the primary four-state region. The contacts built by G.A. Mangus in the New Jersey and Pennsylvania paid off with two signees, as well. "The majority of our recruits will continue to be from the Southeast," Spurrier Jr. said. "We try to stay in our market as much as possible." Spurrier Jr. hinted USC might "cross into" Texas with the addition of Texas A&M and said the Gamecocks have "contacted" a few players in the Lone Star State.
-- ESPN rated USC's class No. 16 in the nation and sixth-highest in the SEC.
Just because SIGNING DAY is over doesn't mean our coverage of the big day stops. We have more analysis of USC's 2012 signing class, plus all of our normal content on GamecockCentral.com. Don't miss a thing with our 7-day FREE TRIAL.


D. McCallum