Spurrier Jr: Focus on trenches is key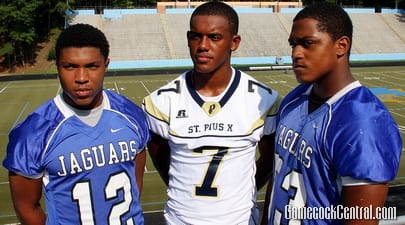 Even though he serves primarily as South Carolina's wide receivers coach, USC recruiting coordinator Steve Spurrier Jr. understands where football games are won and lost in the Southeastern Conference.
In the trenches.
USC signed five offensive linemen and three defensive linemen in the 2012 recruiting cycle. According to Spurrier, Jr., that's the floor not the ceiling when it comes to both lines of scrimmage.
"You need to try your best to sign five offensive linemen every year," Spurrier Jr. said. "Same with defensive linemen. You need to try to sign four or five of those guys every year. This year, we didn't sign as many because the year before we really signed a lot. Linemen are the biggest difference in the game, especially in this conference. You have to be really strong on both lines to be successful."
USC signed six offensive linemen (however, Quincey McKinney failed to qualify and didn't resign with USC) and seven defensive linemen in 2011.
"Offensive line is always a big need," Spurrier Jr. said. "We need to sign five or six every year if we can. Coach (Shawn) Elliott is an excellent recruiter. He hustles as hard as he can to make sure he is chasing the best 20 offensive linemen out there."
Spurrier Jr.'s philosophy regarding which coach recruits a player is simple: he prefers the coach working the region and the prospect's potential position coach to deal directly with the recruit.
"Nowadays, the position coach needs to really evaluate and recruit a player," Spurrier Jr. said. "We've tried to do a better job of making sure our coaches not only recruit an area, but you specifically recruit your position and the guys you want playing for you every year. That's pretty important. But recruiting is an imperfect science and it's a long process."
Within any recruiting cycle, USC will evaluate 1,000 prospects or more and eventually whittle that initial four-figure number down to about 100 offers in an effort to reach the maximum of 25 signees each year.
"It's a difficult process," Spurrier Jr. said. "Historically, you have to look at things like if you offer eight offensive linemen, how many will I get? You'll probably get two. So you need to recruit 20 offensive linemen to get to the five number. You try to evaluate as many guys as you can and put them into the best pecking order and sign the best players."
Three of the offensive/defensive linemen signed by USC came from the state of Georgia, and were part of an unprecedented haul from the Peach State for the Gamecocks. In all, USC signed 12 players from Georgia, one more than the home state Bulldogs. In several cases, the Gamecocks out-recruited UGA for the prospect.
"Having success on the field against them for two years helps," Spurrier Jr. said. "Having success in the state against Clemson helps. That makes a big difference when you go into high schools and when you visit with kids and their families and you talk about your program and the direction you're going. We're in a position now where we can go into Georgia and tell kids what kind of program we are and be able to compete with Georgia on some of those guys. Georgia will win out a lot of times in-state, just like we're going to win in our state versus Georgia."
One of those 12 scholarships given out to Peach State players was devoted to a position USC has ignored for the most part in recruiting over the last few years.
For the first time since 2005, USC gave a scholarship to a placekicker - Nick St. Germain from McEachern High in Powder Springs, Ga., the same school that produced current tight end Rory Anderson and Marcquis Roberts in the 2011 recruiting cycle and defensive end Darius English, a 2012 signee.
St. Germain converted 11-of-17 field goals for McEachern last season with a long of 49 yards. His career-best is 54 yards. He also averaged 68 yards on kickoffs.
In his final two seasons, St. Germain totaled 121 touchbacks on kickoffs, making him potentially a valuable weapon for the Gamecocks.
Last season, Jay Wooten has six touchbacks in 71 kickoffs.
"If you see his highlight reel, the majority of his kickoffs went through the uprights," Spurrier Jr. said. "So we said we need a kickoff guy. That's one area of our team that needed help. He was the best guy we could recruit and we said 'Let's go get him.'"
St. Germain picked USC over Georgia Tech and multiple middle-tier schools.
Spurrier Jr. acknowledged the decision whether to offer a kicker a scholarship is always a difficult one.
"You hope you can recruit enough walk-ons to give them an opportunity and then normally the guy that becomes your kicker earns a scholarship," Spurrier Jr. said.
That's the route taken by former kicker Spencer Lanning (2008-10). Ryan Succop, now the placekicker for the NFL's Kansas City Chiefs, was given a scholarship by USC when he joined the program in 2005.
"It's rare that you do it, but based on what we had, where we were going, what we think Nick can do, we felt he was one of the best players that we could sign to make us a better team," Spurrier Jr. said.
Currently, rising sophomore punter Patrick Fish is on scholarship, though he was beaten out for the job by walk-on Joey Scribner-Howard last season.
In addition, long snappers typically start as walk-ons and then earn a scholarship after they've proven themselves. Rising senior Walker Inabinet ably took over that important task from Charles Turner and earned a scholarship. Spurrier Jr. said.


D. McCallum