Spurrier: No comfort in prolific offense
[rl]
South Carolina exited the bye week averaging 479.6 total offensive yards and 35.9 points per game and are currently working on a streak of four straight games with 500 or more yards.
Those eye-popping numbers mean little to Steve Spurrier, though, since the Gamecocks are 4-5 and struggling to attain bowl eligibility in a season many analysts thought USC would contend for the SEC title and challenge for a spot in the four-team playoff.
"No, not really, because we've floundered at the end of a lot of these games" Spurrier said when asked Sunday during his weekly teleconference with reporters whether he takes comfort in the offense's proficiency. "We've needed to make one or two first downs and we haven't been able to do it. That's hard on the coaches and on me. Looking back, we could have had some better plays on.
"Our offensive players have had a wonderful attitude. Pharoh Cooper had one of the best games ever played by a Gamecock (vs. Tennessee). It's a shame we couldn't hold on. When you lose the game, all the accolades of individual play go out the window. Nobody remembers much about it. Pharoh is a wonderful young man."
USC travels to the Sunshine State on Saturday to face resurgent Florida (5-3 overall, 4-3 in SEC) at noon at the Swamp. After three losses in four games, the Gators posted back-to-back impressive victories over Georgia and Vanderbilt and are looking for their third straight win over an SEC East rival when the Gamecocks make their biannual visit to north central Florida.
The Gators turned their fortunes around by focusing on running the football. Two weekends ago, Florida powered past Georgia by running the ball 60 times for 418 yards. Saturday in Nashville, the Gators ran the ball 50 times for 214 yards in a 34-10 victory over Vanderbilt.
"Florida is playing well. They are a big, strong team that can run the ball and play defense," Spurrier said. "Their (freshman) quarterback Treon Harris has come on to really give them a good steady player in there. He can throw, he can run. He has two big, strong running backs (to rely on) and they have one of the best defenses in the conferences.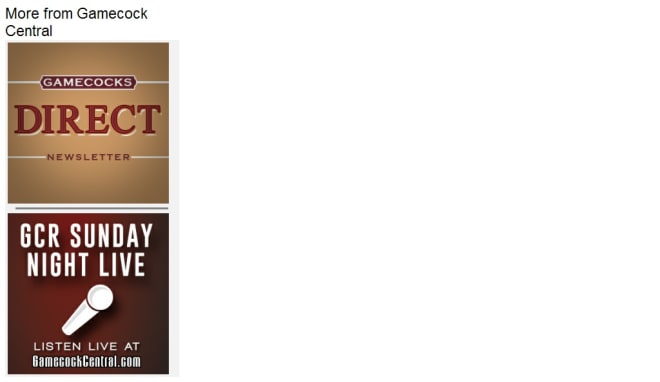 Spurrier hopes to get several "banged up" players back from injuries this week, including tight end Busta Anderson (torn tricep) and outside linebacker Skai Moore (ankle).
"We think Busta Anderson will be back at tight end," Spurrier said. "Skai Moore should be able to come around and play some. (Jordan) Diggs and (Sharrod) Golightly and Mason Harris should be OK by Saturday."
However, defensive tackle Abu Lamin was involved in a car accident over the weekend and is currently listed as doubtful for the game.
"He's OK, but he got scrapped up pretty good," Spurrier said. "So, Abu looks like he will definitely be out this game."
NOTES:
-- Spurrier apologized for walking out of the post-game press conference following the Tennessee loss without taking questions and "facing the music."
-- Even though USC's practices during the bye week were "a little down," Spurrier remains confident in the resiliency of the Gamecock players and believes they will bounce back from the recent string of gut-wrenching losses. "I think we'll bounce back," Spurrier said. "We didn't beat them up too much. We told them to take a good, long weekend, come back refreshed, and try to finish as strong as we possibly can in these last three games. We'll see what kind of energy we get out of them tomorrow."
-- What is Spurrier's mood after the bye week? "I would rather have had a ballgame where we beat somebody," Spurrier said. "I'd feel a lot better. Some games are harder than others to get over. However, we've had three very similar games like that. You have to shake it off and bounce back and get your people ready to play. Our staff is working and we're in a good mood. Hopefully, we can correct all these late-game errors."
-- Spurrier said interior offensive lineman Cody Waldrop was apparently injured during pregame warmups before the Georgia game (presumably, he didn't tell anybody), but played in the game. Later, his knee swelled up. Doctors diagnosed the injury as a sprained knee ligament. He hasn't played since then, missing the last six games. Spurrier said he would ask the trainer if Waldrop requires surgery.
-- Spurrier described Muschamp as a "good friend in coaching" and he is "pulling for him to make it down there" at the same time he is "pulling for us to beat him down there." Spurrier, though, declined to say whether he has talked with the besieged coach during his difficult stretch in Gainesville when some analysts maintained he must win the SEC East and beat rival Florida State to save his job.
-- Spurrier declined to elaborate or clarify his comments made last week when he said he "hoped" to return as USC coach in 2015. "It's normal when a coach has done it for a long time and he's having a tough year," Spurrier said. "I commented on that earlier this past week and I'm going to quit commenting on that. I think that's about what I said (I would be back in 2015). We're getting ready for Florida."
DM