Staley eager to return to Final Four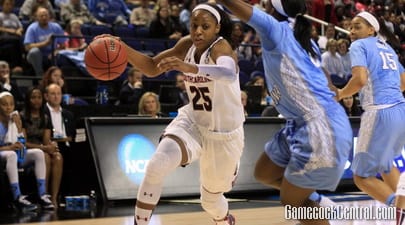 [rl]
DESTIN, Fla. -- Thirty-four wins and the first Final Four appearance in school history will undeniably be difficult to duplicate next season for the South Carolina women's basketball team, but not for a lack of talent.
From that perspective, the Gamecocks could be even better in 2015-16 as they return 77.7 percent (59.0 of 75.9 points) of their scoring and 72.9 percent (30.1 of 41.4) of their rebounding in Dawn Staley's eighth season as head coach.
In addition, USC adds graduate transfer Sarah Imovbioh from Virginia and Canadian Shay Colley, a talented 5-foot-8 guard from Ontario, into the mix. Imovbioh topped the ACC in rebounding in 2014-15, averaging 10.8 boards per game, and amassed 13 double-doubles in 31 games.
So, even though USC loses stalwarts Aleighsa Welch and Elem Ibiam (both started all 37 games last season), Staley is optimistic the Gamecocks possess the necessary talent to equal or surpass last season's historic accomplishments.
The pollsters are likely to agree. The Gamecocks should begin the 2015-16 season ranked among the top three teams in the country, perhaps as high as No. 2 behind defending national champion Connecticut.
"I think we're more talented from a raw talent perspective if you look at who we are bringing back," Staley said recently at the SEC spring meetings. "We lose experience and sometimes that will be a difference maker. If everything works out to our favor, I don't see why we can't make it back to the Final Four and compete for the national championship."
Staley is hopeful a taste of the Final Four will make her players hungrier in 2015-16.
"Our team got the chance to experience playing at the Final Four and they liked it," Staley said. "We enjoyed it as coaches too. There was no stage fright. Our players understood what it took to get there and it will take something similar in terms of sacrificing. Somebody must fill the shoes of Aleighsa Welch and Elem Ibiam and Olivia Gaines.
"Each of them brought something different to our basketball team. They will be hard to replace. I do think we have the personnel to replace them in different ways. We may not have that senior leadership Aleighsa and Elem gave us, but we have people that can give us what they gave last season."
Adding Imovbioh to the roster gives the Gamecocks three players on the 2015-16 roster that averaged 6.6 rebounds or more per game last season.
"Sarah helps because there is no doubt she can rebound the basketball with the best of them," Staley said. "For what we're losing in Aleighsa Welch (6.5 rebounds per game in 2014-15), you can check off that area (of need). She is going to get rebounds."
Kaela Davis, daughter of former NBA star Antonio Davis, recently transferred from Georgia Tech, but she will not be eligible until the 2016-17 season. Davis, a two-time All-ACC selection for the Yellow Jackets, eclipsed 1,000 career points in just two seasons.
USC's top three scorers from last season - rising senior Tiffany Mitchell (14.4 ppg), rising sophomore A'ja Wilson (13.1) and rising junior Alaina Coates - are sharpening their skills in international competition this summer.
Mitchell and Coates earned spots on the 2015 U.S. Pan American team, while Wilson represents the Gamecocks on the U.S. U19 World Championship team. Staley is the head coach of the U.S. U19 team, which participates in a tournament in Spain July 11-13 ahead of traveling to Russia for the 2015 FIBA U19 World Championships from July 18-26.
The 2015 Pan American Games, a multi-sport competition held every four years featuring teams from North, South and Central America and the Caribbean, take places in Toronto, Canada, with the women's basketball competition scheduled for July 16-20.
In early May, Mitchell participated in the U.S. National Women's team trials in Las Vegas that tipped off training for the 2016 Olympic Games in Rio de Janeiro, Brazil.
Proudly wearing a gold medal around her neck would be just the latest career accomplishment for Mitchell, who enters the 2015-16 campaign as the two-time SEC Player of the Year.
"We're looking for Tiffany Mitchell to fill the leadership role," Staley said. "I have seen a much different Tiffany Mitchell since her experience going to Vegas a month ago and playing with the national team and getting that experience. That's a great thing to witness and see. She understands the value of communicating and being a leader."
Wilson, the nation's top prep prospect in 2014 when she signed with the hometown Gamecocks, came off the bench last season in 36 of 37 games, but should assume a starter's role in the wake of the departures of Coates and Ibiam.
"When I had my (post-season) discussion with A'ja, I told her, in my exact words, that she has a thousandaire workout regimen and she wants to be a millionaire," Staley said. "If you want to be a millionaire, you have to have a millionaire workout regimen.
"If you don't, you could possibly be a hundredaire. That shouldn't be the case for her, but she has to step up and value the things besides actually getting out on the court. Being in the weight room and conditioning year-round so your body doesn't have to feel the hardship of getting in shape."
Wilson started the season opener against Southern Cal, but struggled from the field (2-for-7), scoring six points and grabbing five rebounds with three turnovers in 16 minutes. She came off the bench in the second game and continued her reserve role for the remainder of the season.
"Based on whom we had on our team and the chemistry and familiarity our starting five had from previous seasons, we had a better feel for that group starting a basketball game," Staley said. "Was it our best starting five as far as talent? No. But as far as giving our younger players an opportunity to see the game a little bit differently, they gave our bench a great name. Our fans anticipated them coming off the bench at a certain time and they embraced it."
NOTES:
-- Staley likes the probable move transitioning women's college basketball to four 10-minute quarters as opposed to two 20-minutes halves because "globally, we'll be more in tune with everybody else is doing." Staley said in-game strategy could change a little bit playing four quarters. "It's great because it's fresh, it's different and it adds a new flavor," Staley said. "We're evolving."
DM