Stroman commits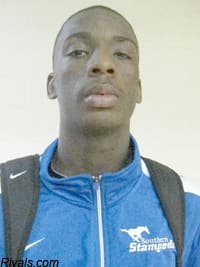 Frank Martin
received some good news on Monday when Keenan High School point guard
Marcus Stroman
made his pledge to the Gamecocks. Stroman is only a rising junior but was ready to go ahead and decide where he would play his college ball.
"I actually was going to commit to the coaches on Friday, but I made it public today," Stroman told GamecockCentral.com. "I told coach Martin I was going to think about it over the weekend and talk it over with my aunt. It's official now, though. I called coach Martin today. He was excited that I gave him my word."
Stroman unofficially visited campus three days ago with his family and high school coaches.
"We sat down and talked with the coaches for a long time," he said about the visit. "Coach Martin just told me how he wants me to go out and play. His coaching style was a big thing for me; the biggest thing really. He lets the guards play and control the game."
The hometown Gamecocks have been a program that Stroman has followed since he was a child.
"I've probably been watching them since sixth grade," he said with a laugh. "I started watching the girls at first and then the boys."
Stroman made a name for himself around the Columbia area by winning a state championship as a freshman. He really blossomed onto the scene in December with a memorable performance against highly ranked Oak Hill Academy at the Chick-fil-A Classic Christmas tournament in Columbia. The savvy floor general talked about the areas of his game that have made him well-known.
"Making my teammates better and getting everybody involved," he said. "I try to control the game. If I need to score, I'll score. I just want to be me at the end of the day. I don't try to play like anybody else. I'm working on my body a lot to get ready for Division I and working on my mid-range jump shot. I just like winning and helping my team get better."
Keenan coach Zach Norris weighed in on his prized pupil's talents and why Stroman ultimately chose the Gamecocks.
"He's the quarterback of our team," Norris stated. "He makes everyone else around him better. He really liked what coach Martin told him Friday. He feels like it's a great situation for him and it's the right fit. He's a homebody that's real close to his family so he knew he wanted to stay close to home. Hopefully he can help get some of these other in-state guys to do the same."
Clemson and Georgia were also actively recruiting Stroman as well as other ACC and SEC schools, but in the end he wanted to make an early college decision.
"I'm feeling good now," he said. "I'm glad it's over with. I made the right choice."