Success in Peach State highlights new class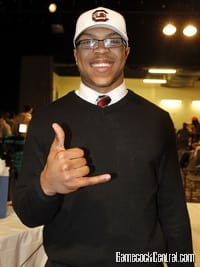 South Carolina's 2012 signing class will be fondly remembered less for the total numbers of prospects signed (25), but rather the dozen recruits pulled from possibly the most talent-rich state in the region when it comes to producing Southeastern Conference-caliber talent - Georgia.
Boosted by the superb efforts of new chief defensive coordinator Lorenzo Ward, the Gamecocks signed 11 of the top 75 players in the Peach State, an impressive haul for a school that just won 11 games in a single season for the first time in school history.
Facing a weak crop in the Palmetto State, USC recruiting coordinator Steve Spurrier Jr. said late Wednesday afternoon that the Gamecocks targeted the state of Georgia early.
"Obviously, Coach Ward did a wonderful job over there and really hustled," Spurrier Jr. said. "He recruited hard all over the place all year long. For the last three years, he's built the relationships to be in a position to sign all those guys."
The Peach State harvest is highlighted by four-star running back Mike Davis, younger brother of former Clemson RB James Davis. Mike Davis decommitted from Florida in December before deciding Columbia was the best spot for him. He verbally committed to USC on Jan. 13 shortly before the start of his official visit.
USC signed two other four-star prospects from Georgia - DB Chaz Elder from Banneker High (same school that produced former Gamecocks Ladi Ajiboye and Carlos Thomas) and OL Joe Harris (Lithonia, Ga.).
"Georgia is a state that always has a lot of players," Spurrier Jr. said. "They always send a lot of players to the SEC. So we've always known there are a lot of players in that state. We want to recruit South Carolina first the best we can, but this year the number of highly-rated players was a little bit lower than in the past. We knew this year would be a year we had to recruit Georgia hard to have a really successful year."
Listed at 309 pounds, Harris is the heaviest member of the 2012 signing class.
"We have a pretty good little pipeline from over in that area," Spurrier Jr. said.
According to the Rivals.com rankings, four of the top 25 prospects in the state of Georgia signed with USC. Davis was rated No. 4 in the state with Harris (20), Elder (23) and DE Darius English (25) not far behind.
"Georgia just has more players," Spurrier Jr. said. "At the end of the day, we knew this would be a year we would probably sign a few more players out of state."
Seventeen of the 25 signees on Wednesday reside in South Carolina or Georgia. The Palmetto State produced five future Gamecocks starting with WR Shaq Roland, the top-rated player in the state and the recipient of the 2011 Mr. Football Award.
"He will have a chance to come in here and compete and go from there, as well will the other receivers," Spurrier Jr. said. "Shaq has that burst of speed that you can't coach. He's a talented young man. We'll allow all these guys to earn their way as they go."
Roland is the fourth straight winner of the Mr. Football award to sign with USC, joining Stephon Gilmore (2009), Marcus Lattimore (2010) and Jadeveon Clowney (2011) in that elite group.
"Getting Mr. Football again this year is neat,' USC head coach Steve Spurrier said. "Looking back, Stephon Gilmore being the first really helped us four years ago. Being a mid-year guy he stuck with us. All four of those guys are outstanding players and we hope they will continue to be."
The four other Palmetto State products are RB Kendric Salley (Williston), WR Kwinton Smith (Dillon), OL Mason Zandi (Chapin) and TE Jerell Adams (Summerton), a 2010 signee who spent a semester at Fork Union in order to improve his grades.
"There are still plenty of players in this state that are excellent players," Spurrier Jr. said. "We know if we're going to become as good of a team that we can be, we have to recruit this state very well. It's always one of our ultimate goals at the beginning."
Adams had hoped to enroll at USC in time for the start of the spring semester, but he was not approved by the NCAA Clearinghouse until mid-January. Adams and Kelvin Rainey join a deep tight end corps.
"We'll have more than two tight ends to play this year," Spurrier said. "We signed two good ones."
The 2012 class features 13 offensive players, 11 defensive players and one kicking specialist. Six different states are represented with Florida (3), North Carolina (3), New Jersey (1) and Pennsylvania (1) also contributing to the class.
"We feel like we have a lot of good players that are going to come in and compete for playing time this year," Spurrier said. "We redshirted about 21 or 22 guys in last year's class, so we'll have a lot of bodies to work with. There are some very talented players here."
As of early Friday night, Rivals.com placed USC's class of 25 signees (the maximum allowed under SEC rules) at No. 18 in the nation and sixth-best in the SEC.
Three signees are ranked in the Rivals 250 - Davis, Roland and WR Jody Fuller (Monroe, NC).
USC's talented wide receiver group consisting of Roland, Smith and Fuller was rated No. 8 nationally and second best in the SEC by Rivals.com.
The group of five defensive backs (Jordan Diggs is listed as a DB even though he will likely get his first look at spur; Chris Moody is listed by Rivals.com as an athlete, so he is not included in the DB group) was rated sixth-best in the country and third-best in the SEC.
"We knew the secondary would be an area of need and usually those guys are your best contributors on special teams," Spurrier Jr. said. "Coach Ward likes guys who are a little bigger and a little taller. He evaluated a bunch of guys and picked out the ones he liked and really went after them hard. We think that is an excellent group that can really help us on defense and special teams."
During Spurrier's tenure, USC has typically signed at least one quarterback, and this recruiting cycle is no different. The Gamecocks signed Brendan Nosovitch, a 6-foot-2, 200-pounder from Allentown, Pa., who was rated the No. 1 quarterback and the No. 20 overall prospect in the Keystone State.
Nosovitch threw for 3,809 yards and 39 touchdowns in 15 games this past season, the sixth-highest total in the country, and was honored as a Parade All-American. He was the Gatorade Player of the Year in Pennsylvania as a junior in 2010 after leading his school to a perfect 16-0 record.
Based on his accomplishments, Spurrier wondered aloud how Nosovitch could be rated just a three-star prospect by most recruiting services.
"He is an interesting quarterback," Spurrier said. "He broke all the records up in Pennsylvania. Dan Marino and Jim Kelly, I think, had held some of them. And he was only a three-star. I asked G.A. (Mangus) how come he was only a three-star and he made Parade All-American. He said he didn't go to all these camps all over the country to get rated by whoever does all that stuff."
He holds the career mark for most total yards (12,877) and is second all-time with 9,249 passing yards and 106 touchdown passes. He also rushed for 2,499 yards in his final two seasons at Central Catholic High in Allentown, Pa.
"He's a natural passer," Spurrier said. "Anyone who throws for that many yards means he throws a nice, catchable ball and throws it where they can catch it. His highlight tape is pretty impressive. He probably had a better year last year (as a junior) when they won the state championship."
Roland, Nosovitch and English are three of the four Parade All-Americans signed by USC, joining OL Brock Stadnik, a January enrollee along with his twin brother Clayton.
Unlike a year ago, this year's National Signing Day lacked any significant drama for the Gamecocks. Anything that could be interpreted as "drama" surrounded Diggs, who didn't send in his letter of intent to USC until Wednesday afternoon.
Of course, some people jumped to the conclusion Diggs was wavering and could sign with another school. But Diggs eventually faxed sent in his LOI to USC, meaning all 22 players verbally committed to the Gamecocks when the day started ended up signing with the school.
"Every player that was officially committed to us stuck," Spurrier noted. "We didn't have any defections or anything like that. It was neat they all stuck with use from the beginning. Statistics show that players who usually stick to their commitment usually stick in college. I think we have a good class of young men that will represent our school in a first-class manner on and off the field."
By the end of last summer, USC had 16 verbal commitments, the most USC has had six months before signing day. Every one of those prospects signed with USC on Wednesday.
2012 USC SIGNING CLASS:
Quarterback: Brendan Nosovitch (Allentown, Pa.);
Running Back: Mike Davis (Stone Mountain, Ga.), Kendric Salley (Williston, S.C.);
Wide Receiver: Jody Fuller (Monroe, N.C.), Shaq Roland (Lexington, S.C.), Kwinton Smith (Dillon, S.C.);
Tight End: Jerell Adams (Summerton, S.C.), Kelvin Rainey (Yulee, Fla.);
Offensive Line: Joe Harris (Lithonia, Ga.), Brock Stadnik (Greensboro, N.C.), Clayton Stadnik (Greensboro, N.C.), Cody Waldrop (Seffner, Fla.), Mason Zandi (Chapin, S.C.);
Defensive Line: Darius English (Powder Springs, Ga.), Carlos Hood (Stone Mountain, Ga.), Jhaustin Thomas (Decatur, Ga.);
Linebackers/Spurs: Jordan Diggs (Cape Coral, Fla.), T.J. Holloman (Atlanta, Ga.), Kaiwan Lewis (Hammonton, N.J.),
Secondary: Chaz Elder (College Park, Ga.), Kyle Fleetwood (Stone Mountain, Ga.), TJ Gurley (Cairo, Ga.), Rico McWilliams (Hampton, Ga.), Chris Moody (McDonough, Ga.);
Kickers: Nick St. Germain (Powder Springs, Ga.).
TOTAL: 25 signees.
Just because SIGNING DAY is over doesn't mean our coverage of the big day stops. We have more analysis of USC's 2012 signing class, plus all of our normal content on GamecockCentral.com. Don't miss a thing with our 7-day FREE TRIAL.


D. McCallum