Three and out: Back to earth
'Three and out' features three observations from South Carolina's loss to Florida with perspective from the Gamecocks season to this point.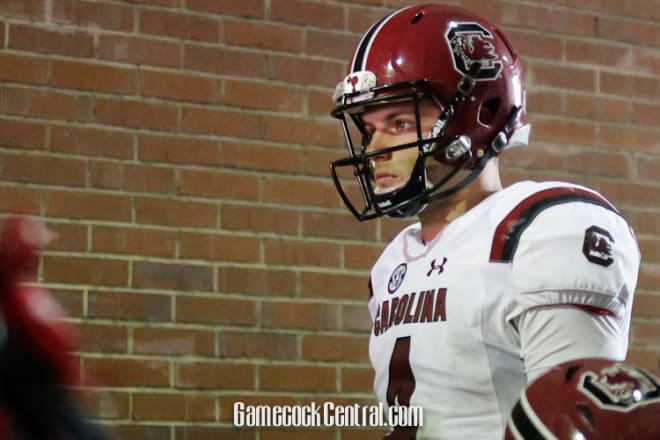 Back to earth - Fresh off three straight wins -- including two over SEC opponents -- South Carolina came back to earth in Saturday afternoon's loss to Florida. While the Gamecocks winning streak, particularly the win over Tennessee, showed that Carolina is in a position to possibly compete in the East sooner than later, the loss to Florida was a glaring example of how far the program still has to go.
Despite missing several of its starters, Florida passed the eyeball test over South Carolina with ease as the Gators had more depth and more size and athleticism on the whole than South Carolina. The Gators also appeared comfortable playing in a big game (experience matters) whereas the Gamecocks, short on experience, seemed to revert back to some early-season habits before recovering to finish stronger in the second half.
The Gators just physically overwhelmed the Gamecocks early on and could have had a way bigger lead if not for a combination of self-inflicted wounds and an always-opportunistic Carolina defense that refused to give up. This should come as no surprise, but Florida's year-after-year of recruiting top athletes was on full display. That's not to say South Carolina can't get there. Will Muschamp has Carolina's recruiting well on its way. And the team certainly needs another excellent offseason to get bigger and faster under strength coach Jeff Dillman, who has done wonders since taking over. But just as the Tennessee win showed progress, the Florida loss showed there's still a ways to climb.
ALSO SEE: The Insider Report - The latest from Chris Clark on several four-star targets including offensive lineman T.J. Moore | Scott Davis: Gamecocks show 'Never say die' attitude | Lattimore named head coach at Heathwood Hall | South Carolina-Clemson kickoff announcement on hold
Offensive line will tell the story - South Carolina has the offensive skill players necessary to win in the future either already on the field or waiting in the wings. No one doubts the ability of Will Muschamp and Travaris Robinson to build a top-level defense either, though it's probably going to take a couple of more years before they'll be near the level of the nationally elite units Muschamp fielded in Gainesville. With that, it's become increasingly clear that the Muschamp era will likely go as far as the offensive line can take it.
South Carolina's line showed improvement against Tennessee and Missouri, but struggled again against a physical, athletic Florida line. That's going to happen from time to time in the SEC, but it's happened far too often for Carolina this season. Not to beat a dead horse, but be it by the eye test, the film or the stats, there's no question that the Carolina offensive line has under performed this season. It's a problem.
When you look at what Carolina is building elsewhere on the field, the Gamecocks should have pieces in place soon to compete in a down East in the near future. Whether or not they're a team that can win it, or just simply compete, will be determined by its future play on the offensive line.
Still ahead of schedule - Despite the disappointment in Gainesville, South Carolina is still well ahead of schedule in the rebuilding project that Muschamp took over. With a win over Western Carolina Saturday, the Gamecocks will improve to 6-5 and become bowl eligible.
Before the season, I said that six wins and a bowl should be the realistic upper-level goal for this team as it would show progress to prospects, double last year's win total, give young players an extra month of practice, and give the team a shot at seven wins against a likely beatable bowl opponent. All of those things still apply and the loss to Florida does nothing to change it as a win over Florida (or over Clemson in two weeks) would simply be gravy on top of an already successful season (barring a collapse on Saturday).
Florida loss or not, Carolina is in good hands with Muschamp at the helm and a strong plan in place.
Never miss a moment with the GamecockCentral app: App Store - Google Play