Tringali spins gem as Gamecocks even series
SOUTH CAROLINA GAMECOCKS BASEBALL
GAINESVILLE, FLA.—Last week, Cam Tringali had about a four or five hour heads up that he'd be making his first college start Saturday against Alabama.
Fast forward a week and it's Tringali, with six-days notice now, motoring through a Florida Gator lineup that include players that have been a part of multiple College World Series teams.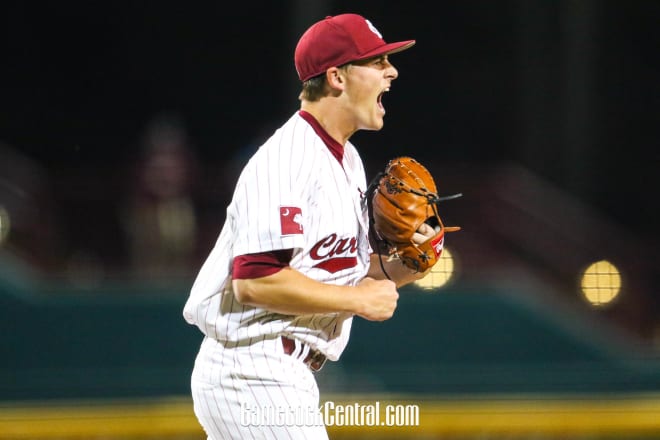 "All that stuff you have to put behind you," he said. "Part of it is in your head but once you get out there it's still baseball, even if you're playing the New York Yankees, Florida Gators or whoever. It's just putting that stuff behind you."
Also see: What did we learn from spring practice?
Tringali spun a gem of a game, pitching six-plus innings of one-run ball as the Gamecocks held on to beat the Gators 6-3 to even the series Friday night.
The redshirt freshman making just his second career start scattered just four hits over his outing and struck out three to no walks.
Only one player made it past first base over the first six innings with Nelson Maldonado tripling but getting thrown out at home on a perfectly executed hustle play from Brady Allen and Noah Campbell.
Tringali (2-0, 2.81 ERA) becomes just the third pitcher to have a quality start this year, joining Reid Morgan who has five and TJ Shook with one.
It's just the second quality start a Gamecock pitcher has turned in against an SEC opponent and comes when his team needed it the most, and when one of his two best pitches—his slider—off that night.
"Cam was fantastic. His slider wasn't as sharp as it usually is," Luke Berryhill said. "He had a little trouble locating it at times but his fastball was spot-on. It seems like they couldn't touch him for most of the night."
Also see: Five star back talks Gamecock interest
Although he didn't need it, the Gamecocks (21-14, 4-10 SEC) spotted him six runs over the first four innings of the game.
It'd be a return to Mark Kingston's power-happy approach he wanted his team to play with at the beginning of SEC play and it worked Friday night; of the Gamecocks' 10 hits, six went for extra bases.
The Gamecocks didn't strike out much, only seven times, and are hoping this kind of balanced offensive output carries over now.
"I don't know statistically hits and runs-wise how that compares but it felt like we were taking good at bats all night again," Kingston said. "We had single-digit strikeouts again tonight. We're making progress there and we scored enough to win."
Four different players—George Callil, Quinntin Perez, Chris Cullen and Berryhill—all homered with Cullen and Berryhill each launching two-run shots. Berryhill now has sole possession of the team RBI lead with 32 and is four homers off Jacob Olson's team-best 12.
Perez hit his first-career bomb, a solo shot to right, hitting for Andrew Eyster, who's still out with a knee injury and struggled in Thursday's opener. With Eyster out, Olson played right field and Perez had a few standout plays at third.
"The home run was big and he plays great defense for us at third," Kingston said. "Generally, if he's at third and Jake is right field that's probably our best defense in those spots. If they give us enough offensively it's something we can consider."
The Gamecocks now have a chance for their first SEC series win of the year and think Tringali's dominance and their balanced offensive output can carry over into Saturday's rubber match.
"They threw some quality arms out there, a bunch of different guys," Berryhill said. "There was a guy throwing mainly sliders and off-speed stuff then they had guys busting in fastball and we handled it well. I think this could definitely be the start."
Also see: Updates on a trio of pitchers rehabbing from Tommy John
Player of the game: In his second-career start, Cam Tringali picked up his first win as a starter, tossing six innings of one-run baseball and allowing just four hits.
Key moment: With two outs in the sixth inning, Tringali gave up a triple to Nelson Maldonado but a great hustle play from Brady Allen, relay throw from Noah Campbell and tag from Luke Berryhill got him out at the plate and the inning ended as well as any Florida momentum.
Up next: Sunday's rubber match is scheduled for 3:30 p.m. on the SEC Network. No official starter has been named yet.