Up Next: Georgia eyes quick rebound from heartbreaking defeat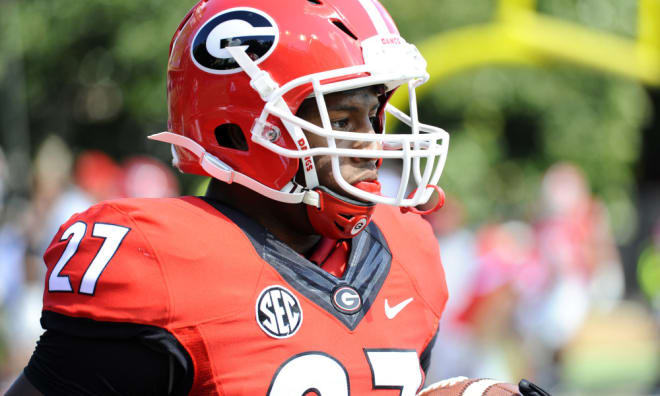 In the wake of one of the most shocking losses in school history, Georgia looks to return to the one thing that has served as the bedrock of the program for many years.
The power running game.
After carrying the ball just once against Tennessee last Saturday, Nick Chubb, one of the SEC's top running backs, aims to get back on track Saturday night in Columbia when the Bulldogs make their biannual trip to Williams-Brice Stadium (7:30 p.m., SEC Network) for an important game between two teams vying to snap parallel two-game losing streaks.
Chubb started the season strong with 222 rushing yards on 32 carries as Georgia rallied past North Carolina, 33-24, at the Georgia Dome. Since then, Chubb has totaled 220 yards in four games. He exited Georgia's bitterly disappointing shellacking at the hands of Ole Miss (Rebels won 45-14) two weekend ago late in the first half with an apparent ankle injury.
He did not return to the game (Georgia trailed 45-0 midway through the third quarter) in the second half, meaning he has just one carry in the last six quarters of football. However, Georgia coach Kirby Smart expects Chubb should be healthy enough to play against the Gamecocks.
"We feel good about him going into this week," Smart said Monday during his weekly press conference. "We're not holding him back in any kind of way. He was cleared to go for (Tennessee). He didn't practice the whole week, so it made it a lot harder for him to go in and get reps. This week he's cleared to go. We'll see where he's at and make sure he builds his reps as the week goes and is ready to go for the game."
Besides Chubb's possible return from the ankle injury, the key question surrounding Georgia this week is whether the Bulldogs are able to bounce back from Saturday's 34-31 loss to Tennessee in which the two teams exchanged Hail Mail touchdown passes in the last 10 seconds of the game.
Tennessee's desperation throw into the end zone was caught by a Vols receiver with no time showing on the clock to give it the astonishing win. Worse, Tennessee was fortunate to get into position for a frantic final fling when Georgia was first penalized 15 yards for unsportsmanlike conduct (excessive celebration) after scoring the go-ahead touchdown with 10 seconds remaining on a 47-yard pass from freshman quarterback Jacob Eason to wide receiver Ricky Ridley.
As a result, Georgia was forced to kickoff from its 20-yard line. The kickoff was returned 20 yards to the UGA 48. Georgia, though, was penalized five additional yards for being offsides on the kickoff. Those two penalties opened the door for Tennessee and gave us one of the most dramatic conclusions to an SEC game in years.
Will Georgia still be feeling the effects of that loss at kickoff Saturday night?
"The outcome of the game sometimes can affect the players as far as dwelling on it," Smart said. "I don't think the fans lingering on it (will have an impact). We've got to move on to South Carolina right now. Texas A&M probably didn't respect South Carolina, and they went into the half in a dog fight.
"This is a good football team that's playing really hard for their new coach. That's where our focus has got to be. That's where my focus is. I certainly think that's where our players' focus is. We've said since camp that there's a 24-hour rule. You guys (the media) can linger on as long as you need to, but we've got to go. We've got to move on."
Eason is one-half of what could be a rare matchup of true freshman starting quarterbacks in an SEC game. South Carolina's Brandon McIlwain was lifted in favor of fifth-year senior Perry Orth in the fourth quarter of last weekend's 24-13 home loss to Texas A&M.
McIlwain has completed 52.8 percent (56-106) of his passes for 567 yards and two touchdowns in the first five games and rushed for 98 yards on 52 carries. Smart knows McIlwain is capable of gaining huge chunks of yardage with his arm and his feet.
"He does a great job making plays in space," Smart said. "They run plays designed for him to run the ball, then they give him the option to run the ball. He is very quick, very fast, very elusive. A smaller guy in the pocket, but he has good arm strength.
"He is a freshman, so he's going through a little bit of what (Eason) is going through. (McIlwain) can run and he can elude, and that always creates issues for defenses when you've got guys like that that can extend the play like (Josh Dobbs) did against us on Saturday, it makes you defend the play longer."
Smart believes the return of top wide receivers Deebo Samuel and Bryan Edwards to the Gamecock lineup should boost the USC offense.
"They're young offensively but they've got good athletes," Smart said. "They're bringing their two wide receivers back who are both really deep threats and good receivers. Deebo Samuel is one of the best wide receivers in our conference when healthy. We're looking forward to the challenge of playing those guys in an extremely tough environment, which I've been in before and I know a lot of the kids on our team have been in. They have a great environment over there, especially when they play at night."
Both young quarterbacks have, not surprisingly, experienced a few growing pains over the first half of the 2016 season. Eason's first four games as Georgia's starting quarterback has been a roller coaster ride. The apex came three weeks ago when he threw the game-winning TD pass in the final minute at Missouri to lift Georgia to a come-from-behind 28-27 win.
But in the last two weeks, Georgia has been crushed at Ole Miss and suffered the heartbreaking loss to Tennessee. Eason, the nation's No. 1 pro-style quarterback prospect, has completed 53.6 percent of his passes (81-151) for 991 yards and seven touchdowns. He has also thrown four interceptions.
"You can't deny his talent," Georgia senior offensive lineman Greg Pyke said Monday. "He is still a young quarterback. He is 18-years-old, so it helps to have guys like (Brandon) Kublanow and me up front, veteran guys that have played a lot of ball to help him out with calls and everything."