Up Next: Miss. State faces leadership vacuum after Prescott's exit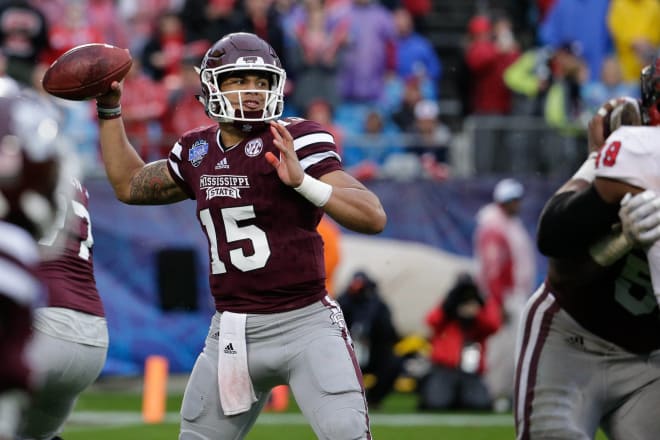 Dak Prescott was much more than just Mississippi State's starting quarterback for three seasons (2013-15), he was the heart and soul of the Bulldogs.
His departure after throwing for 3,793 yards and 29 touchdowns in 2015 left a huge, possibly irreplaceable, void on a Bulldogs football team filled with young, inexperienced players.
Based on Mississippi State's stunning 21-20 loss to FBS novice South Alabama Saturday afternoon in Starkville, the leadership vacuum created by Prescott's exit has yet to be filled.
The Bulldogs blew a 17-0 halftime lead, and ricocheted a potential game-winning field goal off the uprights in the final seconds.
"I think it (lack of leadership) kind of showed (Saturday)," MSU wide receiver Fred Ross said Monday during Mississippi State's weekly press conference previewing Saturday night's now must-win game against South Carolina at Davis-Wade Stadium.
"We've got to come out stronger. We've got to come out with that intensity. It starts with the leaders. It does fall on us. We were out there. I feel like myself I wasn't bringing enough intensity to the field."
Dan Mullen foresaw Mississippi State's challenge replacing Prescott's leadership nearly two months ago at SEC Football Media Days.
"Dak was such a strong leader that there is a little bit of that missing," Mullen said. "Good or bad, he was such a strong leader that other guys didn't have to step up, and even younger guys, into leadership roles. This year, we might not have that one leader, but there is an opportunity to have more leaders."
The numbers demonstrate clearly how important Prescott was to Mississippi State. He finished his distinguished career No. 3 on the SEC's all-time total yards (11,897) list behind former Georgia quarterback Aaron Murray and former Florida QB Tim Tebow, as well as fourth in touchdown responsibility with 114.
Translation: Prescott made a lot of plays for Mississippi State.
So, who is Prescott's successor?
Technically, sophomore Nick Fitzgerald won a four-way battle for the starting quarterback job, but he was quickly yanked after throwing three consecutive incompletions and replaced by junior Damian Williams, the most experienced returning quarterback on the roster.
"Nick graded higher through everything and our plan was two series (for Fitzgerald) and two series (for Williams) and see where we're at," Mullen said. "Nick missed a read and had two dropped passes. Damien went in and we scored twice, so we let him keep going at that point."
Williams appeared in six games as true freshman in 2013 (filled in when Tyler Russell and Prescott were injured towards the end of season) and served as Prescott's primary backup in 2014. He redshirted in 2015.
Williams finished Saturday's loss 20-of-28 passing for 143 yards and one touchdown, leading Mississippi State to a pair of first-half touchdowns and a field goal. However, the MSU offense bogged down in the second half, scoring only three points on a 48-yard field goal.
Yet, had placekicker Westin Graves connected on a makeable 28-yard field goal instead of doinking the kick off the left upright with six seconds remaining, Mississippi State would have avoided the upset and Starkville would be a happy place right now.
Nonetheless, Mullen contended the ongoing battle between Fitzgerald and Williams would extend into practice this week.
The surprising setback exposed myriad problems with the 2016 edition of the Bulldogs, starting with the leaky pass defense. MSU allowed 285 passing yards as the South Alabama quarterback completed 24-of-34 passes. USA receivers were seemingly roaming free all over the field for most of the game.
"We didn't execute really well at times and had some absolute critical errors," Mullen said. "You can't make critical errors and expect to win the game. Giving up 285 yards passing is a lot."
In the fourth quarter, Mississippi State surrendered nine-play touchdown drives covering 99 and 71 yards. On the first play of the first aforementioned drive, South Alabama running back Tyreis Thomas scampered 37 yards out to the USA 38 to pull his team out of danger. It was probably the most important play of the game along with USA's clutch conversion of a fourth-and-2 at midfield later in the drive.
"We had some opportunities to win the game, but didn't take advantage of them," Mullen said. "They made plays when they needed to make plays to win the game. We have a lot of young players out there. They have to learn in critical moments of the game we have to step up and make plays to win."
How Mississippi State responds to the South Alabama loss looms as an important and dominant storyline throughout the week heading into Saturday's matchup against the Gamecocks.
Mullen and his players are about to be tested on dealing with adversity.
"We have to come back and see how we respond to this as a young football team," Mullen said. "We have two choices. We can come back to practice and have our head hung down or we can come out and take pride in our work and be much better at practice this week than we were last week. We still have a lot of young guys learning. We saw some of the same mistakes being made in practice happen during the game. We have to practice a lot better this week and try to find a way to win."
Mullen, though stopped short of describing the USA loss as a 'wakeup call' for the Bulldogs.
"We're a young football team, so I don't know if it's a wakeup call," Mullen said. "You have to play great if you want to win a Division I football game. It's that's simple. I don't think it's a wakeup call. It's just a learning experience for our guys on where they are and how they have to prepare to get ready."