USC squeezes past VMI in opener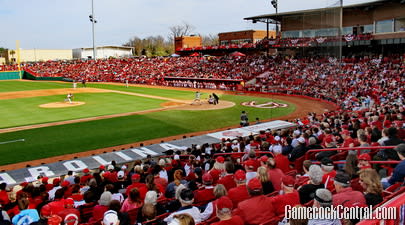 In the end, second-ranked South Carolina showed why it's the two-time defending national champion, getting the game-winning hit and making a huge defensive play in the final two innings.
It all added up to a season-opening 2-1 victory over pesky VMI.
But it was far from easy, and more than a little tense at times.
LD Dantzler delivered a clutch two-out RBI single in the bottom of the eighth inning and freshman catcher Grayson Greiner gunned down a Keydets base runner trying to steal second in the top of the ninth as the Gamecocks pulled out the one-run win in front of 8,242 fans.
"That was a great game, being the opener for both teams," USC coach Ray Tanner said after the fast-paced game (2:04). "Both teams played extremely well. It was anybody's game and we were very fortunate to come up with a big hit by LB there to put us ahead."
Game 2 of the three-game series is at noon on Saturday (the game was originally scheduled for 3 p.m. but was moved up three hours due to the anticipation of rain). Matt Price, USC's closer for most of the past two seasons, will make his second career start for the Gamecocks.
With the scored tied at 1, USC plated the winning run in the bottom of the eighth off reliever Alan Watts, who replaced effective VMI starter Cody Cowgill (seven innings, seven hits, one run, two strikeouts, one walk) at the beginning of the inning.
"I've been anticipating all week that Cowgill was going to be difficult," Tanner said. "He is a veteran guy. He had some good games last year. I looked at some of his boxes. He was very special and very efficient. I knew with Cowgill out there, I knew he was good. And I thought (Michael) Roth would give us a chance. But sometimes when you think like that, it's 8-7 instead of 2-1. It was going to line up as a pitcher's duel and that's what it ended up being."
At the outset of the eighth, Evan Marzilli collected his third hit of the game (3-for-4) by dropping down a beautiful bunt between third and the pitcher's mound.
"I just up there hoping to see where the infielders were going to play," Marzilli said. "If they were playing me back, I was going to (bunt). That was my original intent. The key there was just getting on base and getting that run across. We always seem to have a bunch of close games."
Marzilli moved into run-scoring position when Adam Matthews laid down a sacrifice bunt.
"Runs are hard to come by," Tanner said. "The ball stays in the park. Not too many swings are going to leave the yard anymore. You have to play defense and score when you have an opportunity."
Christian Walker popped to first for the second out, bringing Dantzler, the top hitter in the preseason, to the plate. The junior-college transfer from Florida lined a single into center on an 0-2 pitch for his first career hit to drive in Marzilli, who easily beat the throw to the plate with a feet-first slide.
"In the beginning, I was sitting fastball, wanting to see if he would leave something in that area I could pull for a base hit," Dantzler said. "I took a fastball that I probably should have swung at. When I got down 0-2, I was just battling to use my hands and use the whole field."
In the top of the ninth, VMI's leadoff hitter singled against reliever Tyler Webb, the lone batter to reach base against the junior left-hander in 2 1-3 innings.
With Forrest Koumas on the mound, the Keydets' runner took off for second. Greiner, one of four freshmen starters for USC, fired a bullet to second baseman Chase Vergason, who applied the tag for the second out.
Moments later, Koumas ended the game with a strikeout, adding yet another one-run victory to USC's arsenal. Since the start of 2010 season, USC is 23-10 in contests decided by one run.
Koumas threw just seven pitches, but it was enough for the sophomore from Elgin to record first career save.
Michael Roth threw 89 pitches while lasting six innings in his 25th career start. He exited with the score tied 1-1 after allowing four hits and striking out six.
"I believe there was a pitch count," Roth said. "I stopped at 90, I believe. That's where they wanted to hold me at. I asked to go out there, but Webb did a great job and Forrest did a great job as well."
The senior worked fast and, as usual, threw the ball over the plate. Sixty-three of his 89 pitches were strikes. In many ways, it was a typical Roth performance in the season-opener.
Roth, Webb and Koumas combined to limit the Keydets to five hits while striking out 11 batters in the victory.
VMI scored its only run of the game in the top of the second on a two-out RBI single. Roth allowed just two hits over his final four innings and retired 11 of the final 12 Keydets batters he faced.
An error by freshman Joey Pankake allowed the only VMI batter to reach during that impressive stretch.
"It's going to take a while to get (our newcomers) exactly to where we need them to be," Tanner said. "But, obviously, you have to try to win games as you go."
USC managed to tie the game on an unearned run in the bottom of the third when Vergason reached on a fielder's choice, Marzilli singled and a wild pitch moved both runners into scoring position.
A passed ball by the VMI catcher allowed Vergason to slide home with the game-tying run.
Cowgill had USC baserunners on in each of his final four innings, but worked out of trouble each time to keep the score tied.
Despite Greiner's heroics on Friday, Tanner said after the game that Dante Rosenberg will likely catch Saturday's game with Greiner serving as designated hitter.
After festive opening ceremonies featuring members of the 2011 national championship team, Roth settled in quickly by retiring VMI in order in the top of the first inning.
TOP PLAYER: Let the comparisons to Landon Powell begin for Greiner. The 6-foot-5 freshman from Blythewood showed few signs of being nervous in his college debut, going 2-for-3 at the plate with a pair of singles and reaching base three times. He also threw out the would-be base stealer for VMI at a critical juncture in the top of the ninth and seemed to mesh well with Roth and Webb. It was the first of many anticipated stellar performances from the freshman.
KEY MOMENT: Dantzler batted cleanup for a reason. The JUCO transfer was a hitting machine in the preseason scrimmages with several long homers. He flew out to deep center in his first plate appearance and was 0-for-3 when he stepped to the plate in a big spot in the bottom of the eighth. He delivered the game-winning single.
TURNING POINT: USC was glad when VMI coach Marlin Ikenberry lifted Cowgill after he threw 92 pitches in seven innings. The Gamecocks pounced on reliever Watts for the game-winning run in the bottom of the eighth.


D. McCallum