USC-VMI Diamond Extra -- Second base a quandary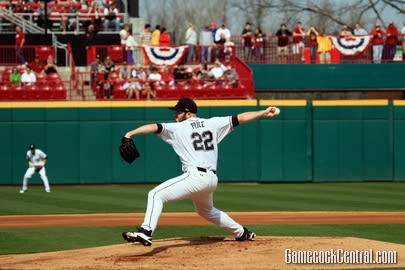 After three games, the early verdict on the second-base job is in.
It's a no-decision.
South Carolina coach Ray Tanner started a different second baseman in each of the games against VMI this weekend. Junior-college transfer Chase Vergason started the season opener on Friday, going 0-for-3 at the plate with a run scored and two assists.
In Saturday's doubleheader, true freshmen TJ Costen and Connor Bright got the starting nods. Costen went 0-for-3 at the plate in the opener with two assists and an error. Bright took the starting reins in the nightcap and went 1-for-4 with a bases-loaded walk for his first career RBI and one run scored.
Costen played the last few innings of game two at second and then in left field, walloping a two-run homer in the bottom of the eighth.
Minutes after the final out of the three-game sweep over VMI had been recorded, Tanner maintained he wasn't any closer to deciding on a permanent starter at second base after three games.
"Second base is still up in the air for me," Tanner said. "A couple of weeks ago, I thought we might go in one direction or another. After this weekend, I'm not sure what we're going to do at second base. Connor Bright started the season as a swing guy at all three positions (second, third and short). Chase Vergason was pretty solid. TJ had some ability. He wasn't as quite as efficient as he needed to be."
Who will start at second base on Friday when USC squares off with Elon? Even Tanner doesn't know the answer. It could boil down to which of the three candidates performs best in practice this week.
"After the three games, I'm kind of in the same place," Tanner said. "I don't know who the right guy is for that spot. We have to get a good week of practice and see who gets a chance to play next weekend."
Last week, Tanner said that Vergason held the edge because of his age (21 years old) and junior college experience at Brevard (Fla.) Community College. But the gap has vanished based on a combination of factors.
"Vergason hasn't played as well lately as he did earlier," Tanner said. "He was pretty solid and handled himself a little bit better than those guys offensively and defensively. He was a better quarterback in the middle of the infield than those guys were because he's a little bit older. But it has gotten bunched up a little bit. Those other guys (Costen and Bright) have some ability."
Tanner hopes one of the three steps up in the next week or so, especially with the annual series with Clemson looming (March 2-4) and the start of SEC play in mid-March.
"It's not like neither one of those guys can play. I'm just not sure which one should be playing right now," Tanner said. "There's still a battle going on. I don't really want that to be a situation going into weeks three, four and five. That's too hard to have a situation at second base that's not settled. I want to get that settled as quickly as possible.
"Will it be settled this week? I don't know."
PRICE IS RIGHT: After two years serving as USC's closer (30 career saves), Matt Price made the second start of his career in the first game of Saturday's doubleheader. He lasted five innings, allowing no hits, three walks and three hit batters while throwing 89 pitches. His only other career start came in March of 2009 against The Citadel when he was a freshman. He suffered a fractured right wrist on a fielding play in that game that forced him to miss the rest of the season.
"I felt good, although I felt tired at the end," Price said. "I was excited and ready to get back out on the mound as a starter or out of the bullpen. I'm in pretty good shape, but I just need to work a little bit harder. My arm was just a little tired, so my mechanics started to go awry at the end when I was trying to find my location. I felt good the entire game until that sixth inning."
Price said his arm tired in the sixth when he walked three VMI batters and hit a third before being pulled in favor of Ethan Carter, who gave up just two hits in four effective innings in his first appearance for USC since the 2010 College World Series. Overall, Tanner was pleased with how Price pitched.
"The ball was coming out of his hand pretty well," Tanner said. "He hit a couple of guys, but his stuff was good. He overpowered a few of their hitters and then all of a sudden he hit a wall and lost control. You have to be a little bit concerned, but I've been around Matt Price for a while and he normally gets things straightened out when he struggles a little bit. Hopefully, he'll be OK next weekend."
DANTZLER DAZZLES: One of the last memories from opening weekend was LB Dantzler's titanic three-run homer in the bottom of the fourth inning, his first long ball as a Gamecock. Two of his four hits in the three games against VMI went for extra bases. He delivered a decisive RBI single in the bottom of the eighth inning of Friday's 2-1 win. He finished the weekend 4-for-11 with a team-high five RBIs and a slugging percentage of .727.
"It wasn't just me. There were a lot of guys that hit pretty well this weekend," Dantzler said. "I'm just glad to be a part of it."
Dantzler was one of two new starters on the left side of the infield along with freshman shortstop Joey Pankake. Besides making solid contact virtually every trip to the plate, the JUCO transfer from Winter Haven, Fla., played solid defense, too, accumulating four assists without committing an error. Pankake batted .222 (2 of 9) with a runs scored and had one error with six assists.
"It was important for us to have a guy like LB and so far, so good with him because we lost those veteran guys in the infield," Tanner said. "Joey Pankake did OK this weekend. He didn't do badly. LB is a better defender than I anticipated coming in for us. He's a pretty level player. He's agile, has a quick first step and he's rangy. He has worked hard to become a better defender. I'm very comfortable with him."
NOTES
* Ten true freshmen played in the second game of Saturday's doubleheader, five of whom started the 13-1 victory, half the starting lineup. Four true freshmen started Friday's season-opener and occupied spots 5-8 in the batting order. In Saturday's nightcap, four of the bottom five spots in the batting order were taken by true freshmen.
* Freshman Kyle Martin went 4-for-8 this weekend with a double and one RBI. He is a very good hitter, but is stuck behind Christian Walker at first base, which could limit his opportunities this season in the field. He should primarily be used as DH. "The more at-bats you give Kyle Martin, the more he is going to be comfortable," Tanner said. "It's going to be hard for him to get in there a lot because of Christian Walker."
* Tanner said that USC will follow the "protocol" concerning Tanner Lovick's situation (a January arrest in Five Points), meaning the freshman from Winterville, N.C., will sit out next weekend's series against Elon as well as part of a six-game suspension at the outset of the season.
SEC SCORES/SCHEDULES (Saturday)
South Carolina 3-13, VMI 2-1
Florida 5, Cal State-Fullerton 2
Stanford 9, Vanderbilt 5
Arkansas 13, Villanova 1
Georgia 5, Presbyterian 4
Florida Atlantic 9, Alabama 2
Kentucky 10, Eastern Michigan 2
Tennessee 10-7, Northern Illinois 5-2
LSU 19, Alcorn State 0
Ole Miss at TCU, ppd.
Washington State at Mississippi State, ppd.
Missouri at Auburn, ppd.


D. McCallum