WBB: Baylor is too much for South Carolina
SOUTH CAROLINA WOMEN'S BASKETBALL
South Carolina's season came to an end with a 93-68 loss to Baylor in the Sweet 16.
Going into the game, the Gamecocks though they had a plan, derived from what went wrong in the 25-point loss to the Lady Bears back in December. They couldn't match the Lady Bears' size, so they were going to push the tempo, play fast, and hopefully wear down down all that size with their superior depth. And, to some degree it worked: they played fast. But the Lady Bears were faster, and the result was another 25-point loss.
Every time the ball changed possession, Baylor sprinted to the rim. Guards DiDi Richards and Juicy Landrum repeatedly beat South Carolina back for easy layups or fouls. And 6-7 Kalani Brown had no problem keeping up with the pace, and nothing South Carolina did defensive could rattle her as she picked apart the Gamecocks, scoring over and passing around double teams.
"We're pretty fast too," Kim Mulkey said. "We're not just a bunch of slugs running the floor with two big girls. Those kids can get up and down the floor and our guards are going to going to push it."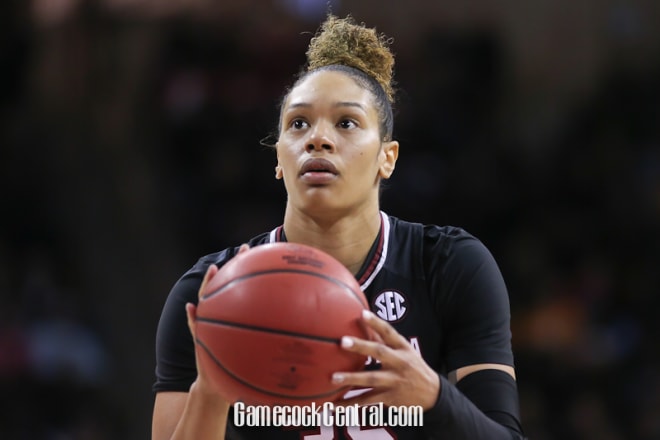 Baylor led 24-11 after one quarter, and after a pair of free throws by Alexis Jennings to open the second quarter, went on an 11-0 run to blow the game open. Landrum and Richards combined for all 11 points. Then Brown and her 6-4 partner inside, Lauren Cox, went to work. The result was a 49-23 lead at halftime, and South Carolina's lowest scoring half of the season.
"Obviously if given the opportunity, they take advantage of the opportunities that they have," Dawn Staley said. "I thought we just got our defense off-balance a little bit, especially when we took some shots and it allowed Didi to get out and get some transition buckets that were uncontested."
South Carolina chipped into the lead in the third quarter when the defense started to press and Te'a Cooper and Mikiah Herbert Harrigan got hot. Brown and Landrum each picked up their third fouls, leading to brief spells on the bench, and South Carolina took advantage. Cooper scored 14 in the third quarter and Herbert Harrigan had 11, and they combined for a a 6-0 run got the deficit under 20. Moments later, Bianca Cuevas-Moore, who struggled with her shot again, made her first bucket, a three, and then followed with a free throw on the next possession to cut the lead to 16.
But that was as close as it got. Brown, back in the game, got the ball inside and scored. A turnover led to a layup for Richards, and then an air ball led to another runout for Richards, and Landrum threw a beautiful full-court pass to Richards for the layup and Baylor was back in control.
Brown and Cox each finished with double-doubles. Brown had 18 points and ten rebounds, along with three assists, doing most of her damage in the first half. Cox took the reins in the second half, and finished with 17 points, 14 rebounds, six assists, and five blocks. Richards led all scorers with a career-high 25.
"It was great," Brown said. "I was scoring, but I was also passing and able to find my teammates, and when everybody's scoring, I'm happy."
South Carolina gave up a season-high 54 rebounds to Baylor, who was +24 on the glass. Baylor had 19 offensive rebounds, which led to 18 second chance points. Baylor 25 fast break points, compared to just nine for South Carolina, despite the game plan.
"It was pretty difficult," Jennings said. "We're giving up a lot of height advantage with them, but I feel like we did the best that we could."
Cooper finished with 17 points and Herbert Harrigan had 16 points, five rebounds, and three blocks. Cuevas-Moore added 13, but no other Gamecock scored more than five. In total, the other ten Gamecocks scored just 22 points
Notes:
Baylor's largest lead Saturday was 30. Its largest lead back in December was also 30. Both occurred in the third quarter … South Carolina's 23 points in the first half was its lowest-scoring half of the season. It scored 29 points in the third quarter alone. … LeLe Grissett had a career-high three blocks, along with four points and four rebounds. … It was the final game for seniors Cuevas-Moore, Alexis Jennings, Nelly Perry, and Doniyah Cliney, and it was certainly not the way any of them wanted to go out. Jennings had just five points and two rebounds and did not make a field goal attempt and was hampered with foul trouble in the second half. Cuevas-Moore shot just 3-12, but did reach a milestone late in the fourth quarter, when she surpassed 1,000 career points. Perry was scoreless with three rebounds. Cliney started, but had just two points and a steal. … Freshman Elysa Wesolek played the final 1:19 of the game, meaning all 13 Gamecocks played. … Announced attendance for the two sessions was 6,544. … Iowa beat NC State in the first game, 79-61. Iowa and Baylor will meet Monday. … South Carolina's season is over. The Gamecocks finished the season 23-10. They won at least 20 games for the eighth straight season and reached the Sweet 16 for the sixth straight season.