WBB: Gamecocks Rewrite the Record Book
SOUTH CAROLINA WOMEN'S BASKETBALL
South Carolina shattered records in a 112-32 win over USC Upstate.
Dawn Staley has been saying she wanted to get four quarters from her team. She got two against Appalachian State, so she put them through a couple of tough days of practice. The message was received.
South Carolina took control with a 23-0 run in the first quarter. It added a 16-0 run in the second quarter. The third quarter saw a 14-0 run and a 10-0 run to end the frame. That gave South Carolina a 97-25 lead going into the fourth quarter, when Staley relaxed a little and emptied the bench. She still got a quick 8-0 run for good measure.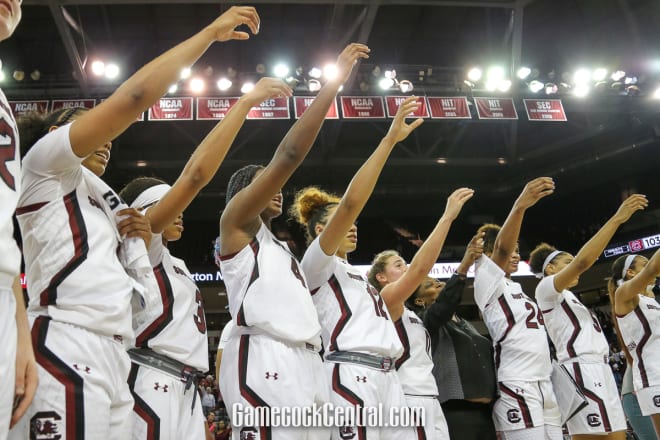 "I thought we put 40 minutes, especially from a defensive standpoint," Staley said.
"They locked in to what we needed. Offensively we shared the ball. We had flow, we had rhythm, and I like that we got some of our three-pointers to fall because they were in rhythm."
The quarter splits reflected the consistent effort. The Gamecocks won the first quarter 33-9, the second 31-9, and the third 33-7 before the 15-7 fourth. The 112 points are the most scored under Staley, breaking the record of 111 set against Savannah State in 2014. The 80-point margin of victory easily broke the previous record of 70, set against Charleston Southern in 2013.
"We felt rushed all night," USC Upstate's Tammy George said. "We never really got good looks, and when we got some looks looks we had to alter because of their size and length."
The 43 made baskets broke the previous record of 39, set three times, and the 77 attempts are second most. The 12 threes made is a season-high and tied for fifth most. The 57 rebounds are tied for fifth-most. USC Upstate shot just 10-63, 15.9 percent, second lowest allowed under Staley.
Tyasha Harris and Aliyah Boston each scored 18, and Boston added ten rebounds for her third double-double.They led six Gamecocks in double figures, which didn't include leading scorer Zia Cooke, who couldn't buy a basket most of the night, but finished with eight points (on 3-12 shooting) and a career-high five assists as she learns to expand her game and develop chemistry with Harris.
"They're growing together," Staley said. "Zia has taken on the role of being a shooting guard for us. They're helping each other play off each other a little bit better now. Two weeks ago Zia was always thinking, shot, shot, shot, now she's utilizing another skill set of hers to pass the ball, and I think she got that from Ty."
Harris reached 1,000 points for her career on a three-pointer in the third quarter. She became the 34th player in school history to pass the mark.
"I wanted Ty to hit that mark probably two years ago, but she's so unselfish," Staley said. "She's the consummate point guard."

Rounding out the double-figure scorers, Destanni Henderson had 15 points, five rebounds, five assists, and three steals. Victaria Saxton had a season-high 14 to go with eight rebounds, Mikiah Herbert Harrigan had 13 points and six rebounds, and Laeticia Amihere had career-highs of 10 points and six rebounds.
South Carolina shot 55.8 percent for the game and52.2 percent from three. If there was a flaw, it went just 14-21 from the line. South Carolina held a 57-34 rebounding edge, and had more offensive rebounds than Upstate had defensive rebounds.
Notes:
USC Upstate was assessed a technical foul prior to the game because their uniform numbers did not contrast enough. The Spartans wore dark green uniforms with black numbers. In their previous road game, they wore black jerseys with green numbers and were not penalized According to George, an official told her the rule prohibiting the uniforms had been passed last week.… Staley recalled the same thing happening to South Carolina several years ago, when they wore camo numbers on black uniforms. "We played the whole season with those uniforms and then they wanted to bring out the magnifying glass." … USC Upstate did not have a player in double figures scoring. … Olivia Thompson and Elysa Wesolek each played the entire fourth quarter. Thompson hits a three and had two assists. Wesolek had two rebounds and two steals. … South Carolina had just nine blocks, but the reputation for shot-blocking was apparent as Upstate players often settled for awkward fade-aways to avoid the block. … Announced attendance was 10,052. … South Carolina's next game is Sunday at Clemson.