WBB: Gamecocks rout ETSU
SOUTH CAROLINA WOMEN'S BASKETBALL
South Carolina routed ETSU 101-55 in the first round of the Vancouver Showcase Thursday night north of the border.
After being routed at home by Maryland, South Carolina needed a get-well game. And the Gamecocks definitely got well against the Buccaneers. After shooting just 1-of-21 from three against Maryland, South Carolina had no shooting problems against ETSU. Doniyah Cliney made a three from the wing on USC's first possession, just 26 seconds into the game. She made another three on South Carolina's next possession, and in less than 90 seconds South Carolina had surpassed its three-point total from the last game.
The Gamecocks went on to make their first five threes, and finished the game 11-of-16 from behind the arc.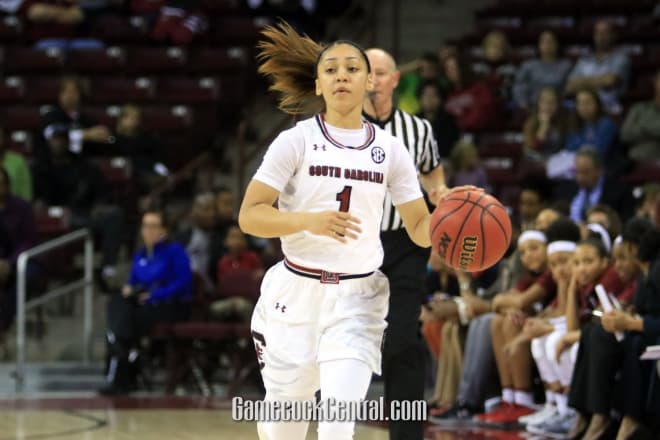 A 12-0 run early in the first quarter gave South Carolina an early 20 point lead. ETSU was able to cut the lead to 10 against South Carolina's second unit, but Bianca Cuevas-Moore drilled a corner three in transition late in the second quarter to help South Carolina take a 55-29 halftime lead.
The three by Cuevas-Moore was her first basket - and first game - in more than 19 months. She missed all of last season with a torn ACL, and was held out the first three games of this season as a precaution. For a better idea of how long it has been since she played in a real game, the last game Cuevas-Moore played in was the 2017 national championship game.
Cuevas-Moore entered with 5:20 to play in the first quarter, and committed her first foul about a minute later. She missed her first shot attempt, but she's never been shy, and drilled a three 19 seconds later. Cuevas-Moore finished with nine points, three steals, two rebounds and an assist in 17 minutes. She shot 2-of-10 from the floor making it, in many ways, the quintessential Bianca Cuevas-Moore performance.
South Carolina's hot first half shooting continued in the third quarter and despite calling off the dogs in the fourth quarter, the lead got as high as 48.
Cliney's hot shooting at the start continued throughout the game, and she finished with 14 points, just two shy of her career-high. Bianca Jackson also had 14 points, her season-high. Tyasha Harris had 13 points in just 14 minutes, as she was able to sit most of the second half. Nelly Perry and Elysa Wesolek each scored 10 points to round out the double-digit scorers. Cliney, Perry, and Mikiah Herbert Harrigan each had seven rebounds to lead South Carolina.
The Gamecocks controlled the game in all aspects. They shot 56 percent while holding ETSU to 23 percent shooting with just four assists. They only turned it over 16 times and forced 22 turnovers with 17 steals. They made 80 percent of their free throws.
NOTES:
South Carolina is now 11-1 all-time against ETSU. … Wesolek made a three-pointer with 17 seconds left in the first half. It was Wesolek's first three, after missing her first three attempts. Wesolek was known as a good shooter for a post player, and hit another three in the fourth quarter. … Destanni Henderson was the only Gamecock who did not score in the first half. … Wesolek was the only Gamecock that did not play in the first quarter. She played eight minutes. … Every Gamecock scored. Ladazhia Williams was the low scorer with just one point. … Raven Dean led ETSU with nine points. … South Carolina's next game is Friday at 11:30 pm against No. 9 Oregon State, a 74-60 winner over Western Kentucky Thursday night.
Related: USC-ETSU box score