WBB: The Gamecocks are Sweet Again
SOUTH CAROLINA WOMEN'S BASKETBALL
South Carolina held off Florida State 72-64 to advance to the Sweet 16.
Meeting for the third time in five years in the NCAA Tournament, South Carolina and Florida State once again went down to the wire. Freshman Victaria Saxton was fouled on an offensive rebound and swished two clutch free throws with less than 90 seconds to play, and then Tyasha Harris finished through a foul, making the layup and free throw to make it a two possession game. Florida State was unable to answer, and South Carolina made 7-9 free throws in the final 90 seconds, finishing the game on a 9-2 run to clinch the win.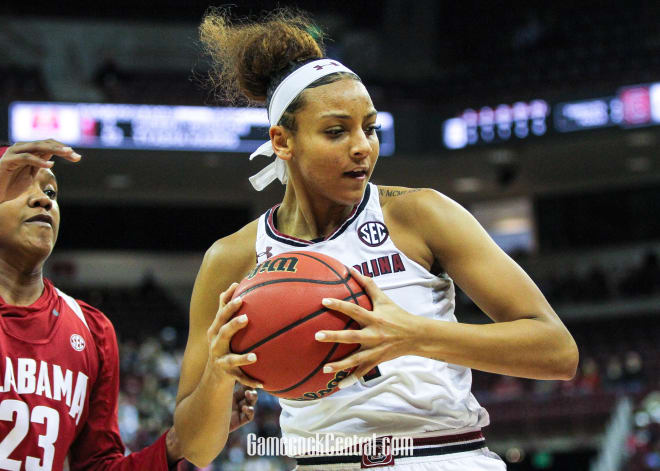 Nicki Ekhomu hit a pullup jumper with just under two minutes to play to pull within a point at 63-62. Te'a Cooper milked the shot clock and then drove to the basket, but threw up a wild shot attempt as she fell down. Saxton grabbed the miss and tried to go back up, but was fouled as the shot clock buzzer sounded. The officials went to the monitor to see which happened first, giving Saxton extra time to think about the upcoming free throws. The officials ruled the foul was first, sending Saxton, a 57 percent free throw shooter who played just five minute in the game, to the line. She calmly sank both to put the gamecocks up three with 1:23 left.
"I just went out there and did it," Saxton said. "I didn't want to think to hard about it."
Florida State called a timeout and set up a three-point attempt for Nausia Woolfolk. She missed, but Florida State three offensive rebounds on the possession before Kiah Gillespie, who had 15 points and 18 rebounds, got a shot to fall. South Carolina called a timeout, setting up Harris' heroics.
Staley put the ball in Harris hands, and told her she had to make a play, either a pass or score. The play was designed to go against a man defense, but Florida State played zone. Still, with three shooters on the perimeter and the defense cheating towards Alexis Jennings in the posts, the lane opened up and Harris attacked the rim. She made the basket and drew the foul. The free throw put south Carolina up two possessions, and South Carolina was able to close out the game.
"I made a point to let her know that the ball was going to be in her hands to make a play," Staley said. "I was thankful that she decided to shoot the ball, take it to the basket strong. The and-one was a bonus."
"It was a breakdown," Harris said. "I kind of just took it."
"Tyasha getting the and one was tough," Florida State's Sue Semrau said. "I thought we had defended that really well."
Coming into the game, South Carolina was worried about Florida State's offensive rebounding ability, but preaching the importance of boxing out wasn't enough. Florida State dominate the glass, especially on the offensive end. It had a 50-33 rebounding edge and grabbed 27 offensive rebounds, leading to 19 second chance points.
Harris opened the game the way she ended it, with a three-point play, but the first quarter belonged mostly to Florida State. The Seminoles established their control on the glass early, and led by as much as eight as South Carolina struggled to settled down. A 7-0 South Carolina run wiped out most of the deficit, but Woolfolk countered with a basket. Then Mikiah Herbert Harrigan, who had just checked in, grabbed a rare offensive rebound, and then drained a game-tying three as the first quarter buzzer sounded.
Herbert Harrigan, who was benched for the first half against Belmont to "get her mind right," was focused on Sunday. She scored 10 points and grabbed five rebounds in the second quarter alone, including four points in the final thirty seconds to push South Carolina out to a 37-30 halftime lead.
"It's just being ready when my number is called and going out to play," Herbert Harrigan said.
Herbert Harrigan finished with 20 points, six rebounds, three blocks (with a couple more wiped out on questionable fouls, and a few altered shots that don't get recorded), and two assists. The game changed when she entered, and she brought energy on both sides of the ball.
"KiKi's a hard guard," Staley said. "She is someone that can put the ball on the floor. Her mid-range is efficient enough to where you have play her. She's long, she gets blocked shots when she's on the floor. A lot of things can happen out there on the positive side."
Jennings finished with 16 points, seven rebounds, and four blocks. Cooper had 13 points, six rebounds, and four assists. Harris had 11 points and four assists.
Notes:
South Carolina has now advanced to the Sweet 16 six straight seasons, and in seven of eight tournament appearances under Staley. … When Semrau looked at the box score and saw Florida State had 27 offensive rebounds, she didn't believe it. "27? Lord have mercy," she said. … South Carolina was 20-24 from the free throw line Florida State was 7-11. … Ekhomu finished with 19 points. … Announced attendance was 2,030, but in the mid-sized Halton Arena, it was much louder. Semrau commented on the noise, "When South Carolina hit a shot it was the like world was ending and we're all going to heaven." … South Carolina's next game will be Saturday, March 30, against either #1 seed Baylor or #8 seed Cal. They play Monday.