WBB: Mississippi State escapes
SOUTH CAROLINA WOMEN'S BASKETBALL
South Carolina lost out on a share of the SEC Regular Season Championship, losing to Mississippi State 68-64.
Wilting to Mississippi State in the fourth quarter has joined death and taxes as a certainty for South Carolina, who has lost three of four games to Mississippi State after winning eleven straight. In those three losses, South Carolina was right with Mississippi State going into the fourth quarter but couldn't maintain its effort. It looked like that would be the story again Sunday.
Anriel Howard appeared to deliver the dagger for Mississippi State when she hit a spot up three with 6:38 left to go up 62-51. But South Carolina went on a furious 11-2 run to pull back within a basket. Nelly Perry scored six points during the run, and Tyasha Harris had the other five.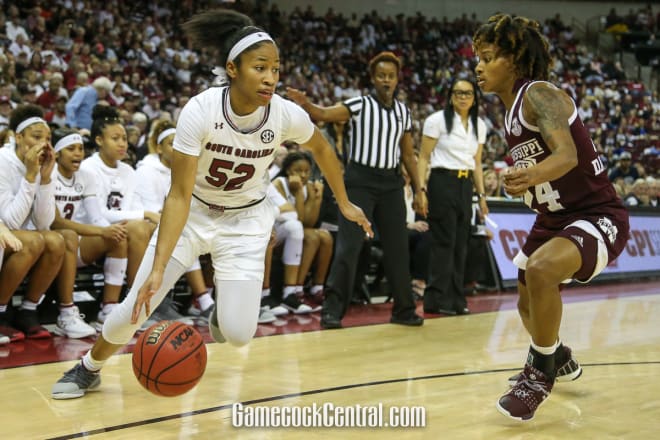 The teams traded baskets, and Mississippi State had the ball up two with less than a minute to play. South Carolina forced the miss, but the rebound bounced to Jordan Danberry, who was fouled. She made the first free throw, but missed the second. South Carolina again was unable to come up with the rebound, and Teaira McCowan grabbed it. She was fouled with 3.2 seconds left and made one of the free throws to clinch the win.
"I thought they were really close, but when they (Mississippi State) rebound as well as they do the ball seems to find them a lot more than their opponents," Dawn Staley said. "I thought we were in there. I thought we tried to box out, I thought we were very aware of where people were on the floor, some of them were bad bounces."
Offensive rebounds killed the Gamecocks all game. The Bulldogs had 21 second chance points off a whopping 26 offensive rebounds. McCowan had nine offensive boards and Howard had seven. Overall, Mississippi State had a 51-37 rebounding advantage.
The lull started in the third quarter for the Gamecocks Sunday. A seven-point halftime lead had become a 51-47 deficit going into the fourth. The Gamecocks shot just 4-18 in the third, with a lot of shot attempts missing short. And the Bulldogs outscoring the Gamecocks 19-8.
"A mental lapse," Harris called it. "I think it was the third quarter that really got us. We dug a hole."
Staley took responsibility for the third quarter. She went for the jugular instead of just staying with what had worked, and it backfired.
"The third quarter was a quarter that I have to take a huge responsibility on," she said. "I thought we could take advantage of some matchups and I confused our players. It was the same plays but players were in different positions.
"I made the mistake of putting our players in positions they weren't familiar with."
South Carolina controlled the first half, pushing the tempo and forcing turnovers. A 10-0 run to end the first quarter gave South Carolina a 19-14 lead, and it lead by as much as 10 during the second quarter. South Carolina scored nine points off nine Mississippi State turnovers in the first half, but Mississippi State slowed the pace in the second half and eliminated the turnovers.
"They came out with a lot of energy and took the fight to us," Mississippi State coach Vic Shaefer said. "We talked pregame about trying to do that to them."
Mississippi State turned the ball over just three times in the second half, although they led to six points. Mississippi State also got to its bread and butter - feeding Teaira McCowan. McCowan picked up two fouls in the first half and was a non-factor, scoring four points and grabbing six rebounds. But she established her presence on both ends of the court in the second half. McCowan had 18 points, 17 rebounds, and four blocks, with all four in the second half.
"She was able to go to her go-to, her drop step," Mikiah Herbert Harrigan said. "We had to do a better job of boxing her out."
Harris finished with 20 points, four rebounds, four steals, and three assists. Herbert Harrigan came off the bench to notch a double-double with 13 points and 11 rebounds, and added four blocks.
"Ty really wanted the game," Staley said. "She shouldered it. She put us in a great position."
South Carolina finishes in second place in the SEC for the second straight year, after winning the conference the previous four years. South Carolina has won the past four SEC Tournaments, and will look to defends its titles.
"We were in the coffin two months ago," Staley said. "Nobody thought we would be in a position to compete for a championship today but the people in the room."
Notes:
It was Senior Day for South Carolina. Before the game, retiring University president Harris Pastides was honored. Nelly Perry, Alexis Jennings, Doniyah Cliney, and Bianca Cuevas-Moore were then recognized. Cuevas-Moore was last, yet still walked over to the wrong jersey, a fittingly unpredictable end to her unpredictable career. … Cuevas-Moore scored nine points but shot just 3-13 and missed a pair of technical free throws. … Perry had six points, and reached 1,000 career points. … Jennings had six points and nine rebounds. … Te'a Cooper returned after missing all but four minutes of the last four games, and scored five points in 15 minutes. … Cliney went scoreless in 21 minutes. … Andra Espinoza-Hunter had 17 for Mississippi State, and Howard had 13. … The game was officially a sellout. It was the fourth sellout in South Carolina women's basketball history, and has guaranteed that South Carolina will lead the nation in attendance for the fifth straight year. … South Carolina's next game will be Friday in the SEC Tournament against an opponent to be determined. The game will be at 5 p.m.