WBB: South Carolina shoots the lights out, beats Temple
SOUTH CAROLINA GAMECOCKS WOMEN'S BASKETBALL
The Gamecocks used a dominant third quarter to roll past Temple, 88-60.
Christmas came early for the Gamecocks, in the form of a three-pointer. South Carolina made a season-high 15 threes on 31 attempts, also a season-high. Nine different players made a three, and South Carolina shot 48 percent from behind the arc, the third best percentage of the season.
"When it's falling, we're all happy for each other and just keep flowing and the energy spreads," Te'a Cooper said.
South Carolina (7-4) led 44-35 at halftime, comfortably ahead but not in control of the game. That changed in the third quarter. South Carolina made its first three attempts from behind the arc, and five of its first six as it outscored Temple 21-3 in the first 5:27 of the quarter. Cooper and Tyasha Harris were the stars of the run. Cooper scored eight of her 16 points and Harris had seven of her 12 during the third quarter.
"They're best coming out of transition when we're pushing the ball, spreading the floor, and beating the defense down the floor," Dawn Staley said. "When we have great ball-movement we can also get our feet set and knock them down. We try to get them to take balanced threes and not rushed threes."
The third quarter wasn't just about offense. South Carolina held Temple to 2-17 shooting, just 11.8 percent. Temple (3-7) was 0-5 from three and just 2-4 from the free throw line. For the game, South Carolina held Temple to 34 percent shooting. Temple's explosive Mia Davis, who entered the game averaging just under 21 points and 10 rebounds, was stymied. She had a season-low of 10 points on 4-12 shooting, and just six rebounds, her second lowest of the season. Allya Butts did her best to pick up the scoring slack, finishing with 19 points on 22 shots.
For Cooper, it was a big bounce-back game after scoring just two points in 18 minutes against Purdue. She came of the bench in that game, but returned to the starting lineup against Temple and took advantage. Cooper had five quick points early in the game before her third quarter explosion. She was also 6-8 shooting, after coming into the game shooting just 39 percent from the floor.
"She had a better day yesterday. The only thing that we want to see is people play to the best of their abilities. When they fall short of that, we can't accept that," Staley said. "When she brings that, we're a different basketball team. When she wants to blend in and be average, we've got to find somebody else."
As a team, South Carolina shot 48 percent from the floor, held a 49-31 rebounding advantage, and went 11-12 from the line. South Carolina also had 18 assists on its 31 made baskets.
"Great ball movement," Staley said. "It was something that was a key for us. It's been a key for us since we started. Sometimes we slow down and one person wants to probe and try to score off the dribble, and it stagnates our offense."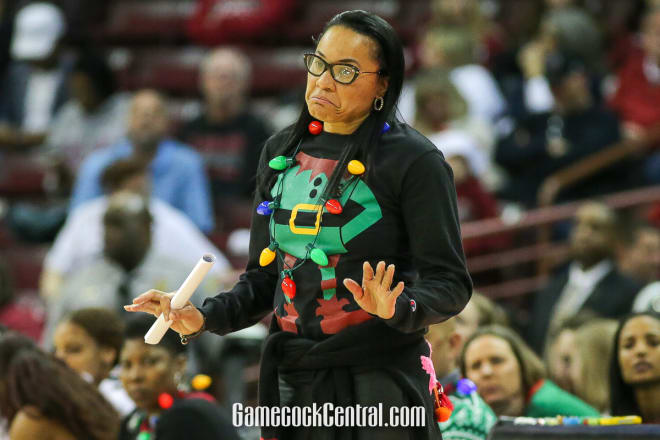 As the last game before Christmas, the Gamecocks made it ugly Christmas sweater night. The staffs from both teams wore ugly sweaters, as did Champ, but some took it further than others. Enter associate head coach Lisa Boyer.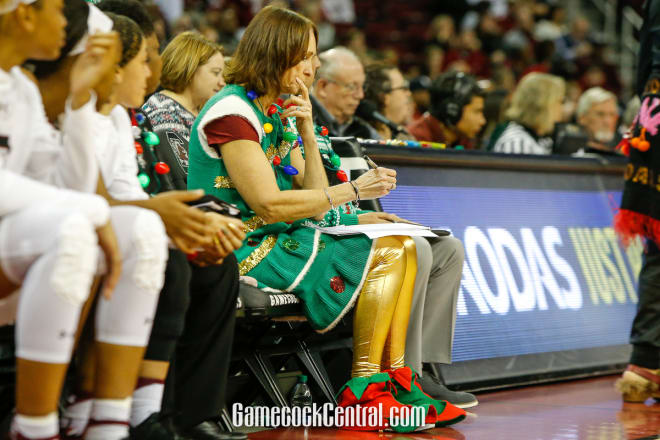 "Coach Boyer shut Christmas down today," said Staley. "I wouldn't have the gall, the audacity to wear an outfit like that, but she did, and I was happy for her. I don't know where she got the gold tights from. I was with her when she got the sweater dress. The gold tights were something new that she brought to the table, and the shoes."