WBB: Maryland blows out South Carolina
SOUTH CAROLINA GAMECOCKS WOMEN'S BASKETBALL
Maryland imposed its will on South Carolina in an 85-61 early-season win.
Dawn Staley said Friday that the game would be determined by which team could impose its style of play on the other. Offensively, South Carolina wants to push the tempo, while Maryland likes to press defensively and then slow it down on offense to focus on its interior players.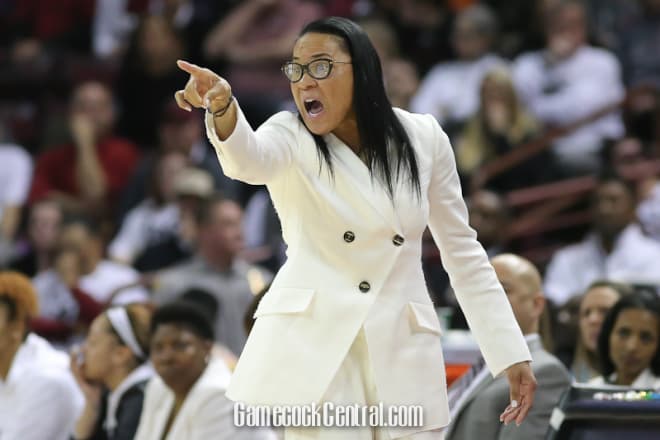 At the start of the game, Maryland's press played right into South Carolina's hands. South Carolina's quick guards were able to get by the press to create easy baskets at the rim. South Carolina got 16 points in the paint early and led 18-6, when Maryland changed its plan.

"South Carolina came out with the first punch, but I love the fact that we settled in and the run we made in the second quarter was more indicative of how we want to play," Maryland coach Brenda Frese said.
Instead of pressing, the Terrapins sat back in a half-court defense. Gone were the transition baskets for the Gamecocks, who went nine minutes without a field goal. The Terps outscored the Gamecocks 24-1 during that nine-minute stretch, turning the deficit into a 30-19 lead.
"They let the game settle in and they took what we gave them," Staley said. "We didn't rebound well and we didn't get back in transition well, and those are the areas Maryland will make you pay dearly for."
Maryland led 45-26 at halftime, and South Carolina tried to counter Maryland's adjustment with one of its own. South Carolina aggressively pressed Maryland full-court to try to create turnovers and easy offense. It worked, but not well enough. South Carolina cut the deficit to 11 midway through the third quarter, and trailed by just 14 after the third quarter, but it ran out of gas in the fourth quarter.
"That's something that we've been working on," Staley said of the press. "It's probably something that we're going to have to do to generate some points from our defense."
South Carolina still couldn't consistently make shots, and couldn't get rebounds when they missed. On the other hand, Maryland was grabbing every rebound in sight, to the tune of a 53-29 advantage.
South Carolina struggled to manufacture offense, but when it did create shots, they didn't go in. South Carolina attempted 73 shots, but made just 26, 35.6 percent. Even worse, for a perimeter-oriented team, South Carolina was just 1-21 from three.
The only made three was a spot-up three by Mikiah Herbert Harrigan in the second quarter. The Gamecocks had missed seven threes before that, and the thirteen threes after. Te'a Cooper was 0-for-6 from three, and Tyasha Harris was 0-for-4. Staley emphasized that for the Gamecocks to be successful they have to make threes.
"We shoot better when we're in the flow of things, and (the shots) weren't really in the flow," Cooper said.
In spite of, or perhaps because of, the lack of shooting, South Carolina was able to score inside. It had 40 points in the paint (compared to 44 for Maryland). South Carolina got 14 points from Herbert Harrigan and 11 from Cooper, who scored most of her points driving to the basket.
Maryland came at South Carolina in waves. six players scored in double figures, led by Blair Watson with 20. Two players grabbed double digit rebounds, Shakira Austin (16) and Kaila Charles (10), an Channise Lewis dished out 12 assists.
"This is what the stat line has to look like," Frese said. "It can't just be one player that's going to shoulder a heavy load."
Notes:
As expected, Bianca Cuevas-Moore did not play. ... Jennings started after coming off the bench against Clemson. She was very effective in the first half, but sat most of the second half with the game out of hand. Jennings finished with nine points and four rebounds. ... A bright spot for South Carolina was that it turned the ball over just ten times while forcing 20 turnovers. ... As Staley was leaving her post-game press conference she was told the Eagles lost 48-7, "Dang, we both got blown out today," she said, "Sometimes that happens to champions." ... Maryland shot 47.8 percent from the floor and 35 percent from three. ... Attendance was 11,240. ... South Carolina's next game is November 22 against East Tennessee State in the Vancouver Showcase.
Related: USC-Maryland box score