WBB: USC loses in OT to Drake
SOUTH CAROLINA WOMEN'S BASKETBALL
South Carolina lost its second straight nail-biter 90-85 in overtime to Drake to conclude the Vancouver Showcase.
The Gamecocks had a chance to win the game in regulation. Doniyah Cliney made two free throws with 28 seconds remaining to give the Gamecocks a 79-77 lead. But the Bulldogs broke the Gamecocks' press, and Brenni Rose easily got to the rim for the game-tying layup.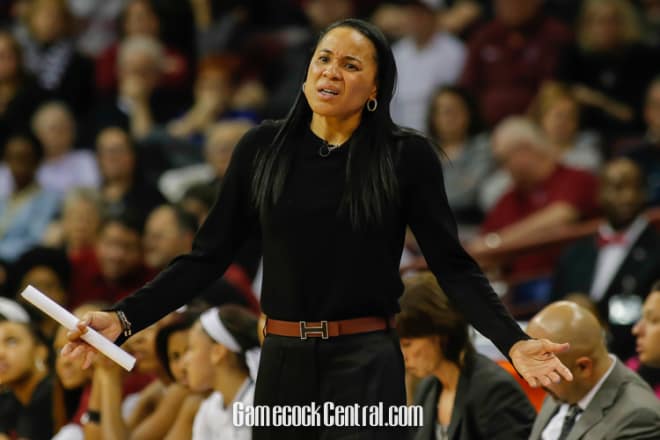 The Gamecocks called timeout with 18 seconds remaining to set up a final play, but Tyasha Harris dribbled out too much of the clock and the Gamecocks were unable to get a good shot. Instead they settled for a tough jumper from Cliney that came up short.
South Carolina's offense disappeared in overtime. Te'a Cooper scored quickly, and Harris added a layup, but they were the only field goals South Carolina made in the overtime, going the final 4:09 without a basket.
In one critical sequence with less than two minutes to play, Cooper, who finished with a career-high 31 points, came up with a steal and beat the defense down court, but missed the layup which would have given South Carolina an 85-84 lead. Drake's Becca Jonas was waiting at the other end for the easy layup, and what should have been a one-point lead became a three-point deficit.
South Carolina had two chances to tie the game in the final minute, but both three-point attempts by Bianca Jackson missed, and after the second, South Carolina fouled to prolong the game. Sammie Bachrodt made both free throws for the final score.
Cooper was hot throughout the game. She scored eight of the Gamecocks' first 11 points as they raced out to an 11-2 lead. Harris added a season-high 18, and Alexis Jennings had 10, including some key baskets later in the fourth quarter to help tie the game.
It was the third game in three days for both teams, and they looked tired at times. Neither team played much defense, and South Carolina's offensive woes were largely self-inflicted. Drake shot 55 percent for the game, and South Carolina shot 44 percent, but 50 percent in the second half and overtime.
Sara Rhine led Drake with 25 points.