WBB: What's going on?
SOUTH CAROLINA WOMEN'S BASKETBALL
The offseason is only three days old, but it's been an eventful one for the Gamecocks. Four players have decided to transfer, leaving fans asking, what is going on?
The four players who have put their names in the transfer portal are Te'a Cooper, Mikiah Herbert Harrigan, Bianca Jackson, and LaDazhia Williams. The four players have four very different situations, so let's look at each individually.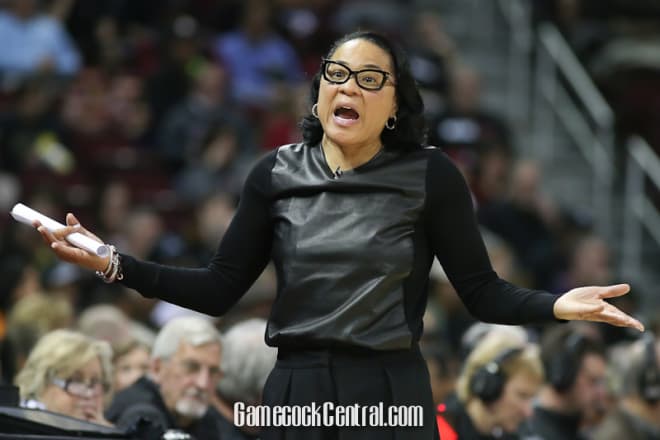 Te'a Cooper
In the locker room after the loss to Baylor, Cooper told me, twice, she would not be going pro and would be returning. I said then that she was still entitled to change her mind, but I didn't expect her to decide to transfer.
On the surface, this transfer looks especially damaging: The Gamecocks' leading scorer, who they fought so hard to get eligible two seasons ago, is leaving. However, when you go deeper, the signs were there. In fact, my gut feeling was always that Cooper wouldn't be back.
Cooper led the Gamecocks in scoring at 11.9 points per game, but it's a misleading stat. She built up the average largely against weaker non-conference competition, and she had 10 games with five or fewer points. Cooper did put up big numbers against some high-profile opponents like Mississippi State, UConn, Baylor, and Texas A&M, but only one of those games was a win. In South Carolina's best offensive game of the season, the 96-77 thrashing of Florida, Cooper didn't even travel due to illness. When she scores, the ball sticks in Cooper's hands. She needs a lot of dribbles to get her shot and it disrupted the offensive flow. Conversely, when the offense was flowing, the ball seldom found her.
Cooper, despite her experience, was never a leader on the team. During the first two rounds of the NCAA Tournament in Charlotte, a reporter who doesn't normally cover South Carolina asked Dawn Staley about Cooper's leadership. Staley struggled gamely to say something nice about Cooper's leadership, finally settling on the notion that she leads by playing her own game well. In interviews, Cooper's mood was often somewhere between defensive and angry, and I never got the sense that she completely bought in to what the Gamecocks were trying to do. Cooper left Tennessee in part because of a locker room confrontation, and Staley thought she could work Cooper into the fold, but it didn't seem to happen.
Mikiah Herbert Harrigan
This one is the shock and the one that hurts. When she was on, Herbert Harrigan was the Gamecocks' best player last season. Obviously the problem was to get her to flip that switch, but that's a problem you can deal with. Herbert Harrigan was benched for the first half of the Belmont game for an issue Staley called extremely minor. But Herbert Harrigan didn't seem to hold any grudges when I talked to her after that, nor did her play suggest she was unhappy. Plus, she was probably going to be one of the focal points of the team next season.
Bianca Jackson
I didn't see this one coming, but it also isn't a huge surprise. Jackson started 25 games two seasons ago as a freshman, but last season she saw her playing time shrink almost in half, from 30.3 minutes to 17.7 minutes per game. Jackson does everything well, but nothing great. On a deep team, she needed to do something well enough to force her way onto the court, but wasn't able to.
Jackson sounded frustrated by her diminished role when we talked to her during the tournament. With all the talent coming in, there was no guarantee anything would change. Also worth noting, her parents are the men's and women's coaches at Alabama State, so she could be looking at going home.
LaDazhia Williams
Williams' decision to transfer really isn't a surprise. I predicted it in my season wrap-up. She was a top-50 recruit, but suffered a hamstring injury early in her freshman season and it slowed her development significantly. She saw more playing time last year as a sophomore, but by the end of the season she was clearly behind fellow sophomore LeLe Grissett and freshman Victaria Saxton in the rotation.
Looking ahead to next season, yes, Alexis Jennings is gone, but two extremely talented freshmen, Aliyah Boston and Laeticia Amihere (who is already on campus), are joining the roster. The numbers simply aren't in Williams' favor. A fresh start somewhere she'll get more playing time makes sense and is probably the right decision.
Now let's answer some follow up questions:
Is Staley the problem?
I'll cop out a bit and say, yes and no. There are always players and coaches who just don't mesh. Staley is demanding and coaches her players extremely hard, and she expects them to fall in line. She empowers her players, but within her system, and anyone who thinks they are bigger than the system is in for a rough time. So yes, there are players who don't like it and leave. Those that do buy in love it. They get to have fun and win. There's a reason so many former players are still close to the program and keep coming back. Staley is loyal to the players who stay with her, and they are loyal back. The attrition rate at South Carolina is no higher than anywhere else, in fact it is pretty low. Staley also has that National Championship trophy and that Team USA gig, so I'd say any player who have a problem with Staley might need to think long and hard about whether she is really the problem.
What do the incoming freshmen have to do with the transfers?
A lot, I think.
If everyone had returned and you add all five incoming freshmen you end up with logjams all over the court. There would have been some uncomfortable decisions to be made, and some unhappy veterans on the bench. By the end of the season, Destanni Henderson was playing about as well as Cooper, and then you add another point guard in Zia Cooke, who might be better than all the others. Same thing on the wing with Jackson, where the incoming Brea Beal may already be the best wing on the roster. There's also walk-on Olivia Thompson, the sharpshooter from Lexington, who could be a sleeper with her outstanding three-point shooting. In the post, Amihere is already with the team, and Boston looks like she already has the size and strength to make an impact immediately, much like Alaina Coates did years ago.
That's a lot of ready-to-go players to fit in. And you notice, the transfers are a lead guard, a wing, a forward, and a center. The incoming freshmen are a lead guard, a wing, a forward, and a center.
And Staley doesn't normally carry a full roster. Last season was an aberration. She prefers 10 or 11 players because she can't play all 13 every game and the chemistry gets disrupted. Her point was proven this past season.
Are you worried?
Nah. Maybe I'm a little worried about Herbert Harrigan leaving. I've always been a big fan of her ability and her clutch plays, and she seemed primed for a big senior season. But Williams and Cooper I didn't expect to be back, and Jackson leaving clears more time for Beal, and I expect a lot from her.