WBB: Wilson shines in return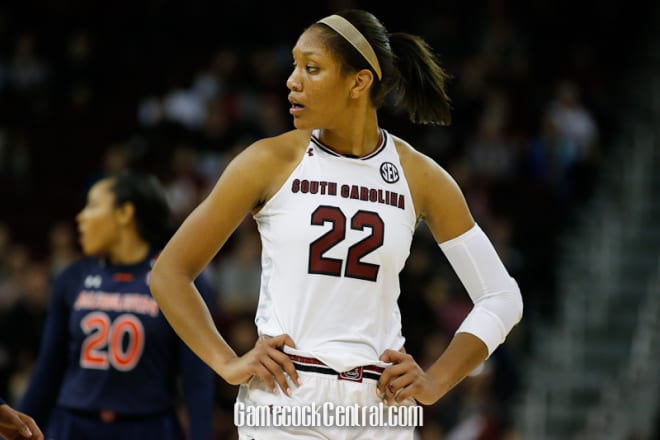 South Carolina overcame a sloppy start to beat Kentucky 81-64 Sunday afternoon in Lexington, Ky.
After a first quarter that saw 11 combined turnovers and several lengthy delays for clock issues, South Carolina led just 13-12. Kentucky's zone packed the interior and dared South Carolina to shoot, disrupting the Gamecocks' offense.
South Carolina began to look more like itself in the second quarter, and a 10-0 run featured some familiar Gamecock play. Tyasha Harris fed Alexis Jennings, who had 17 points in her return to Kentucky, for a layup. Doniyah Cliney got a steal and layup. A'ja Wilson made a short jumper off another pass from Harris, and then after a turnover Harris fed Wilson in transition for a layup. Harris then capped the run with a jumper.
The Gamecocks stretched their lead as high as 19 in the third quarter, but the Wildcats rallied. The Wildcats, who shot just 39 percent for the game, crashed the offensive glass in the third quarter, also getting hot from three. Taylor Murray and Maci Morris each made threes late in the third as the Wildcats trimmed the Gamecocks lead to just 8 with a 19-6 run. But Bianca Jackson drilled a three with just seconds left in the quarter, and that seemed to stop all the Wildcats' momentum.
The fourth quarter, as it has been so many times in the last two seasons, was all South Carolina, and all Wilson. She scored the first four points of the quarter, and 11 in all. Wilson even made a three-pointer from in front of the South Carolina bench to go up 22. After that, Dawn Staley took out Wilson, Harris, and Jennings to try to protect them from further injury.
Wilson finished with 26 points, eight rebounds, four blocks, and three steals, and looked to be a full strength despite not starting. Harris had another strong game, finishing with 12 points and a career-high 13 assists.
Notes:
Lindsey Spann did not make the trip with knee soreness. ... Mikiah Herbert Harrigan travelled, but did not dress with a knee injury. ... Harris now has 131 assists this season. The school record for assists in a season is held by Mindy Ballou, with 219. Harris' current average of 6.9 assists per game would be the second best ever. Cristina Ciocan, the career assists leader, has the record for assists in a game (18) and assists in an SEC game (15). ... South Carolina outrebounded Kentucky 34-27, despite being outrebounded 10-5 in the third quarter. ... Kentucky had just 11 assists as a team. ... The game was played at Rupp Arena, home of the Kentucky men's basketball team, instead of Memorial Coliseum, the normal home of Kentucky women's basketball. ... South Carolina's next game is Thursday against Arkansas.