What is PFF?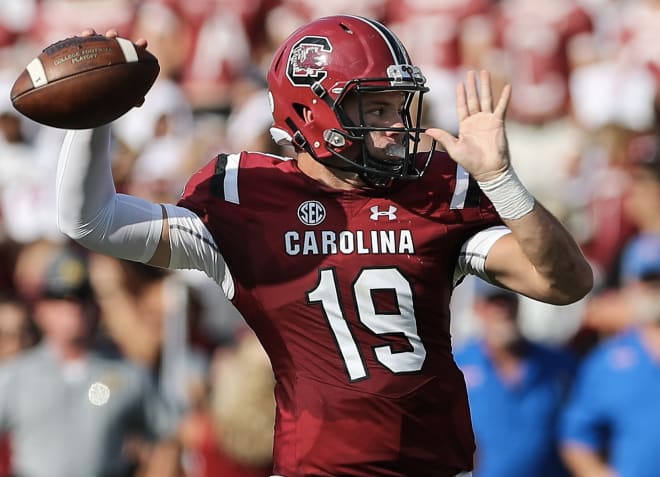 In case you haven't heard, Rivals has partnered with PFF, the largest premium stat service in football, to provide more in-depth coverage of its Power Five teams.

But you may be wondering what PFF even does. Maybe you've heard of their player grades. Here's a short video explaining the grading system.
Essentially, PFF is the marriage of the "But look at the stats!" and "I know what I saw" football watchers. PFF knows that not all stats are created equally. Thus, it seeks to judge players individually for their contributions on each play.

PFF seeks not to give stats but to interpret stats.
For example, Jake Bentley had two long touchdown passes versus Coastal Carolina in 2018 — one to Bryan Edwards and one to Rico Dowdle — almost identical in situation and length. The one to Edwards made fans and announcers alike praise the throw. On Dowdle's touchdown, Bryan McClendon's play call and the blocking won the praise.
PFF judged Bentley's performance differently on each. He was given a large boost on the throw to Edwards for correctly reading the coverage and dropping a dime. He was given a minimal boost to his grade on the pass to Dowdle. It was a good throw but it was his only read and, being a screen pass, the throw itself was one any quarterback could have made.
To interpret stats, PFF assigns responsibility and a score for each player on each play. 0 is average and a player can score anything in between a -2 and 2 on each play. These plays are then categorized and turned into grades across the game.
For example, linebackers can play three different roles on any given play. They can rush the passer, drop in coverage or play the run. The run versus pass is obviously determined by the offensive play call but often a player is better at one than the other. For example, Bryson Allen-Williams has been better against the run than in coverage every year.
PFF does look at stats. For EDGE rushers (defensive ends and outside linebackers that primarily rush the passer) pass rush efficiency is calculated by looking at the total number of sacks, pressures, and quarterback hits compared to the number of total pass rushing snaps. However, those pressures and sacks are graded differently. Splitting a double team, getting to the quarterback quickly and being held can all increase the play grade.
PFF also uses situational factors. Fans know that a 6-yard pass on third and 4 is not the same as a 6-yard pass on third and 10. PFF understands this and judges accordingly. Similarly, a sack that puts a team out of field goal range is weighted heavier than a sack that has little influence on the next play.
All 32 NFL teams and over 40 Power Five College teams use PFF data in some way to help make decisions. PFF often quantifies qualitative data provided by experts.
So when Will Muschamp said this offseason that Zack Bailey should have a better year after moving back to left tackle, we can go to the PFF data to confirm. We've often used PFF-like features such as snap counts, advanced metrics and coaching grades in our content. PFF will help expedite these processes.
Throughout this season we will experiment with the best ways to use PFF to continue providing our subscribers with our high-quality content. Grades are just the beginning.
*** Not a subscriber? Get complete, in-depth coverage on your Gamecocks by subscribing to Gamecock Central today! ***