Why Bryan McClendon moved to the sidelines
SOUTH CAROLINA GAMECOCKS FOOTBALL
Coming out of the bye week, it was expected to see South Carolina come out with a few wrinkles offensively and they did: Deebo Samuel had a few wildcat snaps and the Gamecocks made a change on the offensive line starting Dylan Wonnum.
But, the biggest wrinkle could have come in the coaching staff with Bryan McClendon moving out of the press box and down to the field where he called the offense from the sideline.
Enter to Win! We're giving away three $100 gift cards to Garnet & Black Traditions!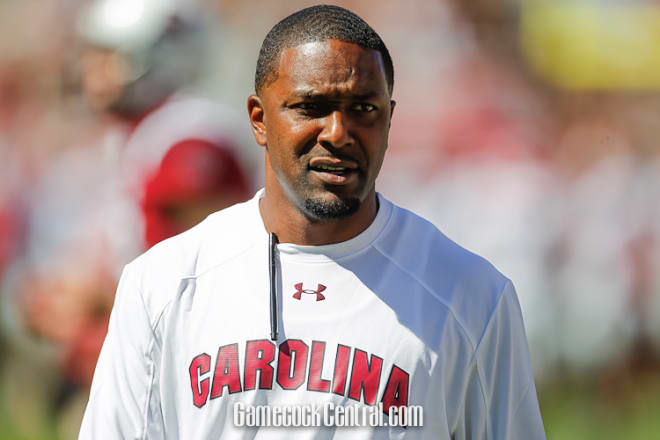 "We hadn't been as productive at the receiver position in our first six ballgames, for whatever reason," Will Muschamp said of the move. "Bryan came to me and said, 'Me going down on the field may calm them some between reps and do a better job communicating to them.' It's not that anyone wasn't doing a good job on the sideline before but I agreed with him."
Also see: Insider recruiting scoop after a big win
McClendon spent the entire game down on the sideline calling the Gamecocks' offense and coaching the receivers as they came back from 11 points down to beat Tennessee 27-24 at home Saturday.
It was the second time the first-year offensive coordinator called the offense from the sideline after doing three weeks ago against Missouri when a torrential rainstorm ruined the coaches' headsets in the second half of a 37-35 win.
Muschamp said McClendon was effective calling offense in the second half of that game and the team said operations Saturday went well.
"We got a situation in the Missouri game where we lost the headsets and he came down and called a really good game. As long as you can see the game and feel comfortable calling it we're fine."
Also see: Which plays mattered the most?
Unlike that Missouri game, McClendon was able to communicate back up with the coaches in the press box.
Quarterbacks coach Dan Werner, who always coaches up top, was up there and Pat Washington moved up to the press box Saturday and was another set of eyes to help make adjustments from the box.
"Pat and Dan did a really good job communicating things to Bryan on the sideline and I thought the operations worked well," Muschamp said.
Also see: Josh Low's instant analysis
It's not clear if McClendon's move to the sideline will be a permanent one but the Gamecocks seem to like having him down there with the offense and his position group with the receivers.
"It's always good to have Coach McClendon on the sidelines," Bryan Edwards said. "He's great at keeping us calm and in the moment or situation. It's always good to have him on the sideline. I think it worked well today."
South Carolina will travel to Ole Miss next weekend with kick off scheduled in Oxford for 11 a.m. CT on the SEC Network.