Will Allen-Williams play on Saturday
[rl]
Early Tuesday afternoon, Steve Spurrier told the media attending his weekly press conference at Williams-Brice Stadium running back Brandon Wilds was questionable and offensive lineman Cody Waldrop was doubtful for Saturday's matinee matchup with Furman at Williams-Brice Stadium (noon, SEC Network).
Freshman outside/BOB linebacker Bryson Allen-Williams could join them on the sidelines.
South Carolina linebackers coach Kirk Botkin told reporters Tuesday night that Allen-Williams, who is suffering from a concussion, did not practice for the second straight day.
"He's out and kind of banged up right now, so he hasn't been practicing," USC Botkin said. "He's been mainly working at the BOB spot."
If he is unable to play against Furman, sophomore Larenz Bryant would probably get most of the snaps at BOB when USC utilizes the 3-4 defense Saturday afternoon.
Furman's center-QB combination could feature a pair of true freshmen as OL Matthew Schmidt and QB P.J. Blazejowski after both players made their first career starts in the 37-31 double OT loss to Coastal Carolina. Blazejowski amassed 208 yards in total offense, including 127 yards passing (12-of-18) and 81 rushing yards.
"Anytime they start running that quarterback, that's an extra guy and you tend to get outnumbered on defense," Botkin said. "They do a lot of that and they do a pretty good job with it. We have to do a good job fitting our gaps and being exactly where we need to be. When they start running that quarterback, it's hard on everybody. We just have to do a good job up front and everybody has to make sure their eyes are right and fit all our gaps correctly."
Simplifying the defensive scheme could boost the speed at which the defense plays, Botkin said.
"We've narrowed it down a little bit just trying to play faster, so the young guys aren't thinking quite as much," Botkin said. "We have a good game plan right now and we feel pretty good about it. Anytime you're thinking, you're playing slow. Getting those guys to grow up fast and not think as much will help them."
After six games, Botkin is still seeking consistency from his unit.
"There are only so many reps they can get at practice," Botkin said. "We have to be able to roll guys because they are playing a lot of special teams and taking on 330-pound guards. We have to roll guys in to keep them fresh."
NOTES:
-- Defensive line coach Deke Adams confirmed to Gamecock Central that offensive lineman Na'Ty Rodgers took a handful of practice snaps along the defensive line last week during the bye week. "Na'Ty played about five reps," said Adams, adding there are no future plans to move either Rodgers or freshman OL Malik Young to the defensive line.
-- Adams on shortening his rotation due to injuries: "We all have to (shorten the rotation) in some situations. We have some guys banged up a little bit, so we don't have much of a choice when you get to a certain point. We're going to try to keep guys in and see what we can do with certain guys in certain situations. It's Game 7, so we've got a lot of them banged up right now. We've got to get them healed. Some of the guys will be ready, some of them took limited reps today and they'll be ready before the week's over."
-- Adams does not anticipate any change in his responsibilities with defensive coordinator Lorenzo Ward moving to the box. "He feels he can see things a little bit better and he can make corrections a little bit quicker. It will make it an easy transition for us. He will just make the calls from the box."
-- Botkin likewise said he does not expect many changes to how the USC coaches handle the defense on Saturday. "It won't change a whole bunch. We'll be talking a lot to each other." The USC coaches usually talked through the headsets during the course of a game, anyway.
-- Adams on the USC defense following Ward's comments last week that he will simplify the defense in order to limit the number of calls and checks, and decrease confusion: "We're trying to play a little bit more base (defense). We have some younger kids in certain situations that don't have a lot of game experience. The easier we can make it for them, the faster they play. That's our goal right now, to play fast and physical."
-- With heavy rain soaking the Columbia region, the Gamecocks practiced indoors on Tuesday.
-- The SEC Network announcers for Saturday's game are Tom Holt (PxP), Matt Stinchcomb (color) and Kayce Smith (sidelines).
-- Seniors Dylan Thompson, A.J. Cann, Sharrod Golightly and J.T. Surratt have been voted permanent team captains for the 2014 season.
-- Due to the S.C. State Fair, Gamecock Club reserved parking in the State Fairgrounds will not be honored at Saturday's game vs. Furman. Fairgrounds parking will be free to all patrons and will open at 8 a.m. for both fair and football parking. Vehicles will be parked on a first-come, first-served basis. Vehicles will be allowed to enter through either Gate 6 off Assembly Street, or Gate 10 off Bluff Road.
-- The SEC announced the 2015 schedule on Tuesday night. Here is USC's slate for next season:
Sept. 3 vs. North Carolina (at Charlotte)
Sept. 12 KENTUCKY
Sept. 19 at Georgia
Sept. 26 CENTRAL FLORIDA
Oct. 3 at Missouri
Oct. 10 LSU
Oct. 17 VANDERBILT
Oct. 24 Bye
Oct. 31 at Texas A&M
Nov. 7 at Tennessee
Nov. 14 FLORIDA
Nov. 21 THE CITADEL
Nov. 28 CLEMSON




Click
Here
to view this Link.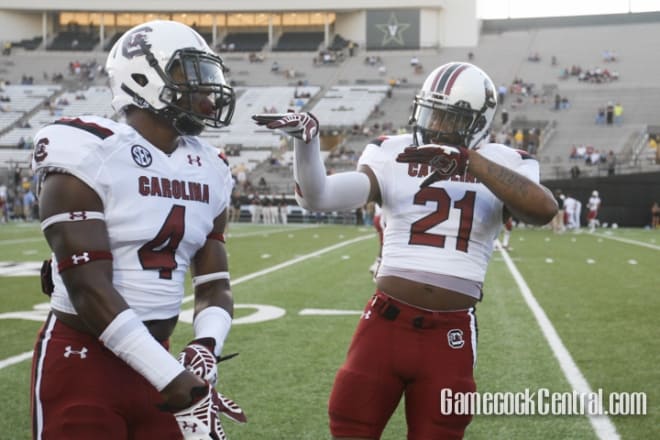 DM