Big second half fuels Gamecocks to runaway win
SOUTH CAROLINA GAMECOCKS WOMEN'S BASKETBALL
On a night where the Gamecocks raised a banner celebrating their 2018 SEC tournament title, they proved why they've won four straight tournaments.
After starting slow, the Gamecocks flexed their muscle, especially in the second half, cruising to a 76-42 win over Ole Miss Thursday night thanks to defense creating offense.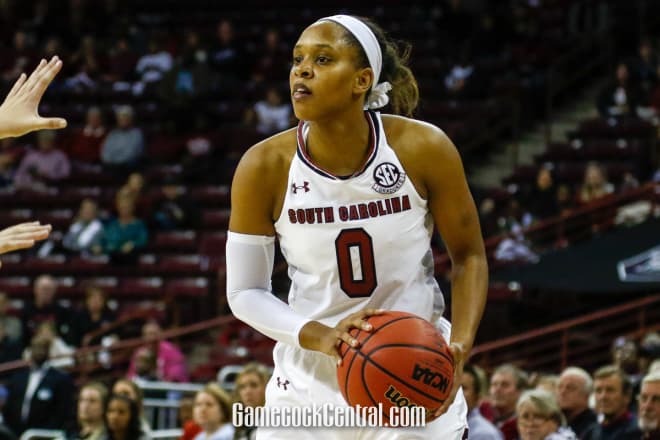 "We defended and rebounded. That's what our halftime talk was about; we just had no fluidity offensively and just didn't hit shots, open shots," Dawn Staley said. I think we were just pressing to much. If you just slow the game down, defend and rebound, offensive flow will come."
Also see: Insider notes from Thursday's baseball scrimmage
South Carolina (17-5, 9-1 SEC) didn't score for nearly four minutes to start the game, but finished the half strong, taking a nine-point lead into the break.
After that, the Gamecocks continued their stretch of tormenting defense at the start of the second period. They'd struggle to start the second half offensively but closed the third quarter strong to essentially put the game away.
They'd force five turnovers over a three minute span as they'd start the second half pushing their lead to 12 points with Nelly Perry sparking a run with a three pointer en route to one of her better games this season.
She had a season high in points, leading all scorers with 13. She went 5-for-8 from the field and hit three three-pointers Thursday after making just nine through the team's first 21 games.
"When you're coming into a new system, you're like a freshman. Even if you're a grad transfer, you're like a freshman. It's taken some time for her to feel comfortable, for us to feel comfortable to put her out there for extended minutes. Now, I think she's hitting her stride."
Her performance comes after her and Staley had a heart-to-heart after a one-point performance against Arkansas earlier this week.
"I have my days, but I'm trying to be mentally strong and whenever my number is called, go in," Perry said.
That was part of a 15-0 run for the Gamecocks where they made three straight three-pointers, capped by one in the corner from Destanni Henderson.
Also see: Inside the commitment of Jaquaze Sorrells
During the run, the Gamecocks held Ole Miss scoreless for roughly six minutes of game time to end the third quarter.
South Carolina forced 23 turnovers and Ole Miss shot just 32 percent from the field as the Rebels scored just 15 points after halftime.
They got big contributions from young players with Henderson and Victaria Saxton putting up a combined 24 points off the bench.
"I think what's happening with our freshmen is they're growing up a little bit. They're seeing the pace at which they need to practice and play. What they haven't done is they haven't gotten too high with the highs and too low with the lows. They've maintained. they've waited until their number's called. they don't know when, but every time we call their number as of late, they've executed and they've given us a boost."
Henderson, who put up a career-high in points over the weekend against the Razorbacks, put up 12 points with five rebounds and five assists Thursday.
"I'm very confident with the style of play I've been playing the last two games. Mentally, I have to prepare myself whenever my number's called and be ready, even if I'm not in the starting lineup."
Alexis Jennings also notched double figure points with 12 and finished four rebounds away from a double double.
Te'a Cooper also scored in double figures with 11.
Also see: What Rivals though of the Gamecocks' 2019 class

Statistical leaders: Nelly Perry, 13 points; LeLe Grisset, 6 rebounds; Ty Harris, 9 assists
Player of the game: Nelly Perry had a big game, hitting three of her four three-pointers and scoring a team-best 13 points. She also had three rebounds.
Up next: South Carolina goes out of conference for a mega matchup on Monday. They'll travel to UConn for a game against a top five Huskies team. That will be televised on ESPN2 starting at 7 p.m.