Doty, Harris expected back this week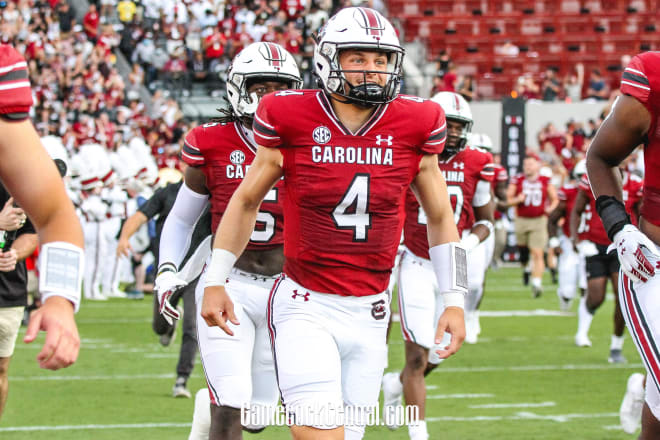 Harris, who missed most of the preseason after undergoing a procedure on his back this summer, was not on the sidelines with his teammates Saturday due to the illness that Beamer referenced.
While Doty was listed as doubtful going into the Eastern Illinois game, the sophomore quarterback was fully dressed out and was witnessed bouncing around and going through pregame drills with the other quarterbacks while showing no signs of being bothered by the midfoot injury he suffered a few weeks ago in practice.
Beamer had said all week that they fully expect Doty back for the ECU game and that they wouldn't put him in this week unless he was 100 percent.
With Zeb Noland getting the first-team reps leading up to the opener, the Gamecocks opted to go with the veteran and push Doty's debut to next week and allow him to get back to 100 percent. The Myrtle Beach grad ran for the first time since the injury during practice this past week.

Beamer also expects senior safety R.J. Roderick back this week after he and several unnamed players were suspended for the opener. The other players were not projected starters.
"Plan on them being back at practice (Sunday) and ready to go next week," Beamer said. "They were (out for) a disciplinary issue. One of the core values of this program is accountability and we're going to hold our guys accountable for every single thing they do, on and off the field, and those guys that weren't in uniform tonight with us are all good young men that have learned from any mistakes and they'll be ready to roll next week, assuming they do what they're supposed to going forward."
The Gamecocks will square off with East Carolina at noon this Saturday in Greenville, N.C. with the game on ESPN2.