Gamecocks blow late lead, lose series
SOUTH CAROLINA GAMECOCKS BASEBALL
KNOXVILLE, TENN.—Lighting didn't strike twice for South Carolina at Tennessee this weekend.
Trying to stage their second come-from-behind win in as many games Sunday, the Gamecocks got a timely hit but couldn't hold on as they gave up four runs in the eighth inning to lose 6-3 and drop their second straight SEC series.
Three of the team's eight losses, including two of their five SEC defeats have come with the Gamecocks leading after seven innings.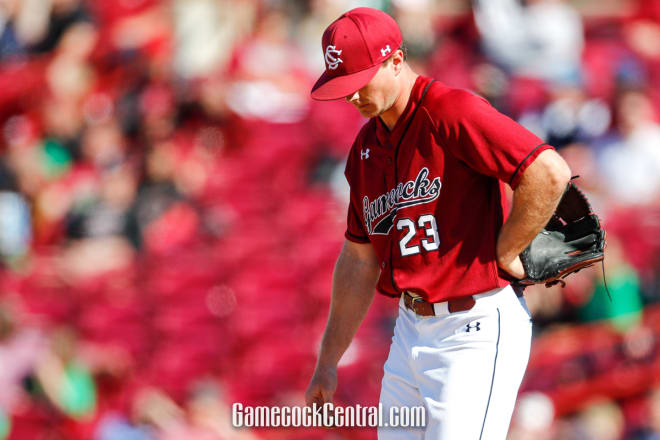 "You take a lead and have a lead in the eighth inning you want to win the game," head coach Mark Kingston said. "That's the difference in our team right now is we're not closing games out. I don't know how many games we've lost late but it's way too many. That needs to improve."
Also see: What Bobby Bentley said in his spring media availability
The Gamecocks (16-8, 1-5 SEC) loaded the bases with no outs in the eighth after Gage Hinson (0-1, 4.76 ERA) walked and hit the first two batters of the inning to end his outing. The staff opted to go with Dylan Harley out of the pen, who loaded the bases on a single to center after the hitter worked himself into a 2-2 count trying to bunt.
After that Bridges came in and allowed all three inherited runners to score as part of the four-run eighth in his third blown save of the season, second in SEC play. Kingston said postgame there wasn't a thought about going to Bridges earlier when Harley came in the game.
"We were going hard-soft then back to hard there and Harley needs to get that guy out," he said. "The guy couldn't get the bunt down and he needs to get that guy out with two strikes."
Also see: Click for Sunday's box score
Bridges didn't have the best luck, getting a bouncer back to the mound that just went over his head to plate the tying run before giving up the go-ahead single and a sacrifice fly.
On the ground ball, Kingston said it was a bit of bad luck on a ball Bridges said he "got a good jump on" but just "didn't get it done."
"That ball bounced over his head on the turf," Kingston said. "On a grass field, a dirt field that ball probably bounces to him and he throws home and who knows, but we played on turf and that wasn't the case."
Also see: Scoop on a big, big list of visitors this weekend
After Cam Tringali pitched 2.2 hitless innings to keep the Gamecocks in the game, South Carolina's bullpen gave up four runs on two hits and walked a batter over the final 1.2 innings.
Tringali finishes the weekend pitching 4.1 scoreless innings, giving up just one hit while racking up six strikeouts but couldn't get the win after the late-inning missteps from the bullpen.
"Our bullpen depth is not where it needs to be," Kingston said, "and that was the difference in the ballgame."
Also see: Note on a expected visitor that didn't make it to campus
The Gamecocks took the lead in the seventh on a two-run double from Chris Cullen, his second in as many games, but couldn't finish and find themselves 1-5 in SEC play for the second straight year.
Last year they started slow but finished 16-8 in the conference after that and are hoping to do the same this year.
"Anyone who has experience in the league we have to speak with the new guys and say this is the SEC, it's a whole different beast," Cullen said. "We lost this series, so what? We have eight more and every game counts. We have to get back to work and we can turn this around really quick."
Up next: The Gamecocks return home to host North Carolina A&T Tuesday night with first pitch scheduled for 7 p.m. on the SEC Network Plus. Daniel Lloyd is expected to start.