Gamecocks come from behind to earn first SEC win
SOUTH CAROLINA GAMECOCKS BASEBALL
KNOXVILLE, TENN.—Before Jordan Holladay strode to the plate in a tie game as a pinch-hitter, Mark Kingston stopped him.
He pulled the sophomore over and gave him a simple message: go get us the lead.
Holladay did, driving in the game-winning run for the Gamecocks as they held on to beat Tennessee 3-2 behind late-inning magic and clutch pitching from Brett Kerry for the team's first conference win.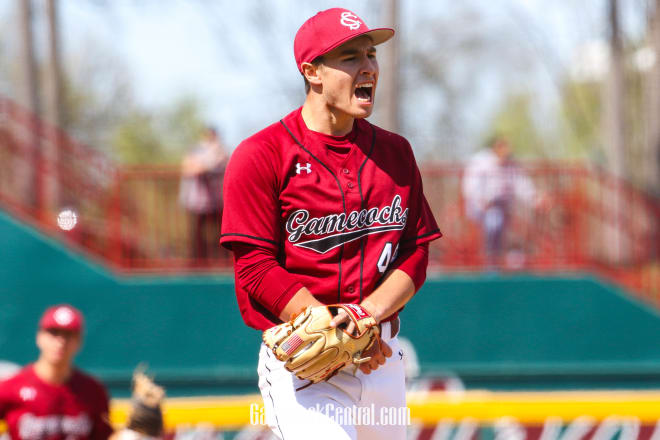 "The scouting report was high to mid-90s so I knew with that he was just going to try and over power me with the fastball, especially with two outs," Holladay said. "I didn't think he was going to do anything too cute. I was just waiting on a fastball."
Click for Saturday's box score
After the Gamecocks (16-7, 1-4 SEC) took the lead thanks to a three-run seventh, capped by Holladay's RBI double, they turned to Kerry for the final six outs, which were not complete without a lot of drama.
Kerry loaded the bases in the eighth with no outs and didn't give up a run, striking out three straight batters to end the inning and escape unscathed. All three punch-outs were swinging and the last two came on a full count.
"I just got pissed off at that point," Kerry said. "I'm like, 'Are you kidding me? Bases loaded no outs?' but at the same time I was like, 'I'm about to get all three of these guys out. I don't care. I'm striking all three guys out. I don't care what it takes.'"
He put runners on the corners with two outs in the ninth inning as well before striking out cleanup hitter Alerick Soularie, who entered Saturday's game batting .400, on a 2-2 count to end the game.
"Getting ahead, I had to throw my slider for strikes. When I missed the two first sliders up, we went back with another slider because you miss two off-speed and he's thinking another fastball," Kerry said. "We attacked with a fastball and when (Luke) Berryhill came out he was like, 'What pitch do you want to throw here?' and I said slider because I felt confident. Obviously he took that one pretty well over there and I was like, 'OK, I'm driving a fastball in there.'"
Also see: Full updates and analysis from Lindsey Nelson
After an uncharacteristic start last weekend, Reid Morgan would finish giving up just two runs, one earned, and scattering five hits over 5.1 innings. He'd strike out four compared to one walk.
The Vols got their first run after an error extended the inning followed by a RBI single, then widened their lead with another run-scoring hit in the sixth.
Cam Tringali relieved him with one out in the sixth and pitched 1.2 shutout innings with three strikeouts, earning his first-career win. After giving up 15 runs on 17 hits last night, Gamecock pitchers allowed just two runs on eight hits.
"Oh my god. What I saw from all three of our pitchers tonight was amazing," Chris Cullen said. "They've been doing it all year; they've been pounding the zone, throwing strikes and doing everything they can do to give us a chance to win the ballgame. We started off slow offensively but all three of them shoving on the mound gave us a chance to win in the end."
Also see: What Bobby Bentley said in his spring media availability
Cullen sparked the Gamecocks in that all-important seventh inning, driving a two-out down the right field line to tie the game before Holladay's big hit. The at-bat didn't start like he wanted, falling behind 1-2 without even swinging the bat, but the senior was able to come through when his team needed it the most.
"With two strikes I just choked up a little bit and tried to put the ball in play and give us a chance and see what happens," he said. "He threw a fastball down on the outer part of the plate and I had to drop the barrel at the ball and good things happened for us."
The Gamecocks picked up their first SEC win of the season Saturday and avoided their first 0-5 start in conference play since 1992 and first five-game SEC losing streak since 2006.
"This was important for us because you don't want to fall too far behind in this race," Kingston said. "It's a marathon but you don't want to fall behind too far too early. This was a big win and I hope we can build on it tomorrow. Momentum is only as good as your next day's starting pitcher. They have a good one tomorrow and we have a good one."
Also see: Scoop on a big, big list of visitors this weekend
Player of the game: Brett Kerry came in and pitched out of a jam he created with three strike outs, picking up his third save of the season.
Key moment: Cam Tringali came in and got out of a jam in the sixth inning, holding the Vols scoreless once he came in, and the Gamecocks took the lead in the following inning.
Up next: Sunday's rubber match is scheduled for 2 p.m. on the SEC Network Plus. No starter has been officially announced yet.