Gamecocks power past Liberty, even series
SOUTH CAROLINA GAMECOCKS BASEBALL
The Gamecocks were on the brink of losing the season-opening series after an Opening Day loss, but Jacob Olson and TJ Hopkins weren't having it Saturday.
The two seniors combined for three extra-base hits and five RBI as the Gamecocks flexed their offensive muscle to power past Liberty 13-7 and even the series.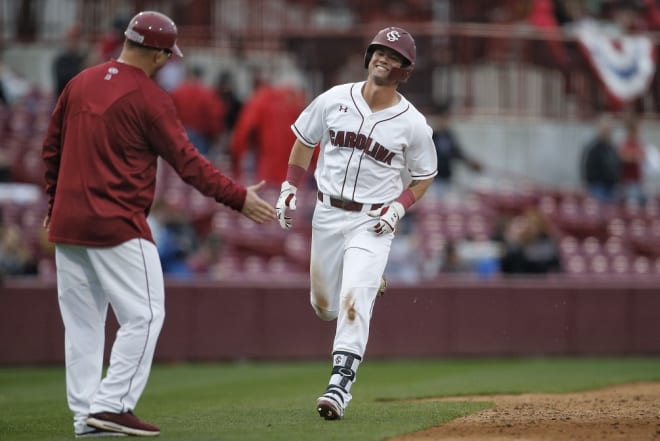 "Being seniors, that's a big deal, and you have some experience behind you. Our new guys are just fine. I have so much respect for all of them," Olson said. "We have some huge contributors. Me and TJ have a special role, but I think our new guys have some pretty huge parts."
Also see: Latest scoop on four-star receiver Michael Wyman
Olson drove in four of the team's 13 runs thanks to two two-run home runs, including one with the Gamecocks (1-1) clinging to a one-run lead as South Carolina hit three home runs Saturday, capped by a Luke Berryhill solo blast in the eighth inning.
For Olson, he's now 4-for-9 on the year with all four of his hits going for extra bases (two doubles, two home runs).
"It was nothing different, just found a good pitch," he said, smiling. "I got two of them and results are results. It's just how it went down."
Hopkins picked up three hits of his own Saturday, including an RBI triple in the second inning to push the Gamecock lead then to 6-0 as they ultimately finished the first two innings up seven runs.
The centerfielder finished with three hits and found himself on base four times in five plate appearances with three runs scored. Through two games he's hitting .444 with two extra base hits.
"I've been saying it for awhile that he's one of the premier players in the country. Knock on wood you have to keep him healthy. When he's playing well, he ignites an entire offense. Him in the three-hole going three-for-four with elite power," Mark Kingston said. "I love the player."
Also see: Full analysis from a chilly Founders Park Saturday
But it wasn't a cakewalk for the Gamecocks, who found themselves up just one run after Dylan Harley gave up five in the third inning before being pulled with two outs.
The freshman making his first career start looked dominant through two perfect innings but ran into trouble after a leadoff walk to start the third.
He'd load the bases with one out and walk in two runs, balk in another and give up a two-run single.
He wouldn't get out of the inning, getting pulled with two outs, and finishing giving up five runs, all earned and picking up five walks and strikeouts apiece after a sharp start to the game.
"That's something we need to figure out. We'll look at the tape and see what happened if there was anything different mechanically" Kingston said. "I don't know if it was because we had to wait so long between innings because we were scoring seven runs. He's a young guy and we just need to figure that out."
Also see: Three-star athlete breaks down USC visit
After that, the Gamecocks gave up just two runs the rest of the way, pitching out of trouble a few times. TJ Shook got out of a jam that Harley left unscathed and, after giving up a run in the fifth, rallied to strike out the side.
Cam Tringali, making his first career appearance after redshirting last year, came in and threw 2.1 scoreless innings and struck out three batters.
"Last year, I learned a lot from the guys that were on staff and everybody else and Coach (Skylar) Meade to have that year to develop and get in the weight room like I needed to," he said. "Finally getting out there and getting on the mound was every bit as exciting as I thought it'd be."
After Daniel Lloyd got out of a bases-loaded, two out jam in the eighth, Brett Kerry came out and threw 92 mph off the mound for a quick 1-2-3 ninth inning to secure the win.
Of the Gamecocks' six pitchers that threw Saturday, five were making their first-career outing. The team's bullpen combined to give up two runs on six hits over 6.1 innings and had a 5-to-1 strike to walk ratio.
For Kerry, he pitched a perfect inning and was the only Gamecock not to walk a batter.
"I like the command as much as I liked the velocity. I thought that was really encouraging to see," Kingston said. "That's a guy that can help you."
Also see: Team scoop after winter workouts
Player of the game: Jacob Olson drove in nearly a third of the team's runs with two two-run homers to snatch momentum in the middle of the game.
Key moment: Daniel Lloyd came in with two on and one out in the eighth and put a runner on to load the bases with two outs but got out of the jam and escaped unscathed.
Up next: The series finale is Sunday at 1:30 p.m. and will be streamed on SEC Network Plus. Reid Morgan will start for the Gamecocks.