Bridges, Coyne settle ship in comeback win
SOUTH CAROLINA GAMECOCKS BASEBALL
As soon as Sawyer Bridges saw that home run leave the park on Opening Day to blow the save against Liberty, he was ready to redeem himself.
Four days later, he got his chance in freezing cold temperatures.
After the Gamecocks stormed back from six runs down, Bridges slammed the door shut, picking up his first save of the year as the Gamecocks beat Winthrop 8-6 Tuesday.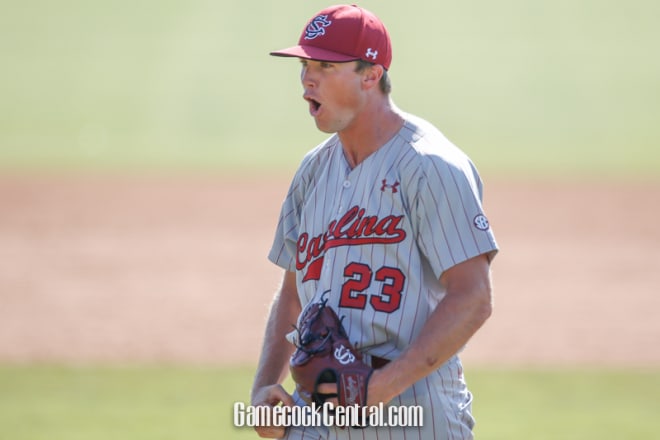 "It was good. On that Friday I kind of blew it for us," Bridges said. "I was definitely itching to get back out there and get a save for my team."
Also see: More intel on four-star Cliff Omoruyi's visit
The junior came in with two runners on base and two outs in the seventh and got a pop up on the first pitch to escape the jam.
He'd pitch out of trouble after allowing a leadoff double in the eighth, punctuated by a strikeout to end the inning, before pitching a perfect ninth to secure the win and the seven-out save.
"He did really well. Sometimes you have a closer; sometimes you just have a stopper. We thought that was a very important part in the game," head coach Mark Kingston said. "We'd just taken the lead and we didn't want to give them any life so we thought we'd bring in our guy there to get us out of that and settle the ship. That's exactly what he did."
Also see: Five takeaways after opening weekend
South Carolina found themselves in the hole early after shaky outings from TJ Shook and Cam Tringali, who combined to give up six runs over the first three innings.
They'd storm back, getting a run when TJ Hopkins drew a bases loaded walk for the team's first run before Noah Campbell reached base on an error that scored a run as well.
In the fifth inning, Luke Berryhill doubled home TJ Hopkins before ultimately scoring after back-to-back groundouts.
They'd cut the lead to one after a TJ Hopkins double, before Luke Berryhill roped a two-RBI single to left field to give the Gamecocks the lead and cap a three-run sixth inning. Berryhill finished the game going 2-for-5 with a team-high three RBI.
Hopkins added some insurance in the eighth when a single mixed with a throwing error plated Campbell, who led the inning off with a double. Hopkins finished with three hits and reached base in all five of his at-bats.
"We put up 13 runs the other night and I knew six runs in seven more innings that was nothing for us. I knew we could do it and I was trying to rally the guys around," Berryhill said. "Everyone was positive the whole time."
The scoring started once Parker Coyne (1-0, 0.00 ERA) came in and calmed things down a little bit in the fourth inning.
He pitched two perfect innings before allowing a leadoff double in the sixth and finished throwing three scoreless innings while striking out six batters.
"Big time," Kingston said of Coyne's performance. "He gave us a huge lift. He settled the ship and at least gave us a chance to come back. I don't think it's any coincidence once he got in the game and really started to pitch well that's when we started scoring. He featured three pitches for strikes, had a good fastball and commanded the ball. Six strikeouts and no walks? That's a very important development for us."
Once Coyne entered the game, Gamecock pitchers didn't allow a run gave up just two hits. As a pitching staff, they walked a season-low two batters.
The Gamecocks played somewhat sloppily through the first three innings with two errors plating two runs and a passed ball plating another.
Of Winthrop's six runs, only four were earned and all came in the first three innings.
"I think they were throwing pitches in the middle of the plate. After they came out, they had two hits the rest of the way," Kingston said. "They have great stuff but you can't throw stuff over the plate. Teams at this level will hit the ball."
Also see: In-state linebacker hoping for Gamecock offer soon
Player of the game: Luke Berryhill finished his day with three hits and drove in three runs, including the ultimate game-winning one.

Key moment: After giving up a leadoff double, Bridges induced a tapper to the mound and, while falling down, threw the runner out at third. He rallied to escape the jam, punctuating it with a strikeout.
Up next: South Carolina continues its midweek slate with a matchup Wednesday against Presbyterian. That will be televised on SEC Network Plus with John Gilreath (0-1, 0.00 ERA) getting the start.