Heart of the order powers Gamecocks to blowout win
SOUTH CAROLINA GAMECOCKS BASEBALL
After two close games this week, South Carolina opted to put Friday's series opener away early.
Thanks to 12 hits from the heart of the order, the Gamecocks used a few big innings in the middle of the game to jump out to a big lead and cruise to a 15-3 win over Utah Valley in game one of the series.
Eight of the nine starters notched a hit with every starter reaching base at least once, as the Gamecocks notched double-digit hits for the third time in five games.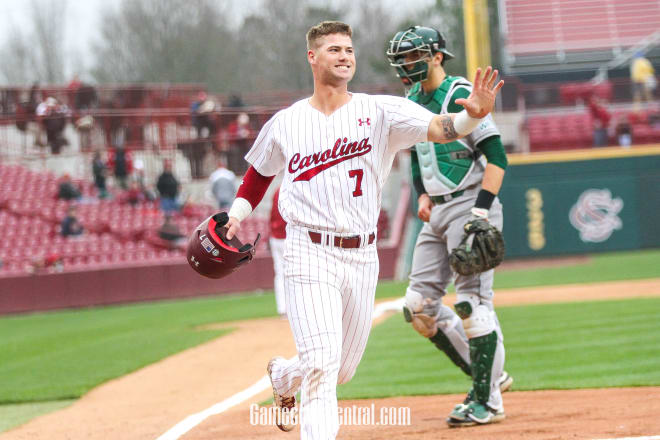 "Everybody in this lineup can hit. They wouldn't be in the lineup if they couldn't," Noah Campbell said. "We have guys on the bench that I think could be in there playing. It's a competitive program and we have a lot of good players. It feels good to have everybody in the lineup swinging the bat."
Also see: Gamecocks make top three for three-star linebacker
The Gamecocks strung together 12 hits Friday mixed with nine walks and three hit batters, but it was the heart of the order that did the majority of the damage.
The trio of Luke Berryhill, Jacob Olson and Brady Allen combined to go 5-for-10 with two walks, two doubles and a home run while driving in 10 runs Friday night.
Berryhill got the scoring started in the third inning, roping a two-RBI double to left before Jacob Olson launched a two-run homer to left a batter later for his team-leading third bomb of the year.
Allen capped a five-run fifth with a RBI double before all three drove in more runs as part of a four-run fourth to bust the game open.
Olson is now second on the team in batting average and leads the team in home runs (3) and slugging percentage among starters with .952. He's tied with Berryhill for the most RBI on the team with eight and is fourth on the team in on-base percentage.
"He's playing great. Defensively, offensively, he's playing great baseball. He's one of the leaders on the team; he plays extremely hard, intense," Mark Kingston said. "He's everything you want in one of your baseball players. He's a senior playing like a senior. He's doing a great job leading our offense right now."
Also see: In-state guard loves first visit to campus
The Gamecocks (4-1) got five more runs in the fifth thanks to a three-run homer from Campbell, who came into the series hitting .167 and leaves Friday with a .227 batting average.
It was Campbell's first shot of the season and the sophomore preseason All-American is hitting 4-for-8 over his last two games with two walks and three runs scored.
"I think he's starting to relax," Kingston "At the end of the day he loves to play, he loves to be here. Opening Day, two years in a row—I don't know if uptight is the right word—he doesn't get uptight but he wants to play so well so badly he doesn't relax the way he needs to relax. He's starting to settle in and we're starting to see the kind of hitter he is."
After a shaky start from Carmen Mlodzinski, who walked five batters in four-plus innings, the Gamecock bullpen settled things down.
Brett Kerry picked up his second win in as many appearances, throwing two scoreless innings to extend his streak to five to start the season, before Wes Sweatt made his first career appearance.
Sweatt gave up one hit in two scoreless innings while striking out two. Of his 26 pitches, 17 were for strikes.
"It felt good getting out there for the first time," he said. "I've been waiting on this moment for a while now as a freshman. It's good experience to get my feet wet finally and I feel like I played pretty well just trying to attack the strike zone."
The Gamecocks were able to get some bench players time as well. Seven players made their season debuts, and six—Sweatt, Wes Clarke, Joel Brewer, Ian Jenkins, George Callil and Jonah Beamon—got their first career appearances.
The biggest ovation came for Ian Jenkins, who has battled injuries through his first two years on campus but was able to take an at-bat for the first time in his career Friday, drawing a six-pitch walk.
"He works really, really hard. He's been through so much—the back, the knee, the Tommy John surgery—he's overcome so many things," Kingston said. "He's had a lot of opportunities to give up and stop playing baseball for health reasons and he never has. He loves to play, is a great teammate. For that reason, when he gets the chance to go in there and do something positive, the whole team rallies around him."
Also see: Storylines to watch as spring practice starts next week
Player of the game: Luke Berryhill had three RBI and just one hit, tying a Gamecock single game record with three hit-by-pitches Friday night.
Key moment: After Mlodzinski gave up three runs in the fourth to cut the lead to two, the Gamecock offense responded with a four-run inning to blow the game open.
Up next: Game two of the series is scheduled for Saturday at 2 p.m. Dylan Harley will start for the Gamecocks and it will be televised on SEC Network Plus.